Managing your apps through Google Play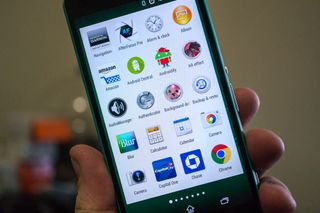 Take control of your 'My apps' list before it takes control of you
Most of us like to use plenty of apps on our Androids. That means we're always trying new ones, some of which we like enough to keep, but others get uninstalled. That happens when you have so many to choose from, and over time you'll have quite the list in the "My apps" section of Google Play.
Eventually, you'll need to tame that list. Google has a few ways you can get a handle on things, and we're going to have a look at them.
Managing your apps on the web
The Google Play website has a section dedicated to your apps. That means any apps you have bought, and any apps you have installed — even if you have uninstalled them. To find it, head to the Google Play website, click the section for "Apps" in the left-side menu, then choose "My apps."
You will see a grid of app page links, and it shows every app you have ever installed on any Android device you have logged into with your Google account. It's not extremely helpful because you can't remove entries to this list from the website, but there are a few cool things you can do here if you have more than one Android.
Up near the top, you'll see an item names "All Apps" with a drop down arrow. Clicking this arrow gives you some filtering tools where you can see your subscriptions as well as apps installed on each device. Clicking on one of these entries will show you only the apps that fit the filter.
Another useful thing you can do from the web is install or reinstall any apps that are no longer on your Android, or not on all your devices. Go back to the All Apps filter, and find it in the list. Click it's entry to go directly to the associated app page and you can install to any of your registered devices.
As mentioned, you can't easily remove apps from this list on the web. For that, you need to use the Play Store app on your phone or tablet.
Managing your apps using the Play Store app
The Play Store app on your Android also has a section dedicated to your apps. It's not as pretty as the grid view on the Google Play website, but it's far more functional.
Open the Play Store app and look at the "hamburger" menu on the left. That's the button comprised of three horizontal lines, which people say looks like a hamburger. Tap on it. Then tap on the "my apps" entry in the list.
You'll see tabs for your subscriptions, your currently installed apps, and the same "all apps" list you find on the website. Tap on any of these tabs to go to the relevant section where you can interact with each.
Open an app's page in Google play lets you install, uninstall or rate and review an app right from your Android. You can also manage your app subscriptions (music and magazines are in their own sections), or read about any changes in a new version.
The "All apps" is where you can remove apps you may have installed and tried, but no longer use, from your apps list. You'll see a small "X" in the upper right corner of any application on this list that's not installed on the device you're using. Tapping that X lets you remove the entry from your apps list. If you choose to remove a paid app from your list, you can still install the app at any time without buying it again from its main Google Play Store listing. Once removed from you list here, the app will also be removed from the app lists on the web.
It's worth noting that you might see apps that came with your phone or tablet that can't be removed or uninstalled from Google Play.
While its not the perfect solution, and we would still like to see more separation between apps you currently use and ones you've uninstalled from all devices, it's good to know that you can manage your apps — and that long "all apps" list — to some extent.
Senior Editor — Google Ecosystem
Jerry is an amateur woodworker and struggling shade tree mechanic. There's nothing he can't take apart, but many things he can't reassemble. You'll find him writing and speaking his loud opinion on Android Central and occasionally on Twitter.
Now if only there were an easy way to export a list of all apps you'd bought. I used to use a handful of apps to export csv files listing the apps, how much I paid, and links to the apps in the play store but as of late none of them work any more.

i use this App to email and archive my App List with links to myself - Share Apps
Squid Tooth LLC https://www.androidcentral.com/e?link=https2F2F...

That's only useful if you want a list of apps that you currently have installed; it doesn't list all of the 'My Apps', much less just the ones that you've purchased. Posted via Android Central App

yup that's all i care about. i try not to get caught up in minutiae.

Yeah, I use apps similar to that to make a list of what I have on my device RIGHT NOW. What I was talking about was a listing of all of my paid apps, whether I have them installed on any of my devices at the moment or not. Previously I used "My Paid Apps", " Purchased Apps", and "My Purchases Pro". None of these work now.

Great article. I thought I was the only one who did house cleaning on their play store LOL Posted via the Android Central App

The Play Store needs much better controls. Where's Skip This Update? I remember once the only change to an app was that they added an Esperanto translation. Even if I ran into one of the dozens of people who care about that, and even if it then somehow came up in conversation... you get the point. Better yet, give us that and a Major Updates Only option too. I uninstalled Hello SMS even though I love the program because they were pushing out insignificant updates multiple times a week over multiple weeks.

You can control which updates you receive in your settings. Posted via the Android Central App

You can turn automatic updates on or off on a global or a per-app setting. But if you turn off automatic updates, because sometimes features vanish and sometimes bugs appear, you can never get the app to stop appearing in the Updates section. My suggestions would cure that.

You can go into an app's page on the Play Store app and uncheck the "Auto-update" check box. If you've got your apps to update automatically, then it really doesn't matter how often the apps update, does it?

Again, those of us who don't want to update automatically have no workaround to these apps remaining in the Updates section forever and ever. See also meyerweb's comment to you below.

Yeah. I see your point, and I agree.

I seem to remember there was a way to remove multiple apps from the list, but I'm not seeing it now. Was it removed, or am i Totally remembering wrong?

Your not wrong I use to use this alot trying different apps to see which I liked best but now without removing uninstalled apps at once you have to it one by one which is annoying and a step back

It galls me that on the phone version of the Play Store, I can't get a simple sorted list showing the dates of the last update to apps. "Recently updated" is all but useless if it doesn't tell you HOW recently and give me some dates/times.

Why would that be useful? "Recently updated" is only going to be apps updated within the last 24 hours or so. Why would you need to know which one happened first?

It's helpful in cases where you've installed or updated a couple of apps and want to track down the one that's eating your battery. If you can compare your battery chart to the time of day when you updated an app, you can more easily find the culprit.

I was just trying to do that today. I updated a couple of apps and installed one. I also tweaked a macrodroid setting and in the process my phone would not sleep. It took a while to figure out which was causing it. It ended up being the new apps settings.

That's fair, but there are already better ways of determining which apps are causing problems, such as System Panel, System Monitor and Wakelock Detector (albeit, root required for wakelock detector). Seeing excessive battery drain, and then looking at recently updated apps could easily lead to confusing correlation with causality, as in the case of what happened with Augerin. If you think you have a "misbehaving" app, these will be *far* more useful at actually identifying the problem. https://play.google.com/store/apps/details?id=nextapp.systempanel.r1 https://play.google.com/store/apps/details?id=com.cgollner.systemmonitor https://play.google.com/store/apps/details?id=com.uzumapps.wakelockdetector

I couldn't believe Google removed the ability to install annnd uninstall apps from the web. I figured it'd be back in no time. That was YEARS ago. WTF really? Posted via the Android Central App

You can still install apps from the web. Uninstall, however, I don't think you can do.

Yup, pretty pathetic. All apps that you have ever installed on your phone show up in google Apps web as installed. How hard is it to keep track of the ones that are installed or not? Nothing at all!
I find it really sad that Google refuses to provide such a basic functionality. You can kind of manage your apps from the web, but only half assed, so you still have to use google play on your phone instead, which makes it pretty useless.

nice article. I agree there should be more controls on the web view version of the play store. I still think it's dumb that you can't remove phones you no longer have or need from the Play Store. Is there a legitimate reason why we don't/can't have that seemingly simple request???

You can. Hit the "Gear" icon in the top right, go to "Settings" and then uncheck the boxes next to devices you don't use anymore and they won't show up in the lists anywhere else on the site. I would imagine the reason you can't delete them altogether has to do with database issues with the way purchases are tracked. Foreign keys can be a pain, when it comes time to delete old data :)

I have a lot of useless carrier and Samsung apps I can't uninstall. The option to "skip this update" would save a lot of data being lost.

If you can't uninstall the apps you can probably de-activate them. A lot of the stock Samsung and Google apps, can be de-activated in settings / application manager on your phone. Posted via the Android Central App

Yes, they are all deactivated, but that didn't stop play store from continuing to update them.

That's weird. That shouldn't happen. When you "disable" an app, it even warns you that it's going to remove all updates to the app. You should also be able to go into individual app's page and uncheck the 'Auto-Update" box on your device.

But unchecking auto-update doesn't keep all the updates from showing up in the play store app. If I don't want to apply and update, I should be able to tell the Play Store "don't show me this update any more - notify me only where there's a new update."

That's fair. I have heard from several people who would like a feature like this for this exact scenario. I remember an issue a few years back with a "bad" update to the Facebook app which effectively rendered the app useless for many, many people. Luckily, I heard about it and disabled the auto-update before I got it. In that instance, had I been able to simply say "skip this update and notify of the next one" it would have been much more convenient.

Play Store App needs - 1. Pull Down to Refresh and Update All "My Apps" from main screen. Stop making me drill down for this.
2. "Update All Apps" automatically every X hours setting. Or a instant PUSH as soon as update is available. Not Randomized.
3. Better Searching/Filtering Search, Google knows Search right? Then do a better job here.

How about a simple alphabetical sort order, instead of a reverse date order?
Sheesh! Posted via Android Central App

Yeah, I don't get how someone even considers making a list without simple sort/filter functions. Eg. A-Z, install date, rating, genre and so on. Is it really too much to have basic functions in your apps/Web Apps Google?

In truth, Google's management tools for the play store suck. And that's being charitable. The list is cluttered with dozens, or maybe hundreds, of apps that were installed on phones I no longer own, and that won't even run on current devices, and there's no way to remove them at all.

what about clicking the "X" on the uninstalled apps listed?

RIF. The article describes exactly how to remove them.

Nice little piece of advice. Seems trivial, but it's quite useful when you've had a ton of devices and app installs piling up.

Thanks for this post. Google really should make it easier to get rid of apps. Posted via the Android Central App

all of their methods of app sorting stink, thete is still no sensible way of managing more than a few apps, absolutely rubbish if you have nearly a thousand apps registered to one account...
the supposed masters of the search engine but as per with google services, this is another part of their system that is un-usable rubbish..

Hammertime! Good post, Jerry.

Maybe it's my Windows conditioning talking here, but does anybody else really wish there was a way to add folders to organize the "My Apps" section?

How about you let me filter out my paid apps? Posted via the Android Central App

Would like to be able to remove multiple apps at once just like you can install multiple apps at once. Press/hold on all the apps you want to remove > menu > remove selected. Boom. Please/thanks Google.

I see the capital one app in the headline pic. I'm assuming that phone isnt running android 5.0. Posted via the ACA on NEXUS 6

Thanks for the tip I just cleaned up my.

The feedback from the comments above shows that Play Store does not meet the needs of many.
Considering the contribution that Android Central makes to the community of this Google products, I think that you could invite Larry Page to an interview about this. Hopefully he respects AC as for attending or sending a representative with decision-making authority.

I would give a lot for a purchased apps tab. I don't understand why this isn't a thing. Posted via the Android Central App

Hey jerry I have a problem

Thanks for this useful article that often ignore . but my question is my android has run out of space on it's mobile tray. i cannot install any apps further. when i install new apps , it doesn't appear on my mobile phone. i'm using gionee elife e7 which has only 9 trays where i can store and use apps. and how can i increase app tray and install more apps? thank you

I wish there'd be an easy way to clean up that damn list...

Trying to find information on deleting some auto backup photos.
Thank you Arob.

guys I need help. Is there a way to see the list of the apps that has been removed from my apps list? Need your help ASAP. Thanks!

Hey there! my suggestion is to play "Drop Hunt" add in your app list or collection puzzle
https://www.androidcentral.com/e?link=https2F2F... have fun )

I have spent the past 15 hours trying to find an app that got uninstalled from my device. I can't locate it at all, I've searched through every music app download and still can't find it. This android central is wrong because I'm on a desktop computer and my uninstalled apps dont show up. When you click the all apps with the arrow down it only says subscriptions. Nothing else

Is it possible for an app to show up in my "all apps" list if I never downloaded it? Trying to figure out why clash of clans, hot or not, and angry birds keep showing up. I guess they're popular apps?

Tell it straight. The user interface to My Apps is terrible, especially if you have a lot of apps to manage. The most basic kinds of sorts (last update, install date, alphabetical, rating) are not available, there is no column list, only a very space-wasting array of big boxes, no way to separate those currently installed from those that are not, no useful search. I can understand that developers would protest having uninstalled apps sorted alphabetically or by rating because then many would never get a chance, but this is a list of those you have already selected. It's unwieldy and, frankly, inexcusable. We need a reasonable management method.

I put Google chrome to sleep as I realized my device couldn't take it.. Wheni woke it up to reinstall on a better device. It hasn't . Acted close too what it should. And today y I bought had it

What about a unified section addressing lost/stolen phones, when developers develope apps they could/should follow openly agreed protocols on phone/account access/removal conditions, google play could then provide a "centralised" ability that potentially strengthens all apps security, especially if a localised identity confirmation system was developed, requiring user authentication to initiate the lost/stolen phone feature.
Android Central Newsletter
Thank you for signing up to Android Central. You will receive a verification email shortly.
There was a problem. Please refresh the page and try again.