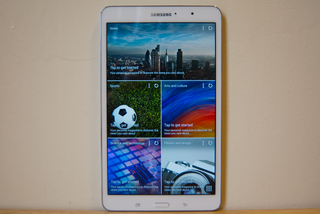 Samsung's built-in newsreader has grown up, but still has room for improvement
When the Galaxy Pro line of tablets was first introduced in January, all eyes were on Magazine Home, Samsung's brand new UX that fans and critics alike were dubbing the TouchWiz killer. Likened to a Google-ized version of Windows 8, Magazine Home was said to be a major shift away from TouchWiz as we knew it.
That assumption proved false.
In reality, as we learned at last month's unveiling of the Galaxy S5, Magazine Home is simply a new element of TouchWiz, baked into the UI but short of a total replacement. But despite it falling short of critics' and fans' expectations, for better or for worse, it does indeed mark a major shift for Samsung.
I spent the past several weeks getting to know Magazine Home on the Galaxy line of tablets. Here, we'll take a look at what the new user interface is, what it isn't, and why it's an important step in Samsung's evolution.
What is Magazine Home?
First, a bit of background: Magazine Home is something that Samsung has been toying with for a while now, and it first came to fruition on the Galaxy Note 3. There, in a less mature version, it was tucked away, accessible by a long press of the home button. It was hidden, in a way, and Samsung saw it as a footnote rather than a major marketable tool.
Since then, Magazine Home has evolved into a core part of TouchWiz, baked directly into the UI and dwelling right within your home screen.
At its core, Magazine Home is powered by Flipboard, the aggregator that centralizes news, entertainment, and other content into an easy-to-read, interactive UI. Here on Galaxy devices, Samsung has taken Flipboard and given it the old TouchWiz treatment – its core functionalities are largely untouched, but this very much a Samsung product rather than just a third-party app.
Out of the box, Magazine Home is located to the left of your default home screens, similar to the Google Now launcher's position on the Nexus 5. Swipe over and you'll be met with a customizable patchwork with content categories like News, Entertainment, Style, Photography, and Science, among others. These panels will aggregate content from a seemingly endless supply of RSS feeds.
But Magazine Home isn't limited to just news – you can also throw in applications like your Calendar, Email, Gallery, Music, and Samsung's WatchOn, as well as social streams from LinkedIn, Twitter, YouTube and Flickr, to name a few.
The good
While the idea of aggregated content isn't exactly novel (Flipboard, after all, has been around for awhile), Samsung has done a nice job integrating the process into TouchWiz. Navigating the content is a breeze, and customizing your panels to your own personal tastes is relatively simple and straightforward.
Those fans of Flipboard are going to feel right at home, with the hundreds of high-quality feeds and sources now living right in your operating system rather than in the app itself. Flipboard's content sources are unmatched in terms of quality and reliability, and there really is something for just about everyone here.
The bad
The common gripes about Flipboard are amplified here due to its prominence within the UI – feeds can be slow to refresh, and offline access is at times a futile effort. Magazine Home works well when it works, but when it stumbles, bringing your feeds back up to speed can be trying.
The other downside to Magazine Home is that it's simply unavoidable. You'll need to have at least one panel active at all times, living and breathing in your home screen carousel. Perhaps in the future Samsung will add more user control, but for right now, there's no disabling Magazine Home.
The other gripe with Magazine Home is with its unmet hype: As Galaxy S5 leaks turned into streams, many were looking forward to a totally revamped TouchWiz, one that shifted away from the typical layout and navigation and toward a experience wholly rooted in customizable, user-specific content. For them, Magazine Home proves yet again how Samsung tends to toe the waters when its customers — some of them, anyway — really want a canon ball.
The bottom line
What's remarkable about Magazine Home is that it marks a sharp shift for Samsung, who has historically focused on creating tools to further its own brand. Here, Samsung has learned that the most impressive bells and whistles are those that allow users to feel like they're in control – this is the first piece of software we've seen come out of Samsung's labs that place the emphasis on the user rather than the technology.
Magazine Home is a nice step in a new direction for Samsung -- it's not the next version of TouchWiz, nor is it the dramatically redefined user experience some were expecting, but it's progressive enough to keep us wondering about what else Samsung has up its sleeve. It's a great piece of software that fits beautifully into Samsung's tablet experience – now lets keep an eye on how Samsung uses it on its smartphones.
Get the Android Central Newsletter
Instant access to breaking news, the hottest reviews, great deals and helpful tips.
I guess I have give it more time and attention. I am just not a huge fan of it as of yet. Yeah it is nice, but the drawbacks mentioned in the article really turn me off. -------------------------------------------
You really should see the crap I don't post. Sorry if honesty offends you

Okay, I gotta say this.
I like using widgets. I like being able to sync specific feeds when I want. I don't too much mind using up storage space for apps with widgets. And if I did mind, I would simply use an RSS app to keep things simple. Google Now does this right. It keeps relevant information at a swipe away, not every feeds that I possibly use. (That's what app widgets are for) My Magazine and Blinkfeed are trying to hard to improve upon Google. FAIL....! Posted via my SPARK enabled Sprint LG G2, that's constantly laughing at my wife's T-Mobile Galaxy Note 3 with borked sdcard support on 4.4.2...

Ditto... Couldn't have said it better!

Thanks to htc blinkfeed Posted using HTC ONE via Android Central App

Yeah they were the first /s -------------------------------------------
You really should see the crap I don't post. Sorry if honesty offends you

Maybe if I didn't have to manually refresh the panels, and could pick which email program to use instead of the Samsung one. Also, it would be nice if in the indivdual panels I could flip, instead of having to hit the panel, then go into Flipboard, and then read different articles. And BTW, it sems my Twitter panel doens't work as it never refreshes when I try to, unless I sign out of Twitter and back in.

Bought a Tab Pro 8.4 for the wife and tried this out for a bit. Coming from a Nexus 7 myself, it was just so cumbersome and sluggish. I installed Nova Launcher on the Tab and it instantly felt snappier. I just don't get it I guess. Screen on the Tab Pro is amazing by the way (if you like oversaturated AMOLED).

Coming from a nexus 7 myself it isnt -------------------------------------------
You really should see the crap I don't post. Sorry if honesty offends you

I don't love but I don't hate it.
Just wish I had the option of turning it off if I wanted so I could make my home button long press active voice for texting. Posted via Android Central App

" – feeds can be slow to refresh" Does this mean they actually refresh on their own? I thought it was manual only.