A look back at Sooner, Google's first Android phone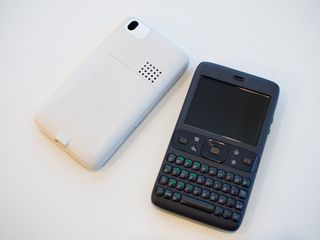 Android as an operating system has changed dramatically since it was first acquired by Google in 2005, and along with it so has the phone hardware that it runs on. Every Android fan knows about the T-Mobile G1 (aka the HTC Dream) as the first Android-powered phone made available to consumers, but before that milestone was this, the "Sooner."
Image 1 of 5
Sooner was Google and Andy Rubin's first vision of what an Android phone would be. It was built as an engineering prototype for testing the first builds of consumer-facing Android in conjunction with HTC starting in 2006, and come 2007 T-Mobile got on board as a testing partner.
As is plain to see, Sooner followed the then-modern ideas of what a smartphone should look like, with a blocky design, small non-touch screen, dedicated calling keys, menu/back/home navigational buttons, and a big focus on communication. The screen had a 320-by-240 resolution, it had a whopping 64MB of RAM and offered a GPRS data connection. And, yes, it had a camera (just 1.3MP), a removable battery, and even an SD card slot.
Even when the Sooner hardware was finalized, the software remained regularly in flux. Google was trying new things with Android, trying to figure out what worked best for the full experience on Sooner. Though the OS is hardly recognizable even compared to the likes of Android Jelly Bean, lots of the tentpole features were there — a unified notification center, Google Talk, Google search, a full web browser, YouTube, Gmail, Google Maps and more all ran on Sooner.
In fact, I was able to pop a SIM in a Sooner and watch it still run today — receiving text messages, making searches on Google and checking out calendar entries from back in 2007.
Image 1 of 5
Google saw the smartphone world start to turn in 2007 and 2008, and while Android development continued on Sooner it was never slated for a consumer launch. While Sooner was still in the pockets of Android engineers development was already well under way with the T-Mobile G1 / HTC Dream, which as we know was a dramatically more advanced device than Sooner. Android moved to a touch-first interface — though it kept the keyboard available — and internal components improved significantly for the time.
T-Mobile's Des Smith remembers Sooner as a key milestone in Android's transition from an idea to a physical product:
"This was a time of great excitement for us," Smith said. "Sooner was the tip of the Android iceberg. It was the first thing I had "seen" Android running on. Up until the Sooner, Android was an idea, a concept, and this was the first physical example of Android out in the world — even though it was still a secret.
"The Sooner was never meant for public viewing, but when we saw it, I knew Android was for real and it would come to the rest of the world!"
Though it wasn't slated for public consumption, Sooner was an incredibly important device in the development of Android. Lessons learned with Sooner and then Dream helped kickstart Android into the global operating system used by more than a billion devices today.
NOW READ: Android History
Image 1 of 5
Get the Android Central Newsletter
Instant access to breaking news, the hottest reviews, great deals and helpful tips.
Andrew was an Executive Editor, U.S. at Android Central between 2012 and 2020.