LINE's Foodie camera will help make your food photos great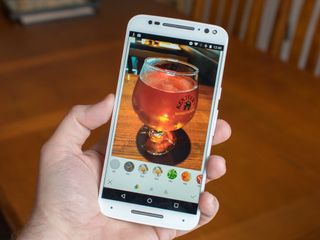 The company behind the popular LINE Messenger has released a new camera app that puts the focus on your food. Foodie is meant to help you share great shots of your meals, providing a number of filters to make your food look more appetizing. There are also different effects that you can apply, as well as features to help you take better photos of your food.
What you get with Foodie:
Over 20 filters customized for taking food photos
Amazing photo editing features that transform simple food photos into one-of-a-kind masterpieces
Camera shot angle based auto blurring effect
Smart guide feature that helps you photograph food from directly above it
Share photos to social networks
The Foodie camera app is available now on the Google Play Store (opens in new tab).
Lol...Dang hipsters XDA: Shayneflashindaily

This app should come with a referral to a shrink so you can eventually rejoin society.

Do we want these people to rejoin society? We might have to talk to them then. Posted via the Android Central App

Good point. I guess we're better off if they're preoccupied with taking filtered pics of their kale salads.

Yeah... if you need a camera specifically to take pics of food, you are doing it wrong...

Now we need one specifically for d!©k pics. Google Nexus 6P

One that uses an algorithm to detect who your mom and grandmother are, and auto forwards the pics to their phones. Posted from my Nexus 6.

My girlfriend often takes pictures of her exotic meals. Anything to help her take a picture would be great. Note 5 (just in case, hog = Harley Davidson)
Android Central Newsletter
Get the best of Android Central in in your inbox, every day!
Thank you for signing up to Android Central. You will receive a verification email shortly.
There was a problem. Please refresh the page and try again.