We're drawing a line in the sand on devices launching with Lollipop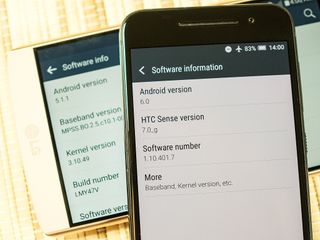 Things that make sense to those of us who pound keyboards for a living — as well as you on the real-world side of things — don't always make sense to the folks in charge of actually getting new phones and tablets out the door. So let us be clear with our language here:
It is not acceptable for a manufacturer to release a new device running anything less than Android 6.0 Marshmallow from this point forward.
Ideally we shouldn't have to say this out loud. Google releases a new version of Android — a major new version — and we all should expect new devices to launch with it. There's got to be a grace period, of course. And nailing down a specific time period for that isn't exactly easy or objective. But Marshmallow was added to the Android Open Source Project — the public repository from which anyone can pull code — on October 5. We saw the first non-Nexus phone ship with Marshmallow (the HTC One A9) just a month later, but the LG V10 launched at the same time on Android 5.1, as did the BlackBerry Priv. So this isn't an exact science. But we're now a month beyond that, and so we're drawing a line in the sand. No more Lollipop.
So what does that mean for us editorially?
If a new device ships with Lollipop and is otherwise worthy of a review from us, we'll still review it. But on principle it'll have no chance at earning a Choice Award, and in all likelihood it'll not fare well in the "should you buy it?" section of the review. That last part will remain at the discretion of the editors, of course. (For a rough example of that, we'll point you to the Huawei P8 lite, which shipped in mid-2015 with Android 4.4 KitKat.)
That this isn't just about having the latest shiny thing. Security has never been more important on smartphones, and Marshmallow makes it easiest to keep an eye on where your phone stands in the mix — to say nothing of the new features.
This won't stop Lollipop launches from happening, of course. We're a month away from the CES show in Las Vegas, and we'll undoubtedly see any number of devices running Android 5.x. Some might even be worth looking at. (Samsung just announced three mid-rangers on Lollipop, actually.)
But from today on, any new Android device that doesn't have Marshmallow when it hits our hands almost certainly will fail to receive a recommendation from us.
Get the Android Central Newsletter
Instant access to breaking news, the hottest reviews, great deals and helpful tips.