The Huawei P8 lite: A decent unlocked option with a software problem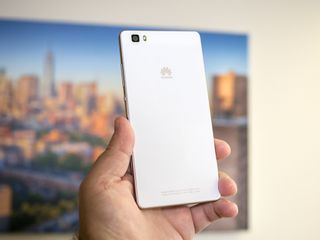 The "unlocked" market is starting to bloom a bit this year, and one of the newest entries is this, the Huawei P8 lite. As the name implies it's sort of a little brother to the P8 — you can read our full review of that one here — with the specs and style scaled back a bit to hit its asking price — just $249, without having to sign any sort of contract with a carrier. And what's more is that Huawei is bringing the P8 lite to a number of outlets in the U.S., as well as selling it directly.
And buying the phone really is just the start. It's all part of a pretty big move for Huawei as the Chinese company starts to make inroads in North America, and they're calling it "Unlocked 2.0." No more forking over a few hundred bucks for an imported phone and hoping things work out. (Or not caring too much if they don't, since the price was right.)
Let's take a look.
Image 1 of 2
Huawei P8 lite hardware
We don't usually start with boxes. In fact most of us here loathe the unboxing video. But we begin with Huawei's cardboard cocoon for a reason — the company is capable of paying attention to detail. While the act of pulling a phone from a box shouldn't be celebrated as some sort of endeavor of entertainment, Huawei at least makes it interesting here. If you've ever bought a phone from a carrier store from one of the major manufacturers, you likely didn't slip it out sideways. Huawei (like others on the fringes) is doing things different here, housing the phone on its edge, flanked by internal boxes containing the cables and legalese.
The phone, of course, is what's important here. Pick it up and you'll find it's surprisingly light — just 4.64 ounces, a smidge lighter than the Samsung Galaxy S6. And you'll immediately surmise that the P8 lite's lack of heft has something to do with the fact that it feels so plastic. And, in fact, it is plastic. Whereas the P8 proper sports a metal body, the P8 lite, as you'd expect from a phone of its price dials it back. It's got the same blocky form and design cues — buttons and ports and what not share the styling of the P8 proper, but it does lose the beveled chrome edging and trades the matte meta back for brushed plastic. It's not horrible to hold, once you pick it up. And that last bit's the tricky part, as there's not a lot to grip onto, and once you do it's a bit slippery. But eventually the phone will settle into place, and at that point it's comfortable enough, with the power button in an easy-to-hit spot.
As for the particulars, the P8 lite is a little smaller and thicker than its larger, older brother, at 7.62 mm (versus a mere 6.4 for the P8 proper.) The phone's sporting a 5-inch IPS display at 720p. Again, that fits the $249 price, and in actuality the lower resolution isn't the worst thing in the world. (The screen's covered by Gorilla Glass 3 and a screen protector that's on their pretty good and doesn't really mess with the look or feel of the phone at all, but you can take it off if you want.) The whole thing's powered by the 64-bit Qualcomm Snapdragon 615 processor (unsurprisingly eschewing its own HiSilicon chip that we've seen in the P8 proper), comes with 2 gigabytes of RAM and maxes out at 16GB of on-board storage. You'll be able to augment that with a microSD card (Huawei says it'll handle only up to 32 gigabytes of extra storage, but we've popped in a card with twice that capacity and it works just fine), though that means giving up one of dual-SIM slots.
More: Read our complete Huawei P8 review
Image 1 of 5
For cameras, you're looking at a 13-megapixel sensor out back, and 5MP in the front. Photography has been one of the areas Huawei's focused on of late, and they've included the excellent "Ultra Snapshot" feature that lets you double-press the volume-down button to quickly launch the camera and take a picture in less than two seconds. (And, in fact, it still reports on the screen just how fast it fired off the shutter, which is cool.) More on the camera in a minute.
All in all, the P8 lite's got a decent look and feel to it. Not great, but really good for the price.
Huawei P8 lite software
The software on the P8 lite is where we once again find ourselves shaking our heads. And that starts with the fact that we're nearly halfway through 2015 and the P8 lite is launching with Android 4.4.4 KitKat, some seven months after Android 5.x Lollipop became available. And that's especially worrisome given how long it's taken Huawei to get Lollipop onto a top member of its sister line, the Ascend Mate 2, which is just now seeing Lollipop in beta. That's entirely unacceptable. Meanwhile, the P8 proper is sporting Lollipop out of the box — and more important is that so are Huawei's direct competitors in this burgeoning unlocked space, including the $299 ASUS ZenFone 2 and the $249 Alcatel OneTouch Idol 3.
Allow yourself to get over that fact, and you'll be greeted with Huawei's custom EMUI (that used to stand for "Emotion UI"). And not even the latest version of EMUI — the P8 proper is running EMUI 3.1 — but version 3.0. If you've never experienced any latter version of EMUI, you're in store for a user interface that rounds off all the app icons, forgoes the app drawer in favor of putting everything on the home screens, and splits the pull-down shade between notifications and a slew of settings shortcuts — a dozen at first, and eight more available if you pull down again. The settings menus are split between "General" and "All," even though you'll find them all under the latter section.
Our own Alex Dobie summed things up perfectly in his P8 proper review:
You can't do anything about the settings menu, but a third-party launcher can take care of the home screens. Mostly.
And that's not to say that it's an entirely negative experience. It's got features you'll find in phones that cost three times as much. (And that includes annoying "cleaners" that you're better off ignoring.) And figure most folks won't know one launcher from another, or an app drawer from a home screen. And at least Huawei provides a more consistent design, even if it butchers app icons that aren't specifically designed EMUI by lopping off the corners.
But, again, you're not going to be buying the P8 lite for the software. You'll be buying it for the price.
Huawei P8 lite camera
Another bright spot for Huawei continues to be its camera software. It's pretty sparse, and the glyphs take a tad of learning, but all in all it's a good camera app. The top level has your focus ring, overflow menu (for more options, including HDR, panorama, audio note, best photo, all focus, watermark and settings. You also have a button to flip over to the front-facing camera. There's a gallery button at the bottom, as well as a droplet-shaped button for live filters. You can swipe to switch between "Beauty" mode (which adds a slider to smooth out skin), photo or video mode.
One cool feature of the front-facing camera is the picture-in-picture box that gets you to look up at the lens itself. Nice touch. And once you've taken a picture you have options in the gallery to rotate, add a filter, adjust the levels, or crop. Pretty standard stuff there.
As for the quality of the pictures, we've been more than unimpressed. But we're also a little worried about our review unit, as it almost appears that one of the plastic lenses in the camera housing isn't lying flat, which could explain some of the extreme haziness. So we're not exactly sure how representative our samples are. Here they are anyway.
Image 1 of 7
Huawei P8 lite bottom line
Like other phones in this "unlocked" space, you'll start at the price and work your way backward. So $249. Is that a bad price given the P8 lite hardware? Nope. Pretty decent, actually. It's the software that's hard to swallow, though. As we explained above, you get more conventional user interfaces and more up-to-date versions of Android for the same price, or just a bit more. That's a pretty big failure on Huawei's part, unless it's betting on the fact that most folks won't care — or even notice, for that matter. We, however, can't let that slide. Huawei has to get an updated OS on the P8 lite, and do it quickly.
Ignoring that one sore spot, however, and you've got a decent, properly priced Android smartphone. Add to that the after-sale considerations that Huawei's rolling out — a two-year warranty and localized repair (you won't be sending the phone overseas or anything) with free shipping. And there will be options for financing, wherein the $249 cost of the phone can be split into 3-, 6- or 12-month payments. Plus Huawei will have a U.S.-based call center to provide support. Or you can use live chat online, or a preinstalled app on the phone.
Huawei's doing a lot of things right with the P8 light as it sets its sights on becoming the No. 3 smartphone manufacturer, and it's got a good entry into the North American unlocked space, which is only going to get bigger. But Huawei also has to get its software in order.
Sign up for Black Friday email alerts!
Get the hottest deals available in your inbox plus news, reviews, opinion, analysis and more from the Android Central team.