The quick take
The Huawei P8 is a great phone with a capable camera, long battery life and an expansive array of features, set back by weird software. The hardware is top-notch, but Huawei's EMUI 3.1 is buggy in places, and often at odds with Google's preloaded services.
The Good
Great build quality, with premium materials
Slim, lightweight design
Great performance and battery life
Highly capable camera
The Bad
Buggy, overbearing software
Much of Lollipop is hidden behind Huawei's skin
Google services take a back seat, and in some cases don't work properly
Android Wear support is completely broken
5.2-inch Full HD
IPS LCD display
1920x1080 resolution (435ppi)
13MP, ƒ/2.0 lens, OIS
8MP front-facing camera
2680mAh battery
Fixed internal battery
Octa-core HiSilicon Kirin 930 processor
4x2.0GHz A53e cores + 4x1.5GHz A53 cores
3GB RAM
16GB internal storage
microSD slot
Huawei P8 Full Review
As big as it is in the broader world of telecommunications, Huawei doesn't have the brand recognition of LG, Samsung or even HTC in Western markets. Indeed, it's hard enough for most of us to agree on how to pronounce the company's name. (H'wah-way is what we're told, by the way.) Nevertheless, the Chinese wireless giant is eager to push further into Europe and establish itself as a player in the notoriously tricky U.S. market. This year, that starts with a new flagship smartphone: the Huawei P8.
Having ditched the old "Ascend" brand, beefed up its hardware and moved to all-metal construction, Huawei will be hoping its flagship can be seen in the same light as the more established smartphone brands. Indeed, its London launch event was full of favorable comparisons with the Galaxy S6 and iPhone 6.
Huawei's premium hardware has been improving steadily over the past couple of years, arguably outpacing many of the bigger Android brands. Yet on the whole, its high-end phones have been primarily sold in Asia and a handful of European countries. (In the U.S., for instance, you'd probably be more familiar with Huawei's many mid-range offerings.)
As such, the company's EMUI software appears to be built, first and foremost, for a Chinese audience — a market in which Google doesn't officially operate, and where tracking down trustworthy apps can be challenging. And when that software suddenly has to live alongside a full suite of Google apps and services, things can become a little awkward. That's pretty much the P8 in a nutshell: amazing hardware paired with software to madden Android purists. Read on for a detailed breakdown of Huawei's 2015 flagship.
A tale of metal and glass
Huawei P8 Hardware
If you're used to the largely plasticky construction of Huawei's mid- and entry-level stuff, the company's 2015 flagship might come as something of a shock. When it comes to materials and build quality at the high end, Huawei doesn't mess around. The P8 is a slim, lightweight, good-looking metal smartphone that's easily in the same league as the latest creations of HTC and Samsung.
The brushed steel unibody is punctuated by reflective chamfers, and plastic cut-outs housing the device's antennae. The sides of the unibody are gently curved, making for a secure grip while also being easy to hold. It's comfortable and grippable, while simultaneously feeling like a high-quality smartphone — and there are plenty of Android phones that haven't successfully walked that tightrope. The main buttons — power and volume — are sensibly situated on the right edge. Below them you'll find two slots, one for your nanoSIM and one for microSD; on the dual-SIM P8 model, the SD tray doubles as a second SIM slot. Meanwhile, the bottom edge houses a microUSB port and two speaker grilles, only one of which actually houses a speaker.
That's not to say the P8 skimps on audio hardware, though. This phone probably comes as close as any single-speaker setup to matching HTC BoomSound in terms of bass and sheer volume.
Huawei's done a good job with the P8's display, too. The 5.2-inch 1080p panel is bright and punchy without looking over-saturated, and colors appeared generally accurate, based on a cursory glance at a few sample images and color charts. Even without the eye-popping pixel density of a QHD screen, it's more than deserving of a place in a premium handset.
In fact, our only real visual complaint relates not to the screen but the border around it. On our white/gold P8, this is extremely reflective in bright sunlight, making it difficult make out anything on the display. This is an issue we've seen before on plenty of white-fronted phones, but it seemed particularly troublesome on the P8. In any case, we'd recommend one of the other colors with a more eye-friendly black bezel instead.
Image 1 of 3
We'd be remiss in not mentioning that it does look a little bit like an iPhone 5 or 5s — especially from the back, where we see a glass panel housing the P8's 13-megapixel rear camera. (And especially given how much Huawei's software emulates parts of Apple's.) The in-hand feel is fairly different, though, as is the experience of using it.
It shouldn't really come as any surprise to see that Huawei's nailed the hardware side of the equation. It's been shockingly good at making metal phones for at least the past year, and the P8 is the next logical step forward from the aluminum-clad Mate 7 of 2014. It's simple, elegant, a little bit iPhone-like, and it looks and feels great.
Within that pristine metal shell, Huawei's flagship runs its own Kirin 930 octa-core CPU, a 64-bit chip using four higher-clocked "A53e" cores at up to 2.0GHz and four regular Cortex-A53 cores at up to 1.2GHz. It's a big.LITTLE chip, which means the lower-power A53 cores handle lighter background tasks, while the speedier A53e cores can fire up when higher performance is needed.
As with its previous phones, Huawei ships the P8 with performance set to "smart" mode, which dials back the CPU a little (the A53e cores appear to be capped at around 1.5GHz). However you can revert to "normal" mode to crank the CPU all the way up, at a small battery cost. As it stands, we used the phone in "smart" mode through most of our testing and never found its performance wanting.
Also along for the ride: an ample 3GB of RAM and a less-than-ample 16GB of storage, of which around 10.5GB is available for your own stuff. That's well below what we'd expect from a high-end phone, even with an SD card to lessen the load.
And finally, there's a non-removable 2,680mAh battery packed in the P8's slim chassis. That doesn't sound like a lot by modern standards, being just 80mAh more than the Galaxy S6 edge, which isn't exactly a battery beast. However as we'll discuss later in the review, Huawei has done a great job squeezing a full day — or more — out of the P8's fixed juicer. Whereas the GS6 has a more powerful CPU and higher-res display to run, Huawei appears to have a more energy-efficient design.
Connectivity-wise, you're looking at a mostly unsurprising list of specs: Wifi — b/g/n only, so there's no 5GHz or ac support — Bluetooth 4.1 and a whole bunch of LTE bands. The global P8 model we're reviewing, model number GRA-L09, supports a whopping 16 bands of LTE, including the main ones used by T-Mobile and AT&T in the U.S, and most of the bands in use internationally. Check the Huawei P8 spec sheet for a full breakdown of bands.
Image 1 of 5
Huawei also combines hardware and software to improve signal strength near the edge of cell towers, and when travelling quickly — for example on a high-speed train. This technology, dubbed "Signal+," is referenced in an explainer page in the Settings app. And while it's difficult to test conclusively, we did notice that the P8 seemed to lock onto a 4G LTE signal more reliably than a couple of other Android flagships when taking a couple of high-speed rail trips in the UK.
Likewise, the P8 boasts "Roaming+," which the manufacturer claims can help it lock onto foreign mobile networks more quickly when first arriving in a new country. (If you travel regularly, you may have noticed most phones take a few minutes to get up and running in a new country.) On a recent trip to Malta with his P8, Mobile Nations' Richard Devine tells us that his P8 did indeed start roaming on a local network more quickly than other devices he was carrying.
Your mileage may vary, of course, but Huawei's history in networking infrastructure could well give it a small advantage in these areas.
So on the outside, the P8 is an exquisitely crafted slab of metal. On the inside, it's running powerful hardware that almost matches what the bigger players are bringing to the table. Really, the only disappointment here is the meager internal storage and inexplicable lack of 5 GHz Wifi support.
Android, iOS, bugs and glitches
Huawei P8 Software
The Huawei P8 runs version 3.1 of the company's EMUI (formerly Emotion UI) software, which sits atop Android 5.0 Lollipop. As we've seen from previous Huawei phones, this is a fairly complete re-working of Android into something that doesn't bear much resemblance to Google's stock UI.
Instead of Material Design, Huawei's own interface combines bits of Android with some fairly heavy iOS influences. It's not a totally shameless rip-off of the iPhone's software, but there are marked similarities. Swipe down on the home screen to launch a Spotlight search-like feature, which blurs out your home screen just like iOS. The camera app sports a familiar round shutter key and swipe-activated list of modes. And the folder system for app icons looks strikingly similar too, with apps in folders arranged into pages in a 3-by-3 grid. The ever-present rounded app icons also give the impression that Huawei's been, heavily inspired by Apple's latest designs.
Huawei deserves credit for its expansive (and largely useful) feature set, however. The software is full of neat software tricks — for example, long-press on the Overview button to instantly hop between the last two open apps. And a quick swipe gesture across the on-screen buttons will switch to a smaller one-handed UI, shrinking the screen down to one corner. And swiping down in the Gallery app can instantly launch you into a miniaturized version of the Camera app.
Image 1 of 2
There's also a lot original design work going on here, and much of it looks decent in its own right. The stock Huawei apps take on the color of your chosen wallpaper with a frosted glass effect, EMUI 3.1 performs smoothly (unlike the janktastic version 2.3 that shipped on last year's Ascend P7), and manages to be visually consistent while also supporting a wide range of themes. Six themes are pre-loaded, letting users customize their lock screen, wallpaper, animations and icons. There's currently no way to load any more themes onto the P8, but we wouldn't be surprised if that changed shortly after the phone's retail launch.
The P8's theming system provides an abundance of choice, and that's usually not a bad thing. However the choice is between a handful of themes which are all equally overbearing. The standard "Magazine" skin is criminally dull, while alternatives like "Ambilight" look guady and childish. The only one that's relatively easy on the eyes is "New Born," which brings brighter colors and cleaner-looking visuals.
However our biggest graphical complaint has to do with how much Huawei insists in getting all up in your icons. Each theme comes with its own icon pack, not just for the bundled Huawei apps, but some Google apps as well. These icons are typically rounded, in the usual Huawei style, but the problem is they're still based on the old, non-Material Design graphics of Android 4.x. For example, you'll be looking at the old Gmail, Google Play Music and Play Movies icons on the P8 until Huawei decides to update its skins. What's more, most of the phones themes insist on adding rounded borders and colored background to third-party icons too — and more often than not, this just looks bad.
Unfortunately, that's only the beginning of Huawei's disregard for Google's ecosystem, Android's design language and Lollipop's feature set. In the current P8 firmware, much of Android 5.0 is hidden away behind Huawei's all-encompassing UI.
Lock screen notifications, for instance, are done the Huawei way, not the Google way. There's a settings menu where you can choose to allow apps to push their notifications to the lock screen, but the bundled Google apps are inexplicably missing from this list. That means no Gmail or Hangouts on your lock screen. What's more, you can't expand lock screen notifications in the usual Lollipop way, and they only show if you're using the default "Magazine," lock screen, which isn't explained anywhere.
The list goes on. In place of Lollipop's colored status bars, Huawei locks the P8's top bar to the color of your wallpaper in all apps, leading to a jarring contrast if you're using anything other than a black home screen wallpaper. And Huawei's notification shade can't handle multiple notifications from Gmail and Hangouts properly, instead showing both individual notifications for messages and a combined notification with all pending messages. Worse still, the P8's darkened notification shade means notification text from some apps — again, the bundled Gmail and Hangouts apps being major examples — are illegible, because they're rendered in grey.
Oh, and Android Wear doesn't work on the P8, due to a bug in Huawei's notification listener system that means notifications are never pushed to the watch. (The same bug also affects Pebble users on the P8, we're told.)
It's almost like nobody who actually uses Google services bothered to test the P8's software. The Android Wear bug is particularly confounding — is Huawei not testing its own watch with its own phone?
Image 1 of 4
For Android purists, any one of these issues would probably be a deal-breaker. And that's a shame, because with the right skin Huawei's software actually looks pretty good. If the company could make Google's ecosystem play nicely with its own UI, the P8 could offer a really solid (if highly differentiated) software experience. Instead, the two are at odds in a way we rarely see in a modern, high-end Android phone.
Other nagging software issues from the Ascend Mate 7 have held over too. You'll still get constant notifications telling you which apps are using power in the background, even when their battery use isn't problematic. This happens a lot, to the point where less experienced users would probably start to think something's wrong with their phone or the way they're using it.
And then there's the whole "protected apps" system, which requires you to manually approve each app you want to be able to run when the screen's off. That's great in theory, allowing greater control over apps that might be causing battery issues. But in reality the micromanagement of constant battery notifications and a protected apps list is a mental overhead normal people shouldn't be expected to bear. Deciding what is and isn't allowed to run in the background, and worrying about what's using power when the screen is off isn't the job of the user — it's the job of the operating system.
It's hard not to come away with the impression that this phone was designed first and foremost for the Chinese market — where Google services aren't preloaded, and thus aren't much of a concern, and where it's important to make sure the apps you're downloading from various sources aren't misbehaving.
It might seem like I'm being overly negative about the software side of the P8. But as the cliché goes, I'm not mad with Huawei's software, just disappointed. This isn't a company that's clueless about software or design. If it were, the whole thing would be broken. Instead, it's mainly just the Google integration that needs work. Only problem is that's kind of a big, important part of an Android phone in Europe or the U.S.
All day, every day
Huawei P8 Battery Life
With a 2,680mAh fixed battery, the Huawei P8 doesn't differentiate itself with sheer capacity. Instead the efficiency of its components — and perhaps a little software tuning — is responsible for the phone's first-class battery performance. Huawei says the P8 will get up to a day and a half of normal use per charge. More importantly, that means you're good for a single day of use even when pushing the phone really hard, including extended periods browsing and streaming over LTE.
Most days, with our normal usage patterns consisting of browsing, social networking, messaging and a little music streaming over LTE and Wifi, we didn't come close to depleting the P8's battery. With more intensive use we were still getting to around 9pm with more than 35 percent remaining. (And a prediction that the phone would last until the wee hours of the next morning based on our usage.)
So Huawei's flagship rarely gave us any reason to worry about its battery performance. Unlike Samsung, it's found a way to make a relatively small battery in a relatively slim smartphone last comfortably until the end of the day.
There's also an ultra power saving mode, similar to what we've seen from many other manufacturers, which cuts back on all but the most basic phone features. We never had reason to use it during our time with the P8, however it's a good option to have if you need to eke more time out of a dying battery.
The P8 is missing some of the GS6's charging tricks, though. Being a metal handset, there's naturally no possibility of wireless charging support being included. And the phone doesn't appear to support quick charging, either through Qualcomm's standard or the bundled plug, which is a plain old 5V/1A charger. That's less of a big deal when you don't need to sneak in a mid-day charge, however.
A great camera, if not the very best
Huawei P8 Camera
The P8's camera played a major part in the phone's London launch event, with Huawei CEO Richard Yu talking up its capabilities compared to the Galaxy S6 and iPhone 6 Plus. The rear shooter is a 13-megapixel camera with OIS (optical image stabilization and two-tone flash.) It's a new RGBW sensor from Sony, which adds an additional white pixel to the red, green and blue found in regular image sensors.
The new sensor promises to reduce chroma noise and produce brighter image in high-contrast situations, and it's paired with an f/2.0 lens and a new ISP (image signal processor) described by the manufacturer as "DSLR-class."
Smartphone history is littered with ill-advised DSLR comparisons. And of course the P8 isn't going to replace your full-sized camera. Nor, in fact, is it quite as good as the best cameras out there from Samsung. But it's damned close, and a really great smartphone camera in its own right.
In terms of pure image quality, the P8 manages to capture good-looking photos across the board, even in relatively low light. Colors lack some of the punch found in pics from the Galaxy S6 and Note 4, but on the whole photos from the P8 are sharp, clear and quick to capture.
Daylight shots, unsurprisingly, look fantastic, if a little on the desaturated side. (We'd recommend nudging up the saturation slider under Menu > Settings > Image Adjustment.) And in low light you'll witness more graininess and a little loss of fine detail — and motion blur, as the camera favors longer exposure times — but it's certainly no worse in this respect than most high-end phone cameras. The only persistent problem we've noticed is color bleed, which seems to affect the camera regardless of lighting conditions or shooting mode.
Image 1 of 33
It's also a competent video performer, in part thanks to its optical stabilization and that extra (white) pixel. Our only gripe — it can be a little slow to autofocus when recording in darker conditions.
The P8's camera app also brings a range of shooting modes to the table, including standard features like HDR, panorama and a focus-changing mode called "All-focus," and less useful modes like "Watermark," which lets you plaster your pics with random stickers. For really dark conditions, "Super Night" mode has a couple tricks up its sleeve to help you capture better looking low-light pics. By default it captures images at a range of different shutter speeds and combines them to form a finalized image. Usually the capturing process takes between 3 and 30 seconds, during which you'll need to hold the phone still. We've found it's easier to experiment with the manual settings, though, tweaking ISO level and exposure time for the best results.
Around the front, the P8 packs an 8-megapixel selfie camera that's also surprisingly competent. There's the now-obligatory beauty slider, to make you look like a terrifying live waxwork of yourself. And Huawei's "Groufie" (group selfie) feature gets a new and less cringeworthy name — it's now simply called "panorama."
There's also a "light painting" mode for capturing artistic effects with longer exposure times, with presets for traffic, star track, water and light graffiti. Huawei's own promo reels show show stunning shots captured using this shooting mode, but in practice you'll need a tripod and a bit of patience to get anything worthwhile. Handheld captures are basically a no-go.
The bar for high-end phone cameras has been raised considerably by Apple, Samsung and LG recently. The P8 doesn't reach these dizzying heights, but it is extremely capable, and we'd have no hesitation using it as our primary cameraphone.
A very good phone, with a few showstoppers
Huawei P8: The Bottom Line
On balance, the Huawei P8 is a good phone, but also a weird phone. For sure, there's a lot to like. Just about everything you could ask for on the hardware front has been delivered: Fantastic build quality, a sleek, luxurious design, great sound, display and camera experiences.
But as much as the P8 is an example of how far Huawei has come on the hardware side of things, it also demonstrates the mountain it has left to climb in terms of its software experience, particularly for Western consumers. EMUI 3.1 is a radical departure from the Googlified Android most buyers are familiar with, and the software glitches we're seeing don't help matters.
In other words, the P8 nails the hardware fundamentals, but trips up on what should be trivial software details. That's the main black mark against what is otherwise very good smartphone.
Huawei is sure to be an interesting manufacturer to watch in 2015, as it looks to push further into Europe and expand its fledgeling U.S. presence. Right now the P8 is almost the phone it needs to achieve those goals. Maybe a software update or two later, it'll be ready.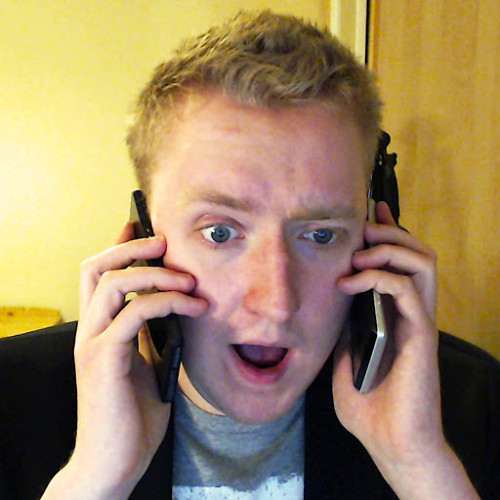 Alex was with Android Central for over a decade, producing written and video content for the site, and served as global Executive Editor from 2016 to 2022.