Lightbox closing its doors as the team joins Facebook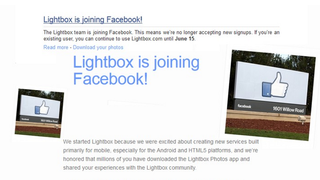 Seems like the Facebook train just keeps on rolling, with todays news that the Lightbox team will be joining the social network. For Lightbox users, the end is sadly nigh as the service will be closing down completely from June 15. Existing users can continue to use the service until then, but no more new signups will be accepted.
This isn't an acquisition, not like the $1 billion buyout submitted for Instagram. As such, none of the user data stored by Lightbox will become the property of Facebook. The staff is the only part transitioning, and as such closing the doors for good. Until June 15, all your photos can be exported, and the Android application has already been removed from Google Play. Additionally, parts of the code will be open-sourced in the coming weeks.
Source: Lightbox Blog; ​thanks @FYeahRyanRocks for the tip!
Android Central Newsletter
Get instant access to breaking news, the hottest reviews, great deals and helpful tips
O_o Didn't see that one coming.

That's a bummer. I liked using Lightbox because I could take photos and easily share them on Facebook and Twitter instead of having to share them individually. Does anyone know of anything similar (outside of Instagram)?

:(
Why does Facebook keep chasing me everywhere I go? Creepy stalker...

Wow, seems like a hostile takeover, perhaps motivated by a desire to eliminate Instagram's competition?

That's what I was thinking. Maybe they won't be "working" for Facebook. They will be sitting at home with piles of cash.

I'm properly annoyed at how this is being handled by the staff at Lightbox. They'll just be closing up shop and leaving millions without a solid Android app to take and share pictures with. Instagram doesn't come close to Lightbox; it's clunky at best and doesn't follow Android design standards. Edit: And now Lightbox has turned off comments on the blog article because people were voicing their opinions on this merger. I had yet to see a comment that used any profanity, but I guess they couldn't handle the truth of it all. At least they'll fit in well over at Facebook. Disgusting.

Yea man, how dare they pursue their careers and live their lives. I need to take crappy pictures and show my friends dang it!!

Not the point I made. They handled it like children, not owners of a company.

When did android get design standards?

Since version 4.0 http://developer.android.com/design/index.html
or at least design suggestions..

*** Edit ***
I skimmed the article (my bad) ... This is a loss. I loved Lightbox when I was looking for an Instagram standin before Instagram made it to Android. It would look better for Mark Z if he kept the studio and app intact and and gave you the option to still use it like Twitter has done with TweetDeck.

This is sad. I really liked the Lightbox app, it seemed a little more photography based rather then "artsy/hipster" like Instagram. Oh well, I've already downloaded my photos from the site. I guess I'll try Camera360 next....

Now that Instagram *and* Lightbox are owned by Facebook (the latter being shut down), are there any good alternatives on the Android platform? (hoping @sensory is wrong...) I don't care about the camera filters, I'm interested in the social features, and I'm not willing to signing up for Facebook to get them (which is why I don't Instagram).

I'm hoping I'm wrong, too. Keeping an eye on this article to see if anyone comments with a good alternative.

Yeah, there are some, but none as nice as Lightbox (imho -- I was looking for an Instagram alternative before it was available for Android). Pixlr-o-Matic was probably the next best one (again, my opinion), and I tried a few others like picplz, Streamzoo, etc. So, they're out there... but Lightbox did it best, even better than Instagram. /Kevin

I loved using Lightbox! I am going to miss that 8-bit filter ='(

Facebook is becoming the evil empire. I wonder if this will backfire on them.

This is really upsetting seeing that I love Lightbox and suggest it to everyone. Looks like I need to learn code and create a team.

The sell out sucks! But life goes on. Try streamzoo its better then instagram not as good as lightbox but has potential to get better. Follow me @anthonyray22

Question: what would you do if you owned an App (lightbox) which competes with another app that was just taken over by Facebook (instagram) and someone
said to you, come work for us (Facebook) and we will offer you great money you just can't refuse. The only catch is you have to close down your competing app (lightbox). I know what I would do... Take the money. Sad fact, money makes the world go around. Shame... I really liked Lightbox and so did Facebook who saw it as a threat to instagram.
Android Central Newsletter
Get instant access to breaking news, the hottest reviews, great deals and helpful tips
Thank you for signing up to Android Central. You will receive a verification email shortly.
There was a problem. Please refresh the page and try again.