LG's next smartwatch may not even require a smartphone to work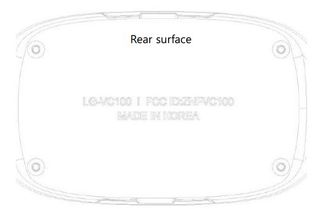 LG has so far announced two Android Wear smartwatches in the form of the LG G Watch and G Watch R, and FCC documents suggest that the company may be working on a third option. This latest watch undergoing regulatory approval may not even require a smartphone to operate as it may come with its own built-in 3G CDMA radio. If this is accurate, LG's newest smartwatch endeavor would pit it against the Tizen-based Gear S from rival Samsung.
At this point, there's not a lot known about LG's third smartwatch endeavors.
It's unclear if the device will run Google's Android Wear platform or another platform. What we do know is that the devices description in LG's filing with the FCC lists the smartwatch as "Smartwatch + CDMA." If this is accurate, it could be compatible with Verizon's and Sprint's CDMA networks in the U.S.
The shape of the watch is also different as depicted on a render filed with the FCC, with an outline showing that it will be an elongated rectangle with rounded corners.
Be sure to also check out our hands-on with the Samsung Gear S for for details on Samsung's standalone smartwatch.
Source: FCC
That's what I'm talking about. Posted from Gamehendge.

Yeah!!! Do it LG... I had my mind set in getting the Samsung watch because of the extra cool features... But if LG does Android wear with those features then that's a winner. Posted via Android Central App

Yeah sounds good. The other 2 watches sucked it was android wear. They better copy Samsung fast like they always do that's the only chance they got. All the other manufacturers are DEAD for sure. Nothing tops the Gear S today other than the Rufus Cuff or Neptune Pine all on the same level. From my Galaxy Note 3 on T-Mobile via Android Central App

I don't even need to read the comment before I start laughing! Posted via Android Central App

But you read it anyway as usual From my Galaxy Note 3 on T-Mobile via Android Central App

For pure entertainment value... because there's no other value in your posts at all Posted via the Android Central App

+1. It responded! I'm actually honored, as I laugh a little harder! Posted via Android Central App

Because your responses are usually so childish, pathetic, and ridiculous, it's hard not to read them. And FYI, that's not a good thing.

Daily?! :) Posted via the Android Central App on VZW Moto X

The Rufus Cuff looks hella funny. I want it. Posted via Android Central App

Lg had a smartwatch like 5 years ago that had 3g sim card slot in it Google it so you actually learn something Richard its Sammy that is copying this time. http://m.youtube.com/watch?v=_FAwzkc0gKo Posted via Android Central App

More spam from this dickhead....STFU

A data plan for a. ....WATCH? Posted via Android Central App

Has there been a poll yet about who wants a standalone watch that will needs its own data line to work? I am more then happy having my watch suck data through my phone. All of these standalone watches are not for me.

Samsung tried this already on believe Posted via Nexus 7 2013 or Galaxy S5

Lg did this in 2009 Posted via Android Central App

I agree Posted via Android Central App

Rumor has it this is a product aimed at children. The 3g connectivity is to help locate and track your kid.

Saw that posted on another site earlier today come to think about it.

Nows the best time for Google to actually make Wear work without working with a phone. I'm definitely buying this. Posted via Android Central App

Other than "going on a run", I've yet to see a practical usage case for this. Android wear makes notifications and other basic tasks easier. A smartphone replacement watch would make nearly every task more difficult.

Put watch on kid. Can track and call kid or kid can call parent. Speaker and mic built in.

Then kid disables the tracking because kid is smarter than parent.

Or kid simply removes watch.

And puts it in their back pocket and loses it when they sit down and their iPhone bends and pushes the watch out of the pocket.... Posted via Android Central App

We all know the only way any of this would work is if the device was implanted in them like some kind of weird spy movie kinda thing. And by "we all" I may just mean me lol

As a child tracking device, I agree. There's certainly a case for that, as kids are infamous for losing anything that isn't securely attached to them. But as a smartphone replacement for an adult, I don't see it succeeding.

I wonder if they can make it where it works on the same line with same number. But you can have the phone and watch work separate Posted via Android Central App

Anything is possible... but you don't actually think the carriers will allow it to work like that without you paying them extra money... do you?

Who's going to be first to offer the watch/phone combo that acts like the Asus Padphone? Posted via Android Central App

I can see it now. The watch plugs into a smartphone that plugs into a tablet that plugs into a keyboard to make it a laptop and the laptop plugs into a desktop and the desktop plugs into a car and the car plugs into a giant robot.

11/10 would buy Posted via Android Central App

That robot had better plug into another larger robot, Voltron-style.

Hate to point to another android site, but I believe thats the kid's watch. http://www.droid-life.com/2014/09/26/lgs-kizon-kids-tracker-smartwatch-w...

Wow I got the "original" G Watch for free off a contract deal but it's already some ancient antique I'm never going to open. Just in 2 months time. Is this the new standard for product life spans?

These are watches first. Watchmakers put out more than one watch a year. So will smartwatch makers. There you go. It sucks yes, but your smartwatch should function well say, about 2-4 years (hopefully) and that should help ease the bite it nomed from your wallet. Posted via Android Central App

Out of curiosity, how do you figure it's an "ancient antique"? It's running the exact same firmware as every other Android Wear watch. The only AW watch that's newer, the Moto360, only has a few more features than the G watch... and worse battery life due to an older processor.

Android wear doesn't have the functionality to operate as a stand alone os does it? So surely it can't use wear n5

Each SmartWatch generation is taking 2-4 months. By April 2016 they might be just about OK. I hope Pebble survive. They had more right on day one than anyone else.
Apple launched a pretty painted stone with a strap; they'll make $ billions. Awesome AC.

+1 Posted via the Android Central App on VZW Moto X

Still enjoying my Gear 1. No need for a phone watch or is it a watch phone? Why would I ever leave the house without my phone?

To go for a run? Posted via the Android Central App

Is it completely sad that the first thing I thought was "God, imagine a WebOS smart watch"...sigh.

Bingo Posted via Android Central App
Android Central Newsletter
Get the best of Android Central in in your inbox, every day!
Thank you for signing up to Android Central. You will receive a verification email shortly.
There was a problem. Please refresh the page and try again.