LG V10 vs. Samsung Galaxy S7 edge: Clash of the titans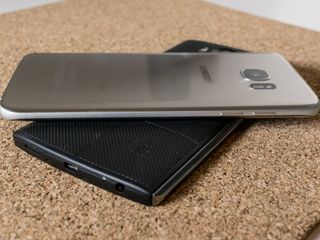 For a lot of people, the V10 is still LG's flagship phone. I happen to be one of them, and it's time to compare the best LG has to offer against the current darling of the smartphone industry, the Samsung Galaxy S7 edge.
Both are pricey, offer unique features and do everything you would want a smartphone to do in 2016. But they are also very different from one another, both on the surface and under the hood. While it's difficult to try and tell someone how they should spend their money, we can compare how they stack up against each other to help you make that decision.
The hardware
The Galaxy S7 edge is a beautiful phone. The glass surfaces give it a very premium feel, stylish good looks and a futuristic design when paired with the curved edges of the display. Samsung took the design and construction we saw in 2015 with the Galaxy S6 edge, and refined it to perfection. Outside of the buttons and ports, there are no hard straight edges on the S7 edge, and everything looks and feels organic and fluid. Of course, this is all subjective, but I can't think anyone would consider it ugly or the design off-putting.
The display is stunning, and one of the best in the industry. The 1440 x 2560 pixel, 5.5-inch AMOLED panel is bright and vibrant, with just a bit of over-saturation that we've come to know and love from AMOLED. You'll be hard pressed to find any phone with a better display, and Samsung (as always) deserves the praise they receive over their screen technology.
Image 1 of 2
The LG V10 is everything the Galaxy S7 edge is not. It's big, and bulky and completely unapologetic about being either. The steel frame and "DuraSkin" coated back make the V10 feel substantial and solid, while still allowing for a removable battery. The polished steel sides look striking against the jet black exterior, while looking sleek and refined when paired with the antique white model. The rear power and volume buttons (the power button is also a fingerprint sensor) are something you'll either love or hate, but they allow for an uninterrupted and smooth surface on both sides. Some are put off by the size and "weaponized" feel of the V10, but others — like myself — love the way it looks and feels.
The 5.7-inch QHD LCD display is no slouch. It can be a bit reflective in bright light and difficult to see in direct sunlight, but the colors are true and everything is crisp and sharp, though the display density makes for a bit less information on the screen with everything being a bit larger than many are used to. Atop the main display is what LG calls a "Second Screen" where notifications, shortcuts and other potentially useful information can live.
Swipe to scroll horizontally
| Category | Galaxy S7 edge | LG V10 |
| --- | --- | --- |
| Processor | Quad-core Snapdragon 820 or Octa-core Samsung Exynos 8 | Snapdragon 808 |
| Display | 5.5-inch QHD with dual edge design | 5.7-inch QHD with Second Screen |
| Storage | 32GB + microSD | 32/64GB + microSD |
| RAM | 4GB | 4GB |
| Rear camera | 12MP | 16MP |
| Front camera | 5MP | 5MP |
| Battery | 3,600mAh | 3,000mAh (removable) |
| Operating system | Android 6.0.1 Marshmallow | Android 6.0.1 Marshmallow |
| Size | 150.9 x 72.6 x 7.7 mm | 159.6 x 79.3 x 8.6 mm |
| Weight | 157 grams | 192 grams |
You won't be able to find two phones that are this different when it comes to design. Samsung takes the elegant approach that leaves you feeling like you're using a delicate yet powerful piece of equipment, while LG is more in your face and decidedly rugged feeling — this is the phone Bruce Willis would use while fighting international terrorists.
In the end though, both are well constructed and feel premium while using different materials and design language. I'll readily admit I like the look and feel of both devices, and both are phones that the design teams should be proud of.
A final few words need to be said about the V10's HiFi audio system. Using a high quality dedicated DAC and amplifier package, the V10 is one of the best sounding phones available in North America when you put on the headphones and fire up some local music. In contrast, the U.S. version of the Galaxy S7 edge is average at best, and audio is easily eclipsed by even some of Samsung's earlier Galaxy phones. Much like the camera, this is an important feature to many, and LG deserves the praise heaped on the V10 in this area.
The software
Welcome to the meaning and idea of open-source. Samsung and LG are the undisputed kings of taking Android and molding it into something that bears just a hint of resemblance to the original. We don't fault them for doing it, as this embodies the vision and ideals of providing a choice to users. Having everything follow a set pattern of design and appearance is available on other platforms for those that are more comfortable with it.
Both Samsung and LG software have learned to design software with a decidedly Asian DNA of abundant features and almost endless customization options, combined with a more flat and scaled back appearance in recent years. Users in the west have benefited immensely from this, and even more stoic offerings from Google and Apple are becoming more friendly and personal, following the lead from the two Korean smartphone powerhouse manufacturers.
Everything you would expect and need from an Android phone is there, and small differences in appearance and functionality are enough to make each feel unique in their own right. Both phones have full access to Google's core application suite of Search, Gmail, Chrome, Maps and more, as well as access to a seemingly endless list of applications from Google Play. Brand specific features and software are also found in Samsung's Galaxy Apps store or LG's Smart World market.
Each phone has their own specific software quirks, but recent versions from both companies have managed to bring all the bells and whistles with minimal effect on performance. Of course, both devices are also modified at the whim of the carriers who are the prime customers for Samsung and LG. Both the S7 edge and V10 I'm using are T-Mobile branded, and you'll find similar applications and modifications to the shipping software on each. One major difference for many is with the boot loader — the V10 is easily unlockable for software modification, while the S7 edge is locked and encrypted.
If pressed to choose the "better" software, I'd have to give a slight nod to the Galaxy S7 edge, but newer and faster hardware plays a big part in that observation. Depending on how you think about copious features and bold changes to Android, you'll either think they are cluttered and aggressive or enjoy the amount of features and options that ship with the phones themselves. I fall into the former category, and am pleased that I'm able to turn things off or put them out of my way and make either phone work for me.
When it comes to performance, the Galaxy S7 edge is the clear winner here — again because of the latest hardware with more power to run all the things happening. That doesn't mean the V10 offers a bad experience, but it's not as fluid or snappy as the S7 edge. With 2016 hardware, Samsung has managed to make the S7 series as responsive as the minimal software on the Nexus 6P in most areas. Laggy keyboards and unresponsive messaging applications or gallery software is a thing of the past, and I say good riddance. On the LG side, the V10 will also be able to do any task thrown at it, but without the smooth operation we see from the S7 edge. It will be very interesting to see an updated V10 with newer and faster internals, and I certainly hope LG makes it happen.
A final word about updates, including Android security patches. The V10 has lagged behind here since it was released, while Samsung (so far) has shown commitment to keeping the S7 edge current and fixing issues with quick updates. Finger pointing at carriers aside, if this is an important issue for you, it's hard to recommend the V10. We hope LG realizes the value in supporting devices and decides to honor their pledge for monthly software updates.
The camera
If you value a great camera on your smartphone, you'll be pleased to know that both the V10 and the Galaxy S7 edge offer outstanding options here, complete with all manner of features and shooting modes in the stock applications.
The V10 (or the G4 which offers the same camera and most of the same options) still remains my choice when it comes to using a smartphone as a camera — setting up shots and adjusting settings — but the S7 edge offers a better point-and-shoot experience. In part, the camera app plays a part here and I'm familiar with the manual controls and features on the V10, while I find the Samsung offering takes a bit more time to dial in. This is likely a matter of familiarity, and either should be equally easy to learn and use.
Image 1 of 2
LG V10 (left) and Samsung Galaxy S7 edge (right). Click to enlarge.
As you can see, the image processing is a little different, as are the default full resolution aspect ratios — 4:3 for the S7e, and 16:9 for the V10. Samsung brings just a hint more saturation and vibrancy to their images, while LG delivers an image where the colors are more true to life. This makes perfect sense when you consider the screen technology of the two devices. The Galaxy S7 edge's AMOLED screen allows bright, over-saturated images to look bold, beautiful and almost pop out of the screen. Accuracy aside, it's quite nice to view the images taken with the S7 edge on the S7 edge's screen. Meanwhile. LG's display is a more subdued and sharp view because they are using a high-quality LCD. Saturated and vibrancy-enhanced pictures wouldn't look as good on the display and sharpness would suffer.
The good news here is that either phone can produce pictures that are easily adjusted by editing software, and can still look good on a 27-inch monitor if viewed at full resolution. We're not to the point where any phone camera can replace an expensive Digital SLR, and neither company makes that claim. What each has done is deliver a great camera that can take pictures you'll be proud to share with friends and family, in a package that likely always in your pocket. We've come to the point of diminishing returns in the camera department, either the S7 edge or the V10 will continue to be an excellent choice for mobile photography during their lifetime. I've used both cameras in my work here at Mobile Nations, and won't hesitate to recommend either.
The battery
The Galaxy S7 edge and its 3,600 mAh battery wins.
The LG V10 and its removable 3,000 mAh battery wins.
Really, that's what to take away from this. Both phones will last the average user a full day, yet both phones will likely require daily charging. When pushed hard, the S7 edge battery lasts longer than the V10 battery, but not longer than two batteries that can be changed as needed.
Both phones offer Qualcomm Quick Charge 2.0 over the micro USB port. The Galaxy S7 edge also offers wireless Qi charging out of the box, while the V10 requires a special OEM wireless charging back plate (opens in new tab). The Galaxy S7 edge also allows for wireless Quick Charging, while the V10 doesn't. But you can swap the battery.
All in all, this category really is a wash. The S7 edge uses a more power efficient processor and a larger battery to squeak a few more hours of use each day, while the V10 offers an easy to change battery and inexpensive spares. I lean towards the S7 edge here, because I don't want to keep track of a spare battery and keep it charged. You'll need to decide which suits you better and let it influence your decision accordingly.
The final word
I'm going to stretch my neck out for the inevitable chopping, but I would recommend the Galaxy S7 edge if you're considering these two phones. And I'm saying this as someone who will continue to carry the V10 every day with a Project Fi data-only SIM as my secondary media device. But I'm a nerd who carries multiple phones.
Audio chops aside, the S7 edge is the better all-around choice. Nothing else about the V10 is remarkably better, and the Samsung is more future-proof simply because it uses the latest Snapdragon custom ARM chip in the 820. We also know Samsung is serious about their Galaxy S line, and future updates will happen even if they're late arriving. The same can't be said about the V10, which is a limited release phone in just a few markets. LG's track record with software updates is already spotty at best, and there's no guarantee that the V10 will receive the attention it deserves when it comes to keeping current.
Having said that, if you were to tell me that you love the V10 design or the excellent HiFi audio, I would agree completely. You'll be happy with the purchase, as long as you know going in that the V10 is a niche product from LG and they may focus elsewhere.
For everyone else, the internet is right this time — buy the Samsung.
Android Central Newsletter
Get instant access to breaking news, the hottest reviews, great deals and helpful tips
Senior Editor — Google Ecosystem
Jerry is an amateur woodworker and struggling shade tree mechanic. There's nothing he can't take apart, but many things he can't reassemble. You'll find him writing and speaking his loud opinion on Android Central and occasionally on Twitter.
No neck chopping here. The edge is by far superior though the V10 is impressive in the fact that it's technically a cycle behind yet holds it's own. It's really not a fair fight though. Posted via my S7e/ Note 4/ iPad Pro 12.9

What is with LG and giant navigation buttons?

I always wondered what LG's obsession was with magnified blown up everything

Same here. Everything is just too damn big at 640DPI. I'm not old. I can read tiny font sizes just fine without squinting.

And same here! Posted via the Android Central App

The V10 still has the best camera, with 16 megpix, there is no comparison. It is also the sturdiest, the most comfortable, and has no side buttons to silence it while you hold it. To me, there is no comparison. The LG V10 is by far the best choice. I spent over one hour at the store, comparing each of the best models in my hand and operating them. I just loved the LG V10. I switched from Galaxy to LG.

I'm hoping they keep the V10 formula if they plan to make a successor.

Though I ditched my v10 for the s7e, I couldn't agree more. It was ALMOST there. I would pick it over the G5 . . .

Definitely would pick V10 over G5. Hoping they don't screw the design on the next gen. Posted via the Android Central App

I'm on that boat. I hope they don't go overboard in trying to change it up from last year to this year. Having the v11? Running on the sd 820 and I may drive that thing till it breaks lol. Posted via what ever tickles me at the time.

Just switched back into the V10 after having it once and switching to the S7 Edge. I like the stock-like presentation of the V10 and appreciate that LG doesn't try to duplicate Google's app offerings. There is also something to be said for having a phone that is built to be used, meaning that I don't need to constantly handle it like fine china. Posted via the Android Central App

While I haven't owned one, one of the things I liked most about three V10, is at least the impression that I could safely carry it around with no case due to how sturdy it is. Have you found this to be true? After all with most phones, by the time you put a reasonable case on them, they're a lot bigger, so the size here would be great if no case is needed and you still get the 5.7" screen. Posted via the Android Central App

I bought the V10 because:
1 no side buttons to lower the volume when I am holding the phone. I hate the side buttons.
2 It is sturdy, built of military grade still. I keep dropping it and it is fine. It is already too big to place in a protective cover. As it is, it is comfortable in my hand.
3 The battery is replaceable.
4 It has the best camera by far.
Everything else, it is just like the Samsung S 7 or the apple.
However, at the store, when I tested every phone, the most responsive screen was also the LG V10. I find that to be very good. It just feels good in your hand.

Seven months now with the V10 and nary a scratch. I've dropped it, I've put it face down on the table, I've kept it in my pocket along with keys, etc., and the thing still looks brand new. Given the build quality and materials used I have found a case is not necessary. I also happen to find the phone very slick looking and am glad I don't need to cover that up with a case. As an aside, a good buddy of mine bought an S7 Edge and had it for less than three weeks and the screen shattered. It's still functional but looks like heck. He's not sure how it happened - it was in his pocket, he pulled it out and it was busted - but I have certainly taken the opportunity to remind him I recommended the incredibly durable V10.

Have you used it with polarized sunglasses? I tried the HTC 10 recently for audio reasons, and was very disappointed to learn that when in portrait mode, if you're wearing polarized sunglasses, the screen is not visible. I can't believe that the same holds true for other LCD based screens, but figured I'd ask. Posted via the Android Central App

Dam this is a close one. I can see where they both would shine. Dam It Feels Good To Be A Google Gangster

Jerry, any comments yet on audio quality of V10 vs. HTC 10(through headphones)?

I'm waiting until I get the HTC10 in may hands for that one. HTC has been able to do good things with Snapdragon DACs in the past, but the DAC on the 820 is really bad when it comes to noise and crosstalk. I'm gonna be skeptical until I hear it.

I'm hopeful you will do a write up comparison, similar to what you did after the initial AC review of the V10. In fact, your article on the V10 inspired my purchase of which I have no regret.

Absolutely. If the 10 is good, that means I can go back to one phone for a while because I won't have to worry as much about updates (kinda need new features available for my job here)

Hopefully, I'll be able to plug my V Moda M100s into the HTC 10 by the end of next week and hear for myself.

A write-up comparison of the V10 and HTC 10 audio would be fantastic!

I enjoy the more realistic colors on my LG V10. I've had the Galaxy line before, and Samsung is top of the line regarding quality, but LG is playing catch-up, and doing a damn fine job at it. Can't wait to see what's next, but am in no hurry to give up my V10!

See my comment below about the ability to modify the colors of the screen on the S7 Edge. Color accuracy is no longer an issue. Level of saturation is up to you... Posted via the Android Central App

I believe v10 wins 808 still holds up, superior camera, removable battery, bigger screen, and better feel? Especially considering the v10 was released way before the s7... Posted via the Android Central App

I don't think it's so easy. The V10 is great for audio lovers and I love how rugged it is, but unless you prefer LCD screens, which most people do not (one of the reasons Apple is switching to AMOLED for the iPhone 8), you really can't compare screen quality. Samsung's latest outshines anything on the market. It's over saturation can be turned off with one setting change these days, so you can get coloring similar to that in the V10 but still with far deeper blacks. The camera argument is also not so straightforward. Most photos I take are not well planned or we'll thought out ahead of time. They're of my kids and usually candid. For that, quick auto focus HDR photos, nothing comes close to Samsung. Sure, you can get better quality photos with the V10 if you have the time to tinker with manual settings, but many people don't. It really depends on what you're taking photos of most often. I found with the LG G4 that it would take me 3 to 4 attempts to get a photo of equal or better quality than a single photo from the S6 Edge+ I had at the time. It's auto and HDR modes just weren't even close. Posted via the Android Central App

Very well said,I echo your sentiments. Posted via the Android Central App

Jerry, I genuinely think the design of the GS7 is ugly and off-putting. There's always a dissenting voice. Posted via the Android Central App

I'm in love with my V10's removable battery, great camera and solid feel and rear buttons. I really really hope that LG keeps this design language for the V11.

"but I can't think anyone would consider it ugly or the design off-putting" I can think of one... http://www.imore.com/galaxy-s7-samsung-still-cant-achieve-apple-level-in...

Oh no, you went and brought that up again. Seriously, most ridiculous write-up I've seen. :-)

Well, I was surprised that Russell didn't think of him.

I think of him....when I'm taking a dump.

Good write-up. I switched from a v10 to an S7e (thanks JUMP), and couldn't be happier with the choice. The v10 battery life was awful for me (I didn't have it long enough to get the much-delayed Marshmallow update), and the performance was just OK. I'd give it a higher rating than "OK" if it weren't for the bugs I kept seeing in the stock software (especially with the BT). I was regularly swapping my battery, which is handy, but my s7e lasts me long enough (doing the same tasks) that I make it to a charger at the end of the night, no problem. I will say that there are some bugs in the s7e that seem to be causing performance lag from time to time, but overall, the performance on my Edge blows my v10's away. I agree with you on cameras. They're both great, but I actually give the s7 the slight edge because it's so much faster to open and shoot. I agree with you on feel too--I love the way the v10 felt in the hand. My favorite phone for that, so far. The only point I think you missed in design is waterproofing. That was the nail in the coffin for my v10. When you combine that with the fact that LG doesn't seem interested in supporting the v10 (they didn't sell any OEM cases or battery covers on LG's own website when I gave mine up), and I was just done. It was a great phone--it just didn't have the support it needed. :-(

Heh. I actually had a paragraph about waterproofing in there, but decided to yank it out. The message from Samsung is so mixed — one exec says waterproof, one says resistant, Little Wayne pours champagne on it, someone says not to hold it under running water or liquid, etc. etc. I just didn't want my name attached to the mess.

We can only take for granted the IP rating of the GS7. Phone makers don't know how to advertise them. This info may be useful to understand the water proofing ratings: https://www.androidcentral.com/e?link=https2F2Fcli...

I did the same thing, had the V10 with the free 200gb sd card and battery. Strong phone, audio was great and camera, but outdoor and even with some sunlight made it hard to see the screen. Used my jump plan too to get the S7 edge, greatest phone Ive had since the LG G3. Miss the the Hifi but still with the audio personalizing, its pretty good. Overall a great upgrade.

I agree about the V10 battery life (it sucks), and I think it's worse now that we have the marshmallow update. Thank God we can carry an extra battery around! I haven't had any of the bug issues you speak of, though. It's not waterproof, but who the hell goes around pouring a bottle of champagne on their phone, anyways! Still love me V10, despite its shortcomings.

I look at the water resistance as an aid if I'm in a downpour or if I accidentally drop my phone in sink/tub/toilet(I hope that I won't). I don't plan on going swimming with mine or anything like that. Posted via the Android Central App

And you shouldn't go swimming with it. The IP rating doesn't cover chlorinated or salt water. Also, the test is done without moving the phone. Any movement in the water generates changes in pressure, reaching an equivalent depth that may surpass the device limit of tolerance. Sony already suffered the consequences of bad advertising of the IP rating.

Same here. I was involved in a fender bender (I was hit) on a very rainy day recebtly, and it was nice to be able to take my phone out, take photos if the cars, the other driver's tags, license, etc without worrying about the phone being damaged. But I'm not about to go swimming or scuba diving with the phone. Posted via the Android Central App

I've had my V10 for 6 months now (bought it in the second day) and while I love the phone, it is worth mentioning some of the quirks. First off, like EVERY LG I have ever had, the Bluetooth is wonky and sometimes unreliable. Next, the 2nd screen has a bad habit of randomly quitting and I am definitely stating to notice some slowdown of the overall functionality of the device. Lastly, the battery life, even with the ability to swap out, leaves a lot to be desired. With all that said, the V10 feels like a real device of substance (instead of a child's toy, like so many other more dainty devices) and the screen and camera are quite amazing. I think if I were going to switch, though, it would be for a Nexus device, as Marshmallow took FOREVER to arrive (I just got it last week) and as much as I don't know that I needed the update, it became annoying that I had a flagship phone but it wasn't available to me.

I haven't had any Bluetooth or lag issues with my V10. I'm wondering if you guys simply got bad phones. But yes, battery life sticks, and worse with marshmallow. I'm glad I got the promotional extra battery and charger (and 200gb micro SD card) when I bought my V10.

I sold my V10 to purchase the S7 Edge.... and ended up with a S7 and a S7 Edge.
I miss the audio, otherwise I am happy with both versions of the S7.

For people who want a Dual SIM model, with a dedicated micro-SD slot, removable battery with 64GB base storage and a better DAC and great low light camera with manual still and manual video controls. LG V10 Dual SIM is the only smartphone offering that combination.
Sure, the battery life is lowest in its class category, but at least I can swap batteries and keep going, or keep charging with Quick Charge 2.

I love my V10 but I desire a galaxy last one I had was the S3 hmm can't wait what the Note 6 has in store. Posted via the Android Central App (5x or V10)

You're not a nerd. You're a phone aficionado. It's a club - and we have jackets. Posted via the Android Central App

Nice comparison. I am happy with the V10 though. Love the swappable battery, and durable + grippy case back. I swore off glass case backs after I destroyed my xperia Z3v one week into my second billing cycle. So many choices though, its good to be an android fan!! Posted via the Android Central App

When I had the v10 I could sworn in had quick charge tech in it Posted via the Android Central App

I'm pretty sure it does; mine charges to full in no time!

I have both and use the S7E daily, but the V10 has a much better FFC while the S7E is a better for my everyday use.

The v10 is a working man's phone. It's rugged enough to go caseless if need be without being scared to use it. All of Samsung's are fragile fingerprint magnets that have to be cased. The camera is still the best available and it's not the phones fault many people don't know how to use the controls and stay in auto mode... I just love the excuses folks around here used to minimize a clear win for something not Samsung. I also get a kick out of people claiming that the amoled screen is so much better looking... Good Grief people... there is a whole world beyond having your phone show unrealistic color spectrums. Music has never sounded better on any phone and it's done with out having to plug in a module. Now if I were a hardcore gamer I could see needing a faster processor.. And Sammy has done a great job putting in the latest and greatest, but hardcore gamers are in a niche market from the majority of people... The real reason this phone isn't rated higher is because it doesn't have Samsung stamped on it. If you care about having the best sound, best camera, more realistic colors in a phone that has a removable battery wrapped up in a rugged frame and back that you don't really need to buy a case the minute you take it out of the box.. The v10 is the better choice and should be recognized as such. Posted from my. AT&T LG V10

The main reason why I picked V10 over S7 Edge was price tag. V10 is significantly cheaper on our market - V10 is 14990 CZK, S7 Edge is 22590 CZK. So it's almost 1/3. The second reason was second screen. Coming from BB10 and Passport SE I needed a better way how to switch applications. And yeah, the third reason, it looks like Passport SE! It's pain to downgrade OS to Android but I had to. Chen lying about BB10 commitment did it! Posted via the Android Central App

These are two of the nicest phones I've ever tinkered with. Would love either. However, on paper, Sammy's bigger battery and stronger processor(s) might win out. Posted with my LG G4 6.0 via the Android Central App

Definitely better than the G4, right? I had that for a week, and was so disappointed I went back and got the V10 (which I really wanted to begin with, but it was more expensive).

If I had not won my G4 in September '15, and were still using my G3 as my primary driver, I'd own a V10 right now. As it is, my G3 is all but paid off (AT&T Next) so my phone bill is about to go down by $30/month. Figure I'll just ride out both my phones until they die.

LG V10 all the way over the S7 Edge for me!

I still have to go V10 but just because I have one. Still offers a little more from a hardware feature standpoint with removable battery, IR blaster, ability to make it wireless charging capable via removable back and 64gb native storage. And just like I said about how important cameras are on our phones. The manual mode is a dream come true for mobile photography. And the added bonus of being able to shoot 20 additional seconds over the 10 second exposure the Galaxy S7 Edge has, along with all the video controls means I'll be sticking around until a V10 sequel arrives. The Note 6 may change my opinion however but I'm highly doubtful. One picture at a time--LG V10

Glad to see jerry on the s7 edge train titanium silver and on tmobile just like me. Sure was hard to get him to realize what I been preaching forever..... Posted via the Android Central App

Not a fan of T-Mobile. I switched to them from AT&T, because of their excellent plans and unlimited music and video streaming. But then I switched back to AT&T after only a month because T-Mobile had very spotty 4G-LTE in two of the areas my plan's phones covered (5 areas, 5 phones total). T-Mobile has a very deceptive pink map; when you zoom in, all those dark pink areas (4G-LTE) turn to light pink! And so as not to be totally off topic, I bought my V10 from T-Mobile, then had it unlocked when I switched back to AT&T. Now I'm stuck with all the T-Mobile software because they make stock software nonremovable (unless you root; not about to do that), so I have to wait for the damn T-Mobile jingle and logo to pass every time I reboot! I will say T-Mobile had an excellent support system on Twitter, though.

Just at a time when the S7 Edge has established itself and when the V10 is about to make way for the V20, I swapped my S7 Edge for the V10 and here are a few reasons for the same: 1. Performance is equal. Period. I am sure a lot of people will bite me for saying that, but then, leave the processor aside as a Snapdragon 808 suffices for what I do and plan to do. Often, I wonder why a normal consumer perceives a higher rated processor as a sign of better product. I don't know why. At the end of the day, both these phones are comparable in terms of performance of the apps - Who cares whether the V10 has a 808 or a 820, a hexacore or an octacore. It boils down to how the CPU grunt is made use of and I believe LG has done a very decent job out of the 808.
2.Inbuilt DAC - Most people use their smartphones for listening music. With an inbuilt DAC and my collection of FLAC format music, the choice was clear - LG V10 hands down. Samsung doesn't have it.
3. IR Blaster - Well, that gives me the flexibility of controlling many devices with a simple remote app on the LG V10. Samsung are you listening?
4. Robustness - Yes the Samsung S7 Edge is sleek and very well packaged. It is an absolute eye candy. But accidental drops are a norm and all the sleekness and the beauty of the S7 Edge will mean nothing if it cannot withhold a drop from say 4 to 5 feet height. LG V10 will come out unscathed from those drops. Not an S7 Edge. Moreover, thanks to the curvy edge screen getting a proper screen protector (Tempered glass) that may protect the screen in such cases is pretty difficult. Put in a rugged case on the S7 Edge and the sleekness takes a bit of a hit. The V10 is not sleek, it is not there to win any beauty pageants, but then, I can bet my money on the V10 over the S7 Edge when the phone is dropped.
5. Cameras - Both the phones are equally capable but the V10 sneeks in slightly, thanks to the the extra wide selfie camera. No harm in having one when needed....
6. AMOLED vs LED - Yes, both do have fantastic displays, but to me, I prefer the more natural colors on the LED. Personal taste. Yes. The S7 edge has a better processor, but then the V10 is clearly a phone that is better packaged. Yes, it is not waterproof. But then, being aware of the same, it is not that difficult to keep it out of water. Drops unfortunately, cannot be avoided and it is there that the V10 is better than the S7 Edge.
Android Central Newsletter
Get instant access to breaking news, the hottest reviews, great deals and helpful tips
Thank you for signing up to Android Central. You will receive a verification email shortly.
There was a problem. Please refresh the page and try again.