LG Optimus G sells 1 million units, reportedly heading to Europe and China in Q1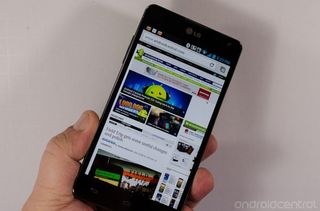 Reports out of Korea today cite a milestone figure for LG Optimus G sales, and information on the device's arrival finally in Europe. Since the launch of the Optimus G in the latter part of 2012, LG says they have sold more than 1 million of the phones. While this pales in comparison to the likes of the Samsung Galaxy S3, not to mention the iPhone, considering the limited availability of the Optimus G it's not all that bad.
Currently available in Korea, Japan, Canada and the United States, an LG spokesperson has hinted that the company reportedly plans to continue their push on the Optimus G throughout the first quarter of this year. Before Q1 is out, the intention is to ship the Optimus G in several European markets and in China.
LG is on the increase in terms of smartphone sales, in Q3 they bested their previous best figures for smartphone sales, and that was before the Nexus 4. LG's next set of earnings are due to be released on Jan. 30 for Q4 2012, and it will be interesting to see what comes out of that.
Source: Yonhap News Agency via The Next Web
Android Central Newsletter
Get instant access to breaking news, the hottest reviews, great deals and helpful tips
One flagship device, worldwide. This is really great for the consumer as the carriers have near-identical devices and what's left is for their pricing and network to compete against one another. The consumer wins with this kind of choice and the manufacturer can focus on building brand instead of shoveling dozens of devices each quarter to various carriers.

Good news for LG. What's also good news is the new LG Optimus G Pro leak. Its got some really nice specs, specially the 3,000mAh battery and LTE!

Awesome phone! While most people gravitate towards the iPhone or Samsungs S3 & Note 2, LG has quietly launched a beast of a phone! My one concern is the update to Jellybean which North Korea has been receiving. Not a deal breaker at all here in the states. But LG has been notoriously slow with updates. Anyway, Optimus G rocks!

I think you meant South Korea, because if you had a phone in North Korea, you'll go directly to the gulag.

This phone should have launched with Jelly Bean in the US. That is one of the main reasons that sales have been slow, shy buy this phone, great phone with killer specs when no one knows when the OS will be updated. LG should know better than to launch a phone with last years OS.

When I bought my GSIII back in December it was a choice between the Optimus G and the GSIII. What made me pick the GSIII over the Optimus G was Google Wallet, and Google Now.
If LG had the app integration and updates, I would not have chosen the lower speced GSIII, that inadvertently can be more productive than the Optimus G.
Android Central Newsletter
Get instant access to breaking news, the hottest reviews, great deals and helpful tips
Thank you for signing up to Android Central. You will receive a verification email shortly.
There was a problem. Please refresh the page and try again.