LG Optimus G is officially official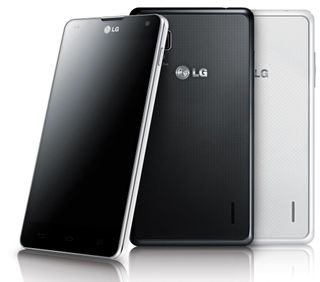 Well, that didn't take long. Following the leak we saw just a couple days ago, LG has released information regarding the launch of its latest superphone, the Optimus G. The finalized pictures look just about the same as the leaks we saw, which we'd assume considering how quickly the release has come. It's always good to know for sure what you're getting though. The Optimus G is looking to be quite a speedy phone -- assuming LG can step up its software game -- with specs that are top of the line:
4.7-inch True HD IPS 768x1280 display
1.5Ghz Snapdragon S4 Pro quad-core processor
2GB of RAM
2100mAh capacity battery
13MP rear and 1.3MP front cameras
Android 4.0 Ice Cream Sandwich
LG is saying the phone is set to release in Korea, LTE in tow, next month. A full global launch is expected by the end of the year, hopefully with the appropriate LTE bands for each market as well.
Be sure to follow our continuing IFA coverage as we cover all of the latest and greatest in the Android world.
Source: LG Newsroom
Android Central Newsletter
Get instant access to breaking news, the hottest reviews, great deals and helpful tips
Andrew was an Executive Editor, U.S. at Android Central between 2012 and 2020.
Too bad it can't ever come to the states, it's got a rectangular body with 4 rounded corners and I won't mention any names but there's one particularly fruity brand who won't like that

i see what you did there...

yea , i thought this had the s4 pro (quad core) with new adreno graphics

This is good for the Korean people. I like the rear design because it looks like it wont slip easily. Good job LG :D

I am with you on this one, first thing I noticed. Lawsuit...

To everyone wondering about dual-core:
The source says 1.5GHz quad-core processor Qualcomm APQ 8064

Nobody is happier than Apple if this phone launched in US :-)

1.5GHz Snapdragon S4 Pro APQ8064

I think it's a quadcore. Sites like The Verge and Engadget are reporting it to have a quadcore S4 pro w/ adreno 320. Y

LG, make it run vanilla android and I will skip on both SGS3 and Note2.

Absolutely agreed! Surprising but if the leaked specs for the Note 2 are true -- a 1.4 Ghz Samsung Exynos 4412 with a 1280x720 screen and 1.5 GBytes memory -- then this LG phone blows it out of the water. If the rumors of the Samsung Note 2 are true, the only real advantage that it has is running Jelly Bean out the box, a 0.8-inch larger screen (which some people may regard as a detriment, especially since it is of slightly lower resolution) and the S-Pen. Surprisingly, I would take the LG!

After the LG G2X on T-mobile and the sorry LG Mytouch Q that a friend bought, LG is banned from my phone selection. Happy to see that the phones coming out are sporting 2GB RAM though. After Sammy put it in the GS3 everyone else needs to follow suit, which is fine with me.

My thoughts exactly. i have three rules for Android buying after getting screwed on the G2x:
1) Buy for what it has now, not for some vapourware future update
2) Always buy a Nexus, as you get the latest stuff now (and vanilla Android, and probably at least one update as a bonus)
2) Don't buy LG

My son's G2X has been great, specially for free at Best Buy when I moved them from VZW. I have looked at the HD as a future replacement for his Bday next year, but now this phone is real sweet looking. Hope Tmobile gets it or an unlocked version can handle Tmobile's 42+ network.

Ok, with the recent Samsung battle with Apple and the ruling about a rectangular phone with rounded corners, this sure looks like it is rectangular with round corners, clear patent infringement to me.

They better watch out! That is very iPhone similar.. LG needs to step up their game seriously! Looks like some nice specs though!

Now that we are getting more Dual core and quadcore phones, when are the graphics chips going to start getting insane. Isn't that the next logical step?

Whoever designed this thing... You're fired!! (Trump Voice)

the second I saw this I said "is that an iphone?" now I've read the comments, I guess I'm not alone. ....and they say samsung copied them??? *SMH*

Oh, cool! Finally the new iPhone5 is out!...what, wait, that isn't the new iPhone5? But it looks like one...Call my lawyers! This is an outrage! Time to sue someone's granny.

"1.5Ghz dual-core Snapdragon S4 Pro quad-core processor"
Turns on Calculator to add cores, and head begins to hurt.

Nice.....look out lg, apple will bestow its wrath upon you. Seriously sweet looking phone with awesome specs.

Wow, an LG Phone that actually looks somewhat attractive. Did I switch universes again?

I like the trend here, the LG Optimus 4X HD was also a really good looking phone

Oh great it's running ICS... Wait a minute? Wasn't that like a year ago?
From past experience, Jelly Bean update would come, roughly in a year, if any... Shame on you LG. You just destroyed a near perfect phone with your lazy-ass software developers !!!

yeah im definitely stoked that i get one of these babys

There's absolutely no reason for this to not have Jelly Bean - a minor update that isn't an entire OS refresh like ICS was.

Is that just me or is that one freaking sexy piece of Hardware? I mean the 4X i have isnt bad looking but this Optimus G is just sexy.

Looks like facelift Optimus 2X really nice phone, but one problem, it is LG, why? I would buy this, but not with LG logo. Don't expect JB update in 2013.

I love LG's hardware. But, my experience with the T-Mobile G2x has taught me to stay away. I love the phone as is, but LG's awful updating habits (or lack thereof) have turned me off. My next phone is a unlocked Nexus whatever is current when I decide to upgrade.

This phone looks just like the OG Prada! It will be great when apple sues them and loses and their patents become invalid!

Exactly right. That fact alone would make Apple VERY ignorant to sue over this phone.
Android Central Newsletter
Get instant access to breaking news, the hottest reviews, great deals and helpful tips
Thank you for signing up to Android Central. You will receive a verification email shortly.
There was a problem. Please refresh the page and try again.