LG G6 with Quad DAC and 64GB storage lands in India for ₹51,990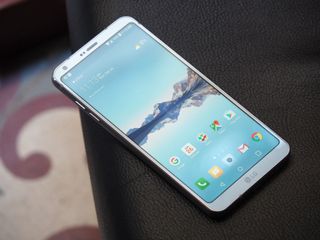 The LG G6 is now official in India, with the phone set to go on sale starting tomorrow exclusively on Amazon India for ₹51,990 ($805). LG is obviously targeting the Galaxy S8 and S8+ with its flagship, and the pricing reflects that. The Indian variant of the G6 comes with a 32-bit Quad DAC and 64GB storage, and is ₹6,000 ($95) less than the Galaxy S8 (opens in new tab). When seen against the Galaxy S8+, which is retailing for ₹64,900 ($1,005) (opens in new tab), the G6 turns out to be an even better deal.
After the debacle that was the LG G5, LG went back to the drawing board for the G6, and the result is a handset that is stunning. The G6 features a 5.7-inch QHD display with an 18:9 ratio and DolbyVision HDR certification, Snapdragon 821 SoC, 4GB of RAM, 64GB storage, microSD slot, Quad DAC, dual 13MP cameras at the back, 5MP front shooter, USB-C, NFC, Bluetooth 4.2, and a 3300mAh battery with Quick Charge 3.0.
In addition to the aggressive pricing, LG is incentivizing the launch of the G6 with several cashback offers. HDFC and SBI credit card holders buying the phone on Amazon India will be eligible for ₹10,000 in cash back, and those buying the phone from offline stores will receive up to ₹7,000 if they purchase the G6 before May 1. LG is also offering a 50% discount on the LG Tone Active+ HBS-A100 for those pre-ordering the device from its website or through offline retailers.
What do you guys think of the pricing for the LG G6? Anyone interested in picking one up?
See at LG India (opens in new tab)
Harish Jonnalagadda is a Senior Editor overseeing Asia at Android Central. He leads the site's coverage of Chinese phone brands, contributing to reviews, features, and buying guides. He also writes about storage servers, audio products, and the semiconductor industry. Contact him on Twitter at @chunkynerd.
Yeah great pricing at launch and cash back is to tempting...
Will definitely buy tom
Just confused which color to buy?
10k cash back is awesome

If we had the 64GB with the quad DAC version available here in the US I'd of bought this already. Instead I'm looking at and waiting for other options. Your loss LG, you were so close to making a killer device.

Is quad DAC that good? Like once you go quad DAC, you never go back?

That's what I've heard. People who have the HTC 10 swear by it. I'm actually considering getting one of those as the software is lighter and the G6 really doesn't have any better hardware than the 10. I guess I just want to try it.

I will tell you my own experience with 10. That phone is flawless. And sound on 3.5 unmatchable.

The HiFi DAC does sound amazing. I have it on the V20 and yeah, once you hear how good it is you don't want anything less.

Certainly more valuable, worth and attractive than slow wireless charging that is offered only in USA. Europe got middle finger from LG. Why LG keeps discriminate European market? V series never officially was released in Europe and we keep on getting crappy G series. Delusional. No wonder Samsung is on top.

I thought India prioritize prices over features?

This time, we're getting both.

Well, LG has some strange findings....USA likes wireless charging more than good sound so they gave USA SLOW wi charging. Europe doesn't like any of that, and most of the rest of the world. Only Korea values good sound. India suddenly started to value sound quality....Or they realised how crappy their explanations are and how they irritated many with those idiotic findings and that it will make great dmg to their sales when they saw what S8 offers for slightly bigger price.

How is it competing S8, that has a Snapdragon 835

Real world usage you won't notice much, if any, of a difference between the 821 and 835 processors. The big difference comes down to which manufacturer optimized their phone to the processor better. Knowing Samsung's track record it wasn't them.

This should've been the only version released globally. 32gb is too small for a flagship quality device.

I just bought a V20. If this was the US version there is no question I would have bought the G6 instead.

Good price, wish we in the US got that 64 GB version. At least we got wireless charging. Useless LG next time don't do this crap and release one model with same specs everywhere.

Why can LG just bring one phone to all markets? 64gb, quad DAC and wireless charging should be on phones for all markets. This phone will probably fail in the UK for saving a few quid on these three things.

Not including the QDAC in the US model was a strange decision. I'm sure cost played a role.

Idiotic decision to not include 64gb internal, hi-fi dac, and wireless charging all in one model. If it costs more then lg should make a "plus" version and make it available worldwide.

I had the Quad DAC in the V20, rarely used headphones so it would only be worthed if you're a headphone user. I'm using the wireless charger everyday with the G6.

I'll be totally upfront I had the v20 and bought the G6. Did a blind test of the same song with my brother and girlfriend. Neither could tell a difference. This was with both my b&o buds and Sennheiser momentum 2s. I personally can hear a slight difference between them, being that I paid the bills with my ears for a time but it's such a nuance that it had to be in a quiet room and I have to focus. Bottom line, you most likely won't miss it. They beefed up the audio output of the G6. The real audio review by pocket now stands behind by my assertion too (they do the best camera and audio reviews hands down).
Android Central Newsletter
Get the best of Android Central in in your inbox, every day!
Thank you for signing up to Android Central. You will receive a verification email shortly.
There was a problem. Please refresh the page and try again.