LG G4 Marshmallow update starts rolling out across Europe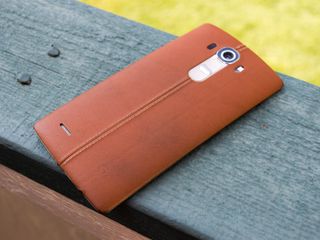 LG is currently rolling out the Marshmallow Android 6.0 update to G4 owners in Europe. Multiple reports have appeared of some lucky customers receiving the update notification and subsequent download.
The update (H81520A) brings with it a bunch of improvements for the LG G4, which include a simplified app settings page, the addition of silent mode to sound profiles, LG Bridge renamed to LG Airdrive, as well as seeing apps request access after being installed. You'll be able to see the full changelog on our forum.
Have you received anything on your LG G4 yet?
Join in the discussion over on our forum
Android Central Newsletter
Get instant access to breaking news, the hottest reviews, great deals and helpful tips
None here in the UK as of yet not on ee anyway. Posted via the Android Central App

have received the update in uk now via lg bridge on an unlocked lg g4

Nothing for me via OTA or LG Bridge :-(

Did u had to reset the phone after updating?

Already updated it as soon as it was announced. I've compiled a list of tweaks, improvements and initial impressions over on the forums. http://forums.androidcentral.com/lg-g4/615072-lg-g4-h815-android-marshma...

Thank you for the detailed impressions, especially screenshots Posted via the Android Central App

That's a great comprehensive list. Thanks! Really like the removal of the weird colour on the multitasking screen. Posted via the Android Central App

That's very nice. Thanks! Posted via the Android Central App

I guess carriers in Europe don't fuck around. Posted via the Android Central App

You think that carriers have a say in updates in Europe? You're very much mistaken!

It's not a race. Posted via the Android Central App

It is to me. I have a M8 that got much worse battery life since the Lollipop update. They skipped the 5.1 update, Im with 5.0.1 since January. They should be quicker

All the more reason to slow down and invest more time in QA. It's the people wanting races that cause manufacturers to rush incomplete updates. You just think you want it fast. Trust me, you want it when it's ready. Posted via the Android Central App

It's not a race. Posted via the Android Central App

Keep getting ..."network not available" from OTA update but loaded via LG bridge.
Screwed up Pocket Casts, which I was able to fix and now my home screen clock (Htc Sense) isnt working but apart from this update went smoothly. Posted via the Android Central App

So I've been running V20A for awhile now and have recently updated to 20B, I can also confirm that the phone feels alot snappier, no lags whatsoever and the battery life is much improved. Overall a really good job by LG

Nothing on my non-branded and unlocked European variant. Posted via the Android Central App

My phone just says that it isnt able to reach the update Server and that I should check my connection.. Posted via the Android Central App

The OTA servers are very busy, so if you really want the update, download LG Bridge to your PC and update it that way.
Got my UK unbranded G4 updated this evening, all working very well without any need to factory reset.
My only (minor) issue is having to use more taps on the knock code lock screen, but it's more secure so I guess that's a good thing.

Waiting it for my LG G4 H815P in Latin America. Do it LG! Posted from the sweet LG G4

This is best phone in the world .if u like this cmnt please like my comment..

I might dislike it. Why? Because "like whoring". Soft and sweet Marshmallow

Looking forward to marshmallow for the G3 Posted via the Android Central App

Nothing yet for my O2 branded G4 in the UK, either OTA or via the Bridge. Posted via the Android Central App

I got my phone through the UK Insiders Campaign. Im trying to update to Marshmallow via the LG Bridge, which has recognised my phone and recognised there is a Marshmallow update available. However, its been stuck at "Preparing phone for update... 100%" and not moving! Any way to get this update flashed on to my device, baring in mind I haven't rooted! Cant believe I backed up & wiped my phone before I did this! argh.

Classic America, getting it later :-P I have the G4, no update. By the time I do get an update it'll probably be time for its replacement. Posted via the Android Central App

worked via LG Bridge (Germany, unbranded, unlocked device) Posted via the Android Central App

I hate LG. The skipped the new android feature, to use sd card memory as internal memory! You can only format the sd card as portable memory. The very bad thing about it? It is impossible to store i.e. spotify songs on the sd card. You can't move apps to the sd card, only photo and video are now able to be stored on the external memory. This is a big shame, because I got a 128 GB card !!! I hope they will fix it soon, otherwise this was my last smartphone by LG!

Maybe you found any solution to this? I understand your feelings. I am on the same boat. Thrust-rated second day and very angry on LG. If they not planing to fix this I do not have any use of my SD card and limited 32gb space of LG G4. Can not move apps and can not download my SPOTIFY music to SD CARD. If they will not fix that, I will go your way. Cheers.

There is a probable reason why they dropped that feature. SD cards, even the fastest Class 10 UHS-1 cards, are still slower than internal storage. They're more than good enough for media files, saving photos from the camera and in the case of C10 UHS-I cards, record and save 4K, but for apps, they might introduce some performance issues.

Except you are given the choice. On Moto X (with actual 6.0) it gives you the option of how to format, and warns you if card read/write speed will cause performance issues. If you want to use as portable you can select it. Choice. Don't fool yourself and others, this is a sad attempt by Samsung and LG to maintain the ability to charge for increased internal storage, just like Apple. (Much higher profit margin)

Um, if that's so Then why is the S7 and G5 only offered in 32GB flavors, at least in the US??? Remember, the LG G4 was only offered in a 32GB variant.

i am still waiting for o2 the Bridge has never worked it has been updated but still receive the error LG Air Drive is busy,
but I prefer always to wait for the official release, but it would be nice to know when,
but still a decent phone,

Update to Marshmallow just downloaded OTA this morning in the UK!
Android Central Newsletter
Get instant access to breaking news, the hottest reviews, great deals and helpful tips
Thank you for signing up to Android Central. You will receive a verification email shortly.
There was a problem. Please refresh the page and try again.