LG G2 manual leak reveals rear buttons, nano-SIM, microSD slot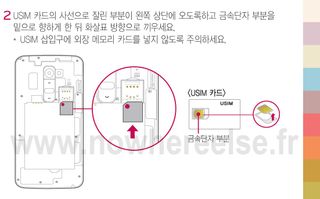 The LG G2 is almost upon us, and we'll be live from New York City this Wednesday for LG's big announcement event. Between LG's pre-launch announcements and a healthy flow of leaks, we already know a reasonable amount about the G2, however a leak of the device's manual has a couple more secrets to spill.
Firstly, cluster of buttons on the back of the device is confirmed to contain volume up, volume down and a power button — not a fingerprint reader as had been speculated. In addition, the manual shows a nano-SIM slot, making the G2 only the third Android phone to support this standard. (After the ASUS Padfone Infinity and the recently-announced Moto X.)
Also revealed are a microSD slot for expandable storage, and a removable 2610mAh battery.
The LG G2 may no longer be much of a mystery, but we're looking forward to finally getting our hands on the phone this Wednesday regardless. Keep it locked to AC for full coverage.
Source: Nowhereelse.fr (opens in new tab); via: Engadget (opens in new tab)
Alex was with Android Central for over a decade, producing written and video content for the site, and served as global Executive Editor from 2016 to 2022.
Can't wait! Posted via Android Central App

This shall be my next phone. Bring on the triband goodness! Posted via Android Central App on Sprint LTE. Seriously.

Well that sucks, guess I'll wait for nexus5. Hate removable batteries and SD cards. Posted via Android Central App

Haha sarcasm (I think) Posted via Android Central App

Nope I'm serious. Told my self I'll never buy a phone with SD card or removable battery again. Posted via Android Central App

I hope the nexus 5 is based off this and has a removable battery! Posted via Android Central App

It won't Posted via Android Central App

Source? Posted via Android Central App

Yeah, I'm actually kinda with you on that. Been rockin the RAZR HD and I barely need to recharge it coming from as GNex, occasionally I'll just use a portable charger. And Google play needs internal storage for cached songs which is really the only thing that uses a significant amount of space on my phone. Everything else is in the cloud. Posted via Android Central App

You are in the minority. Must be brain washed by the Nexus. Sell you a phone with no internal memory, no sd-card support and expect you to use their cloud storage. Only problem with that is if you happen to be in a poor signal area you have zero access to your files. Nope not for me, much rather have plenty of internal storage along with sd-card support and throw in a removal battery for those days just in case. I must be loosing my mind but I think me and the majority of the Android fans would much rather prefer that. Just My Opinion.

I use a GNex and I'm not brainwashed. I'm not sure why people are getting offended. It's not like moosc has any "phone-ruining" powers or something, lol. Posted via Android Central App

You're kidding right? They are giving what a lot of costumers want. Get an iPhone then.

No buy a real phone a NEXUS. Posted via Android Central App

Are you 12? Posted via Android Central App

Are you? It takes a 12 year-old, to know a 12 year-old, lol. Posted via Android Central App

Neener, neener neener....I'm rubber your glue...

Lol Posted via Android Central App

I can't wait to see the iPhone charge $100 between storage upgrades again (for the 3rd year now?). That's the funniest thing to me. Posted via Android Central App

Why are you getting angry? That's his opinion lol. Posted via Android Central App

Don't open the back. You'll never know the difference... Posted via Android Central App

Put a little glue and it will be nonremoveable. Posted via Android Central App

I hate the android community sometimes... Posted via Android Central App

Why? Because one guy expressed an opinion that you don't agree with? Posted via Android Central App

http://www.youtube.com/watch?v=xRtCJmcw-6A That screen looks absolutely gorgeous. Am not sure am in to the back power button, but if the nexus 5 will be based on this, I will not really care.
Plus snapdragon s800 in there. Lord of mercy!

*microSD
MicroSIM for expandable storage? Should be microSD, if an editor catches this comment.

Man this gonna be a pretty looking phone Posted via Android Central App

They should announce the nexus 5 already Posted via Lassie The Golden Retriever

No, they shouldn't. The Nexus 4 deserves, at least, a year on the market. Posted via Android Central App

This isn't only the third Android to support Nano-sims. Look at the specs for the Droid Mini, Ultra and Maxx. Verizon lists them as having a 4FF sim pre-installed. Verizon uses 4FF as the identifier for it's nano-sim cards. It looks as if Motorola is switching to nano and LG might be as well.

Where is the news coming from that the Nexus 5 will be based on this?

And we all know that everything on the internet HAS to be true. For instance, Jerry is a french model...

Haha Posted via Android Central App

I just want a release date. I want to decided between this and the HTC One

I think this is the first phone to literally check all the boxes for me Posted via Android Central App

The only box missing for me is battery life...would've loved to see a larger battery for such a nice, big screen. But otherwise, they seem to be the only manufacturer really paying attention to what consumers want. This was my last hope before settling on a Note 3 (assuming it has a microSD slot like all Galaxy phones). Never thought I'd say it, but I'm excited for what LG has to offer here. HTC and Motorola should pay attention.

The button placement kills this phone for me, any button on the back of a phone is completely unreachable when the phone sits on a carmount.

Yeah, I agree. Unless they have some sort of software implemented to remedy this I can't fathom why they thought it would be a good idea to put these buttons on the back. I guess we will have to wait and see.

I believe it will have a similar always on feature like the Moto x for voice commands just a guess though. Posted via Android Central App

That would be cool. Posted via Android Central App

I agree with jcpetrs, this phone is the first since my OG EVO that has checked all of the boxes that I've been waiting for to upgrade. Quadcore processor, triband LTE, removable battery, microSD, and 32GB internal storage. I'm just surprised my next phone is going to be a LG!

Hope the Nexus 5 is based on this LG phone if that's who is really making the Nexus 5. Google can do whatever they like with those back panel buttons, but leave the micro sd slot and removable battery.

Google does not support micro sd cards anymore. The Nexus line will not have expandable memory.

This is the very reason why I avoid Nexus Devices. For a company that claims to champion "choice" ; remove a feature to add more storage if the owner of the device chooses to do so is bad in my opinion. I flatout refuse to buy a device that can't meet my needs for it. For what I use my phone for, non of the Nexus devices would work.

Well, if this one comes for Sprint, it might just be my next phone. I really want removable battery and SD card slot. I was actually considering a used G, but this might actually make me want to wait. Nice all around. The buttons aren't a deal breaker, but get a resounding "Meh" out of me.

I like this phone, I really do but I think the back buttons are going to be a deal breaker for me when it comes down to comparing this, the Note 3 and Honami. I am not really saying they are going to be terrible, just that if all things are close to equal, placing them on the back might kill this one off for me. I also cannot really see the Nexus going with them there. Maybe it is just "side button bias" but there it is...

This is great!! Most likely my next phone. Posted via Android Central App

This device has just about every possible detail any one would want in a Smart Phone. I am thrilled over the 32gb of int memory and sd-card support. One beast of a processor. This is just about as close as you could get in a future proof phone. All tech gets better but these specs should hold out for a long time.

I have the original optimus G and I have been waiting for the G2 to upgrade I almost bought the g pro but this phone is even better can't wait. Posted via Android Central App

I was all excited by this until I saw the buttons on the back. I can't control the volume of music when the phone is in an armband.

I am thinking that the 5.2" screen is going to seem more like 5.5 since the bezel is non existent

Bottom line: Any current 5 inch screen, will last ALMOST all day. Period.

north american variants DO NOT have removable batteries or microsd card slot. and it is despicable. it is all too apparent that the consumer come last. dead last.
Android Central Newsletter
Get the best of Android Central in in your inbox, every day!
Thank you for signing up to Android Central. You will receive a verification email shortly.
There was a problem. Please refresh the page and try again.