LG G Watch to launch in the UK this summer for £180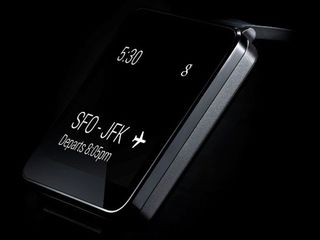 While we anxiously wait to see what the first Android Wear device out of the gate will be, it appears that LG may try to take that title. As there were very few announcements so far, it seems like an obvious battle between the Moto 360 and LG's G Watch. Now Pocket-lint has confirmed that the G Watch will be available before July and will retail for less than £180 in the UK.
Still without a working model, LG showed off the final version of their prototype device — which does have the final design. The rectangular G Watch is a bit larger than the Gear 2 and will allow for changeable straps. We know it will be running Android Wear, but other specs are still unknown for the time being.One thing to note is that there are no buttons on the watch at all, and also no ports to be seen. The only noticeable feature are charging contacts on the back of the device which remind us of the same style on the MetaWatch devices.
If this holds true, we could very well see the G Watch (and hopefully other Android Wear devices) hit the market before the summer is out.
Source: Pocket-lint
By day, Adam is a writer for multiple Future Publishing brands with over fifteen years of experience. He's expertly researched and written hundreds of articles ranging from mobile phones to mobile homes to baby mobiles. By night, he's a gadget geek, avid disc golfer, 80s nerd, cord cutter, cook, husband, dad, and memory collector.
My God...the Moto 360 looks incredible next to this. Posted via Android Central App

I would NEVER consider a round watch. Yes - its cool that they can do a round display. But after a few week when the novelty wears of - you WILL miss the real estate you lost. Round smartphonewatches follow the typical "apple-style": totally unpractical - but who gives a shit when it looks nice... Besides: big round watches are for old farts... "IF ITS NOT ROUND ITS NOT A WATCH YOU STUPID IDIOT! AND NOW GET THE HELL OF MY LAWN!"

Or, you know, some people prefer round watches. And would like that preference to translate to their smart watch. As much as you don't want to admit it, a smart watch is also a watch, which serves as a piece of jewelry as well as a tool. So, in smart watches, aesthetics and form should matter just as much as function and tech. I don't want a phone strapped to my wrist, and design is what has prevented me from buying a smart watch. Posted via Android Central App

For some reason I prefer the simplified and square look. However, if the price difference isn't that big, I might wait for reviews and make my choice based on feedback. Aside from cost, my main concern is getting the watch that is closest to Google's vision (the more "Nexus" watch).

But if Google never puts out a watch then how will you know what their vision is? Posted from my newly Kit Katted Droid Ultra

The 360 was originally designed to be a Google watch..... They decided against it probably for the same reason they never allowed moto to build a Nexus (would step on too many toes) or they already knew that they were selling moto off.....
Their loss is everyone else's gain now because if you don't like whatever Google ends up spitting out then there's already a better alternative
Posted via Android Central App

Of course, what Google's "spitting out" is what powers this "better alternative". I'm still reserving judgement until I actually see the working products.

+1 Posted via Android Central App

HAHAHAHA Stang just said the 360 looks much better than this, which it does. It was never mentioned if round is always better. Those matters aside, the 360 has the bigger screen by area, and i actually really do give a shit if it looks nice when im carrying it around n my wrist all day. As for functionality, Android wear is designed for both square and round. Now please stop throwing tantrums.

Designed for Round? Then explain why there's a black gap at the bottom of the round watch screen of the 360. Posted via Android Central App

That hasn't yet been explained. It's there in some pictures and not in others. Would it be sweet if it was a solar panel, though? Posted via Android Central App

Solar panel would be the bomb. And yeah, its definitely a hardware "limitation" rather than android wear cutting the bottom off.

It looks like that area contains a sensor of some sort. Probably a light sensor, you can see it in some of the pics Posted via Andrex Toilet Roll (2-ply)

And android was designed to support 2.5" screens. Doesn't mean you get the same experience... There will be times when round vs square does not matter (google now). But when you read a long text like a sms or a email - or scroll in a long list like your contacts - it will. Lets be honest: who doesn´t watch old SciFi movies with round screens and thinks "this is the stupidest thing ever..."

Lets be honest: who doesn´t watch people with phones on their wrist and thinks "this is the stupidest thing ever..."

"Round smartphonewatches follow the typical "apple-style": totally unpractical - but who gives a shit when it looks nice..." Can't even find words... O.o

A 2" square display only has an area of 2 square inches while a 2" round display has an area of 3.14 square inches, so going round gives you more than 50% more screen while maintaining the same diagonal dimension, not to mention that the Moto watch has less bezel. Plus round displays draw your eye to the center for easier glancing. That said my mind is not made up either, the G Watch would match my Nexus better so I dunno yet

Ahhh... no. A 2" square has an area of 4 square inches. 4. So it is 4 vs 3.14.

Umm did you pass geometry? Screens are measured diagonally, not by width, remember a²+b²=c²? You are picturing a mighty big square my friend, a 2" square display is only 1.4 inches wide

As much as I would like to buy this out of pure nerdgasm. I don't see the point of wearable watches to be quite honest. Posted via Android Central App

I too was skeptical until I tried the pebble. Now I'm a wearables convert.

Same here. LOOOOOVE my Gear 2. But the most i love about it is the ability to make/answer calls. I don´t know if notifications would be enough for me....

Are you expecting to operate the watch via telekinetic means? Posted via Android Central App

The more i see this one, the more i think it might be worth looking into. As long as they keep the price as close to $100 as they can, it may actually be worth it. Unless there is something i am missing, smart watches are really high dollar toys function-wise right now anyway. I do not want to pay a premium for a novelty. I am afraid the Moto 360 will be severely overpriced. I mean sure it looks better, but if it does not have more function or perform better then it is just a premium price for a "look". Function is always more important than form. I will not pay 2 or 3 time as much for something that only looks better. I hope I am wrong.

You know that £180 is like 300 US dollars, right? I was hoping for about $200, but now I don't know how likely that is.

If it's 180 GBP, it probably /is/ about 200 USD. The tech conversion rates are always bumped up a bit to us brits.

$199 USD would be reasonable IMO.

Dang you're right. I completely did the conversion backwards like an idiot. OK maybe I won't be looking too hard into these. 250$ is too much for my interest. Posted via Android Central App

You have to remember that that's not how global economics work, it will be closer to $200 USD. In the UK the minimum wage is £6.50 which is about $10.50; however the minimum wage in the US is about $7.35 (though it varies state to state) which would be about £4.50. When looking at it from this perspective you can see why there are these wild and varying differences in prices and they cannot be taken on direct exchange rate due to cost of living differences and income differences. This is even shown in the USA. A cup of Starbucks in Cincinnati costs less than in New York City due to the differences in income and microeconomics (on a macroeconomic scale). Posted via Android Central App

Plus the UK price always includes the ridiculous 20% VAT. Posted via Android Central App

I hate VAT :( Posted via Andrex Toilet Roll (2-ply)

i like the LG watch the best. clean, simple, and sleek - just like the Nexus 5. and it doesn't try to be something it's not.

That was more or less my line of thinking as well. Still, best to wait and see for certain how things play out when the devices go to market.

Do we finally have a confirmation if its possible to make/answer calls in android wear? Remember: there are NO CALLS in the promo-video...

Anyone hear what materials are used,for this smart watch? I'm seriously considering a lg g watch.
It won't be a deal breaker if its aluminum or not but it'd be awesome.
When this gets released I'm seriously considering it. And I'm someone who hasn't worn a watch in decades. Posted via Android Central App

holy crap! $300 for what is likely going to be the cheaper options!?!? that does not bode well for the upcoming Moto 360. =[

This has me excited that I might see the motto 360 within the next 5-6 months. If it comes earlier that's even better. Mike

I was hoping that this would cost less than $200 and be in the $150 range Posted via Android Central App

There go any hopes of getting a Moto 360 for anything less than $599....like anyone has the money for that crap!!! These are bluetooth devices, people, not performance automobiles!!! You want wearables to take off, make them in a price range people can actually afford without having to choose between buying one or paying bills!!! For christ's sake, why do no manufacturers get this?!?!?!?! Besides, this looks like a pile of crap I'd pull from a cereal box. I'd give it a price tag of about $59

So when does the lg pro2 comes out in the states Posted via Android Central App

That thing looks seriously enormous in the new leaked photos. Geeze. Visibly bigger than the Gear, which already looks too big. Posted via Android Central App

It def has too much bezel for my liking!

59.00 sounds good to me. And LG would blow the competition away..... Posted via Android Central App
Android Central Newsletter
Get the best of Android Central in in your inbox, every day!
Thank you for signing up to Android Central. You will receive a verification email shortly.
There was a problem. Please refresh the page and try again.