LG G Watch goes on sale worldwide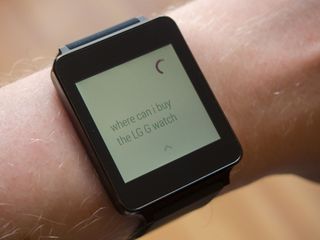 LG has announced that the LG G Watch is now available for sale in a total of 27 countries, with 12 of them allowing their residents to purchase the Android Wear-based smartwatch online on the Google Play Store as well as from retailers.
Those 12 countries include the US, Canada, France, Ireland, Germany, Italy, Spain, United Kingdom, Australia, India, Japan and South Korea. In addition, 15 more countries are selling the LG G Watch via retailers, but not on the Google Play Store. LG did not give a full list of those territories today but they do include Brazil, Mexico, Russia, Singapore and New Zealand. Pricing for the smartwatch will vary by territory, according to LG.
AT&T is already taking online orders for the LG G Watch in the U.S. for the price of $229, and will sell the smartwatch in its stores starting July 11. The wireless carrier is also offering the device for 50 percent off if customers also purchase the LG G3 smartphone at the same time.
Are you planning to purchase the LG G Watch if you live in one of the countries where it will be available?
Source: LG
Completely sold out on Best Buy

I just think they have not updated the site. I would go visit a store and see for yourself :) They were never available for in store pick up, so I bet they are there.

I was thinking the same I would like to see it in action before buying.

I ordered mine yesterday at 9am and they informed me that it is backordered despite the fact that I was one of the first who did. Apparently my order processed at midnight and not over 12 hours earlier when I bought it... idiots. Thanks, Best Buy. Now my delivery date moved from 7/8-7/10 to 7/18-7/30. I guess I'll be ordering the samsung as well and see who gets here first.

I'm going to check out my local best buy when I get off work . If they do not have stock, the play store is the way to go. htowngator. They have been up for preorder on bestbuys website for a week now...no just yesterday.

I think they are available at Google Play Store, 1 to 2 business day.

This is the ugliest smart watch to date! It looks like one of those Casio watches from the early 90's. Posted via My Galaxy S5...

You know you don't have to buy it right?

In my opinion it looks pretty good. Went with a white band and black watch. I like contrast. Will be getting the 360 as well. But this thing is pretty great. Posted via Android Central App

So you're going to have 2 smartwatches?? I wish I had expendable cash like that. I'm liking the 360 better so I'll probably just stick with that whenever it comes out. Posted via Android Central App

Waiiiit, you call this ugly, but you have a Galaxy S5? I kid, I kid. Posted via my M9, XT912, N910, G906, D6653, D870, G4, or G Pro 3

Probably stop by the store to see it in person. I said I wouldn't buy it and wait for the 360, but maybe I'll have one for everyday activities and one for occasions as the LG is not elegant at all Posted via Android Central App

I feel the same way. I love the look of the 360, but I know I need a rubber strap for an everyday watch. Leather will not be good for anything outdoors or for longevity.

Loving mine. Just got it delivered yesterday. Very very comfortable. Don't even notice its there. Posted via Android Central App

I'm still having a hard time seeing the practicality of a smart watch when I already have a phone with all these features. But then again, the G Watch doesn't look that bad. Posted via Android Central App

At my work we use google hangouts and I get notifications all day long that I need to see, but do not need to respond to. That alone make it easier than pulling out my phone. Plus, in a work environment it is good to have a phone on silent. Being able to see what is coming in that may or may not be important is ultra convenient :) Until I got my pebble, I never thought I would "need" a smartwatch. Now I cannot live without one!

you should watch the google i/o keynote. they address that specifically. you check your phone ~200x per day on average. a smartwatch is designed so you dont have to do that and can leave your phone in your pocket or purse while you go about your tasks

I have more than enough use. Simplified my notifications at work whole having phone on vibrate. See what I need and don't worry about what I don't need to respond to. When I'm away from my phone I still get those emails and if important enough I can get to my phone to respond. Was in a deal last week and phone rung. I was away from it and forgot to turn the ringer down. Declined call from my wrist. Listening to Slacker in the car change music from wrist without fumbling with phone being distracted. There's alot of practical use. That's why it's considered an extension of your phone. Posted via Android Central App

G Watch does look good. But the Moto 360 w/ it's circular LCD is sick! I've had a Pebble Steel (https://getpebble.com/steel) for a few months after I tried my friend's out for a week, and now feel naked without it. I was like what's the point?. But after using it, you start to find it's super convenient having your notifications and caller id right there on your wrist, particularly when you're on the go. Also, stupid to say, but I really like checking the time. lol.

Available in Belgian webshops it seems. Will wait for the Moto 360 though.

Best buy dropped the ball in Austin. Release date today with nothing to release and no store has it. Lame Posted via Android Central App

no best buy seem to have it. I wonder if the online orders were much higher than they anticipated so all of the allocation went to fulfilling those orders.

I'm planning on getting it. Once the Moto 360, is out and the price is revealed I will decide if it's worth it or not. If it is... I will sell my gwatch and by the 360. Posted via Android Central App

Best buy website now shows pre-order for black, sold-out for white. Both were sold out this morning. No availability date at my local best buy. I know this is a niche product and all, but this has got to be the worst product roll-out in recent electronics history. "Available worldwide, but we won't say where". Seriously??

Has anyone successfully gotten one from best buy?
Android Central Newsletter
Get the best of Android Central in in your inbox, every day!
Thank you for signing up to Android Central. You will receive a verification email shortly.
There was a problem. Please refresh the page and try again.