LG G Pad 10.1 lands at Best Buy for $250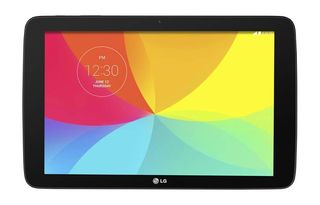 After having announced the LG G Pad 10.1 earlier this year, it seems that LG's larger slate is now making its way to the U.S. arriving at Best Buy retail stores for $250. The G Pad 10.1 joins the LG G Pad 8.3, but with more modest specs to keep the pricing low and competitive.
The device will ship with a 10.1-inch 1280 X 800-pixel display and a Snapdragon 400 processor from Qualcomm out of the box with 1 GB of RAM to power the Android 4.4.2 build.
Still, if you don't need the blazing fast performance of more expensive 10-inch Android tablets, the LG G Pad 10.1 may represent a nice affordable alternative.
Want more information about the G Pad 10.1 and LG's other latest tablets? Be sure to check out our hands-on of the device. Also check out our LG G Pad 8.3 review if you're looking for something a tad smaller.
Will you picking up this tablet for your use? Let us know.
Source: Best Buy (opens in new tab)
Was there a side by side with this and the Samsung one? I would love to see the comparison

Are you talking about the lower end Samsung tablets? Not the tab s and pro presumably Posted via My Ever-Bloated S4

I totally forgot about this one I have a Nexus 7 and for my next tablet I would want something bigger like 10 inches but this is too underpowered to replace that
Posted from my Nexus 7 2013 running Android L or Samsung galaxy S5

I love my G Pad 8.3 Google Play Edition. The only thing I would change about it is a larger screen, but this not having stock Android and a slower processor... Idk Posted via Android Central App

For me the 8.3 GPE is the perfect size. Great for reading in portrait, and great for watching movies and playing games in landscape.

I agree. Well, I have the Galaxy Tab Pro 8.4 which is 8.4", but I love the size. It's big enough that I don't really feel I need a bigger screen, yet small enough to actually fit in some of my pockets.

Yes the G Pad 8.3 is a great sized tablet and it's more powerful. To me it's still the LG tablet to get. Posted via G Pad 8.3

I have the 8.4 and feel it is just a TAD too big for portrait mode. I'm thinkin' 7.9" :)

I have it as well. I'm enjoying it thus far. I do wish it was a little larger though. I have a G2 and the tablet isn't that much bigger. Plus, it being under 300 PPI still makes the screen look pixelated from when reading text. Posted via Android Central App

L 0 L ... ... ( 0ppo F5) ...

LOL what? Posted via Android Central App

I still can't get used to 10" tablets having the phone navigation UI. Yuck!

+10 Posted via My Ever-Bloated S4

+100 Posted from my Nexus 7 2013 running Android L or Samsung galaxy S5

+1000 Posted via my HTC one M8 GPE running android L

+10000 Posted via Android Central App

At 10 inches I would go with a Chromebook. Posted via my HTC one M8 running android L

+1, I got a manufacturer refurbished hp chromebook 14 instead of a 10" tablet and have to say it's been the best choice I made, $199 well spent Posted via Android Central App

Nice buy! Posted via my HTC one M8 running android L

Nice buy and good price! I have been tempted to get a Chrombook for awhile. Then the Surface pro 3 came out. Bought it ... Took it back before opening it and got the Samsung Galaxy Note Pro 12.2 with the Logitech 12.2 Pro Keyboard ! Yes more expensive but the experience I get with it out ways the ChromeBook for me.

Depends on what you'd be using it for. For reading, web browsing and watching movies, I'd go with the tablet. For typing, I'd go with a Chromebook

I'd agree to some extent. My tablet is my armchair device. My phone is my mobile device My Chromebook is my replacement pc All I do across the 3 is read the web, email, YouTube, google moves/music and that's about it and the Chromebook feels better to do that on. If you like mobile gaming go for a tablet, and obviously the higher res screen is a factor to some. My old eyes can tell the difference still just about lol If you are a casual user who does little gaming and are more of a media consumption user then I say go with the Chromebook all day Posted via Android Central App

Uh, no. Posted via Android Central App

Stop with the garbage specs. Posted via Android Central App

Yet at $250, priced to sell to a much larger market who aren't spec freaks.
.
Although not suitable for certain AC troll holes, LG is coming to the market strong against Apple and Samsung to grab a greater piece of the action. This type of competitive action is to all our benefit.

There's people that don't care. A snapdragon 400 will be fine for people like my mom, who is still enjoying her Samsung Galaxy Tab 2 with a lot worse specs than this. Posted via My Ever-Bloated S4

how does text look. i will be watching some videos and reading PDF mags. Also, does it have an SD card slot, I need that for the videos. Nice look alex, thanks.

Text will be pretty pixelated on the 10 inch model. Not horrible, but if you are used to 350+ PPI, you won't like it Posted via My Ever-Bloated S4

Going the skip this one and just wait for the Nexus 8, man I'm excited! Posted via Android Central App

Same here. Posted via Android Central App

Yeah, I agree. If you're not a heavy mobile gamer and you don't watch a lot of high-res videos, the processor and screen won't bother you too much. Only one gig of RAM will end up leading to sluggish performance, though.

Samsung Galaxy Tab 4 10.1 has 1.5GB RAM. Even with the added TW bloat, thats worth noting.
Played with one pf these LGs the other night at BB. Its screen looked about as good as the Tab 4 10.1 and performance seemed as good if not a tad better. I liked the feel of the LG better than the Sammy but the Samsung gives more you more usable screen real estate. Overall, I like LG's UI a lot better as well but I would probably get the Samsung due to more RAM, better accessory ecosystem and a greater likelihood of future OS updates.

Price will be $199 or less in . A month or so. G pad 8.3 went from $349 to 249 quick. Love my g pad. This 10in is a step down in specs but will compete with the galaxy tab 4 series, not the galaxy tab s series. That means the 7in g pad will be stupid cheap! Posted via Android Central App

Not a bad price for the specs, but personally I would want a tablet with higher ram and resolution.

There are to chose from, if you ready to pay the price 2x or 3x Posted via Android Central App on LG G2

What the F does he say at :44?
...when the phone is phabulet? wtf?
Enunciate when conducting a review!

How far we have come from the Motorola Xoom!

Picked one up to replace my ancient Toshiba Thrive and couldn't be happier. Got my Note 3 as my "spec'd out" device. Using this for browsing, email and videos is perfectly fine. Posted via Android Central App

Well I have the Nexus 10 bought it 7 months ago for 250 GBP 32 gig brand new and I think it's the best thing since sliced bread lol.

I just purchased the LG G PAD 10.1 and I really enjoy using it. I also have a RCA 10.1 Pad and I find it easier to use. I only have one problem. Why do they not make the protective cases, I.e.., otterbox defender or the armorbox for these products when they release them. If anyone knows where I can find one please post it. Thanks

I need to clarify one thing I said in my previous post. I own both a LG G Pad 10.1 and a RCA 10 inch Android tablet and the LG G Pad is much easier to use.
Android Central Newsletter
Get the best of Android Central in in your inbox, every day!
Thank you for signing up to Android Central. You will receive a verification email shortly.
There was a problem. Please refresh the page and try again.