LG debuts three new entrants to its Music Flow series of connected speakers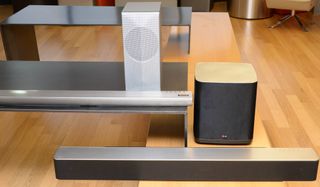 LG has just announced a new set of Wi-Fi-enabled speakers aimed at competing with Sonos for a spot in your home. In total, the company is introducing three new speakers (one of which is its first battery powered offering) as part of its Music Flow series which can be controlled from Android devices.
LG will show the devices off in full at CES in January, but it did give a quick rundown on the features you can expect from the speakers:
Additionally, users will have the option to make song requests and set alarms through the LINE messaging app, which will basically work by sending commands to the speakers.
Lastly, the speakers also sport a feature called Auto Music Play which will (you guessed it) automatically start playing music when your phone comes within one foot of a connected speaker.
As mentioned above, LG will be showing all of this off at CES, so be sure to tune into our show coverage when it starts on January 6th.
Let's hope they don't cost as much as Sonos! Nice to see LG branching out a little.

I read the auto play part, and then imagined myself throwing my phone past a speaker because I didn't want to move. But since my apartment is tiny as hell, I wouldn't have to move. "I'm da Blur boys!" - Me with 1200 ping. Yes. My Internet got worse.

Can't wait to see the price as well as sound quality. Posted via the Android Central App

Expect this to be overpriced Posted via the Android Central App

No mention of 5.1 or 7.1 Surround.

I love competition!!! Can't wait for CES... Posted via the Android Central App

Should I stop holding out hope for a proper Google Cast HiFi?
Android Central Newsletter
Get the best of Android Central in in your inbox, every day!
Thank you for signing up to Android Central. You will receive a verification email shortly.
There was a problem. Please refresh the page and try again.