LG announces Optimus L1 II: this is what a $95 unlocked Android phone looks like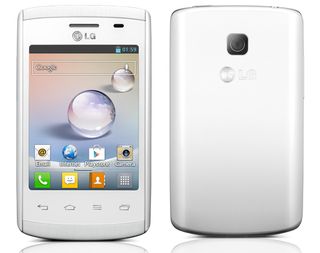 Extremely budget offering hitting emerging markets soon.
Building on its expanding entry-level device lineup, LG has announced the Optimus L1 II as an extremely budget device for emerging markets. LG's naming conventions for these devices has gotten a little bit confusing, but the Optimus L1 II is the follow-up to the original L1, which also has higher-end siblings named the Optimus L2 and L3.
Naming aside, the Optimus L1 II is clearly a very budget device, with a 3-inch 240x320 display, 1GHz Snapdragon MSM7225A processor, 512MB of RAM, 4GB of storage and a 1540mAh battery. The device does pack HSPA 7.2mbps, as well as Bluetooth and a 2MP camera. We're also looking at Android 4.1.2 Jelly Bean on the software front.
Ready for the kicker? The Optimus L1 II will retail for about $95 unlocked in countries like Vietnam and Russia. That's a crazy low price and one that needs to be reached in order for manufacturers to get into some markets. Hit the break to see a picture of the black version.
Source: FoneArena
Andrew was an Executive Editor, U.S. at Android Central between 2012 and 2020.
I see the target market for this kind of device, but why don't OEMs just sell older phones as low-end phones to save money from the costs of designing and manufacturing a new model?

Probably out of fear that it would take away from the sales of the latest and greatest. I still know people picking up Galaxy S3s. I mean why not it's not that different from the S4, especially to the average consumer.

Low end phones can't run the most recent version of android. Makes the fragmentation issue worse. Low end problems is what gives WP8 a chance, they do a great job like the Lumia 520 is a less compromised phone at this price point.

I'd rather that than Nokia's recent 20$ phone.

Burner phones from 7-11 are more high end than this

Ewww Posted via Android Central App

Phones like this actually sell quite well in countries like India. I used to live there and I knew countless people who happily used phones like this, or even cheaper Androids made by local manufacturers. Posted via Android Central App

At least it looks good Posted via Android Central App

With a 3" 240x320 display, it is obviously intended for twitter users since 140 characters is about all you will see on it.

i'd take one of these over any Blackberry or Windows Phone.

The Lumia 520/521 is actually a great deal, for the money, too. Posted via Android Central App

it's all about the OS. software and ecosystem come first.

I somewhat agree with you. However, at this price point, I doubt anyone cares a great deal about ecosystem more than just having a decent-working handset. Posted via Android Central App

i think this is a decent working handset. people want apps and games. look at what they are using in emerging markets vs. this. it's a quantum leap. assuming that the data providers/infrastructure is there.

If it is a Nexus, it would be perfect!

Wow, you really don't miss a chance to troll... Posted via Android Central App

Someone is going to get this to use as their budget friendly Ingress device and bitch about it because it looks like ass on this tiny screen.

God dang that thing is ugly! For the same price you can get a Lumia 521 that actually looks decent and won't lag. Nokia FTW!!

But the 521 runs Windows who would want that? Though I did recommend that to my mother as her entry into smartphones.

Did she get one? Why didn't you recommend Android?

I love Windows Phone! Rocking a Lumia 925 and no problems! Hardware is amazing and so is the camera ;)

I've picked up Windows Phone at least 4 times in the last 2 years and each time I just put the phone back down. The hardware might be nice but the OS is just so aweful...I was one who thought Nokia should have at least tested the Android waters. They'd probably be doing a lot better if they had. Posted via Android Central App

I'm still using my HTC Aria (on CM10.1) as a portable media player, which doubles as an emergency backup phone in a pinch. This really wouldn't be a bad option as an upgrade for that device...

nokia Lumia 520 is better - 4 Inch Screen, 8 gb internal memory + micro sd card, 5 megapixel camera, 480x800 screen reso, Super Sensitive Touch, 512 mb ram, and a better and faster 0S.

I would take Lumia 520/521 any day over this.

A waterproof Lenovo a660 with much higher specs runs just a few bucks higher ($120), so what's the point of this one? Posted via Android Central App

The Lenovo isn't available to every market, though. Posted via Android Central App

Alibaba ships worldwide, and its pretty popular in Russia... Posted via Android Central App

Oh, I didn't know that. Your point stands, then.

Good call, wonder if you can move from ICS to Jellybean on it?

Yuck! Posted via Android Central App

I think oems are mire interested in turning a profit than making a good device.
Case in point, this:
http://www.gsmarena.com/xiaomi_unveils_ultracheap_quadcore_hongmi_aka_re... For 120$ you get a quad core, 1280*720p display. Seriously! Ok, I take chinese anyday. Posted via Android Central App

Understood that you can get a much nicer device (like what Xiaomi is doing) for $120, but remember that in the scheme of things that's over 30% more expensive than the Optimus L1 II. At this price point, $95 to $120 is a big deal.

Add tmo / at t bands I'll pick one up drop drop my n4 carry this and n7 Posted via me

JUST TAKE MY MONEY ALREADY!

THROW IT AT THE SCREEN!!! I'LL CATCH IT!!!

I don't understand. Look what you get for $99 at Pandawill: http://www.pandawill.com/malata-i8-smartphone-mtk6577-dual-core-android-...
Why this LG isn't cheaper?

Fabulous! Posted via Android Central App

We gotta put Jesus back #1. that's where he belongs! Posted via Android Central App

Our hard times are not someone elses. You don't know how much one has to save in other countries. Posted via Android Central App

For $79 at MetroPCS(after rebate) you can get a far better Optimus F3, not bad at all.

Haier w718 - $95.99, with higher specs and free shipping worldwide.... Posted via Android Central App

I think this is much better than Nokia Asha.

Nokia is a classic, multi-function smart phone, here a lot. . ./http://www.barato-smartphone.com/

I prefer the cheap Chinese smartphone because they are the best and also cost less.
There are brands of phones like Xiaomi, Meizu, Cubot, ZTE, etc. They have smartphones with 2 gigs of ram, quad core, 6-inch screen, dual sim, gps, etc.
There are many models of mobile http://www.smartphones2013.info/
Android Central Newsletter
Get the best of Android Central in in your inbox, every day!
Thank you for signing up to Android Central. You will receive a verification email shortly.
There was a problem. Please refresh the page and try again.