LG and Qualcomm holding U.S. event on Sept. 19, Optimus G unveiling likely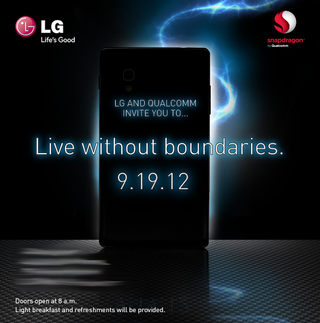 After a few weeks of teasing the Optimus G, it seems LG's ready to unleash its latest quad-core monster phone. The company's sending out invites press to "live without boundaries" at a joint Qualcomm-LG event to be held in New York City next Wednesday, Sept. 19. LG and Qualcomm's joint shindig will take place within hours of HTC's big announcement in the same city, where we're expecting new Android and Windows Phone devices (we'll be at that event, too.)
Though a combination of leaks and official teaser videos, we've learned that LG will deliver a phone with a quad-core Snapdragon S4 Pro CPU, a 768x1280 True HD IPS display, a 13MP camera and Android 4.0 Ice Cream Sandwich -- quite a tantalizing device. We'll be live in New York next Wednesday to bring you full coverage of the Optimus G's U.S. debut.
Alex was with Android Central for over a decade, producing written and video content for the site, and served as global Executive Editor from 2016 to 2022.
Nice specs sheet. Probably not enough to convince me to switch my current phone, but still very nice.

I'm sorry ICS not jelly bean. First Motorola now LG. wow big letdown hopefully when it on Verizon it will have JB out of the box otherwise the note 2 might be out by than.

Why are these new phones launching without the newest operating system? I understand developers want to use their own UI, but I'm paying top dollar for a new device. It doesn't make sense to have last year's OS on it.

Yep. That's why I won't get a phone that's not either a Nexus or a darling of the dev community like the mainline Galaxy S phones. No matter how much I may love the hardware, if it's going to be either a long wait or a huge pain in the ass to get the latest software on it, I won't pay a few hundred bucks for it. I wish more people felt that way, but for the enormous majority of Android users who aren't inclined to read Android blogs, it's just not that big of a deal.

They launch with old software because that's what they built the phone off of. It sucks but it's what happens because Android OS moves so fast right now. The good thing is ICS is great but it's 10 months old and JB is the new kid on the block and builds on ICS nicely. This phone is the new spec king, can LG deliver though. I've never seen or heard of them kicking butt on support. I hope they fix that but it's doubtful. Because of their history I'd never buy an LG phone and especially one on an older OS. I am excited to see what this thing can do though because it sounds like an awesome phone on paper.

Even though I am unlikely to ever consider a LG device..it is always exciting seeing announcements pushing the overall Android offerings further along. I personally can't wait to see what HTC has up its sleeve..hope it's not just the OneX+

Google needs to slow down the release cycle for Android. Make carriers promise to update each phone 2 versions from the release version and Google release an os update every 18 moths. Not gonna happen and this is why new phones will mostly be a version behind at release time

Always love LG's hardware, but man do they need to work on battery life for their high end devices. I could only get 2 hours of screen time on my old Nitro. Phone was awesome other than that.

I didn't pay attention to this phone until the other day, when the news of the 13mp sensor caught my eye. Now it's on my shortlist with the Galaxy Note 2. But I'm leaning towards the Optimus G because of one-handed operation. Don't let me down, LG.

Hmm, would be nice to have this kind of specs on their Nexus phone. That is, if the rumors about them making a Nexus are true.

Holy specs batman. would be interested if it was running stock android / was a nexus.

Killer specs if all the rumors are true. LG would have to give me a hard time line for JB update to interest me though. I hope they have learned from their G2X mistake.
Android Central Newsletter
Thank you for signing up to Android Central. You will receive a verification email shortly.
There was a problem. Please refresh the page and try again.