Lenovo's ZUK Z2 Pro offers Snapdragon 820, 6GB RAM and 128GB storage for $420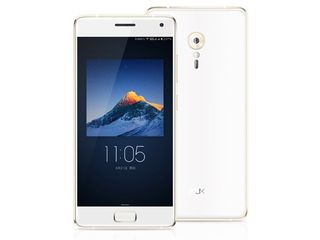 Lenovo's mobile-only sub-brand ZUK hasn't garnered much attention, but that's about to change with its latest offering, the ZUK Z2 Pro. Unveiled in China earlier today, the phone features a 2.15GHz Snapdragon 820 SoC, 6GB of LPDDR4 RAM, 128GB UFS 2.0 storage, USB Type-C (3.1), Bluetooth 4.2, and a 3100mAh battery with Quick Charge 3.0.
The spec madness continues with the 13MP ISOCELL camera with an f/1.8 lens, PDAF, OIS, dual-tone LED flash and a pixel size of 1.34um, and a front 8MP camera with larger 1.4um pixels. There's a heart rate sensor at the back, which can also measure oxygen saturation. The 5.2-inch Super AMOLED Full HD display sounds mundane compared to the rest of the specs on offer, but it does go up to 500 nits, and down all the way to 1 nit, allowing you to read at night. It also sports 100 percent NTSC and sRGB color gamut. When it comes to the software, you get Marshmallow out of the box with ZUK's custom UI.
You also get a fingerprint sensor at the front, and the phone features a shock-absorbing layer between the glass back and the metallic frame that's designed to protect the device when it takes the inevitable tumble. The only thing that's missing from the phone is NFC.
The price, you ask? The variant with 6GB RAM and 128GB storage is set to retail for ¥2,699, which comes out to $420. No mention if the phone will be available in global markets, although a spokesperson revealed to Engadget that sales will continue in the Middle East and European markets.
Harish Jonnalagadda is a Senior Editor overseeing Asia at Android Central. He leads the site's coverage of Chinese phone brands, contributing to reviews, features, and buying guides. He also writes about storage servers, audio products, and the semiconductor industry. Contact him on Twitter at @chunkynerd.
I want it! Posted via the Android Central App

In related news they just dropped the price of the Nexus 6P to $250

Just so you know, thats Nexus 6 not the 6P

Nice. I hope the Note 6 has 6 GB Ram. I also hope popular Android phones move back to 20MP cameras in the future. I'm not digging this 12MP fad. I want my phone to eventually replace a DSLR or at least come real close.

Personally, I feel that 16MP is the sweet spot. Anything above is pretty much overkill to me.' I use a Sony a6000 as my dedicated camera, and even though it's 24.3MP, I don't feel like many of my more recent phones (minus the HTC One M7) is seriously lacking compared to my camera. Of course, they're obviously not as good, but the current crop of flagships are pretty close.

I've had a 20MP camera phone before (Lumia 1520) and now I have the G4. And though the G4 has a good camera I can see there is a loss in detail. Also I know having a 20+MP camera module means nothing is the camera processing software is crap. So that's another issue. But I feel with all the advancements Samsung and LG made with their camera software it could have been better with more MPs.

Everyone seems to be focusing on pixel size and sensor size this time around. I think the trend we're gonna see for some time are camera sensors that are larger in physical size with larger pixels while retaining an adequately high MP count. The real push to 20+MP won't happen for a long while. Mainly because phone sensors are still pretty small and stuffing that many pixels in them will create some side-effects that are not all pleasant. I think 12-16MP in conjunction with OIS and a wide aperture (plus larger pixels, especially on the 12MP side, though it may be possible on 16MP if you make the sensor bigger) is the sweet spot for phones right now. And I also have a G4. It's being sold because my replacement (the original died to the bootloop issue) is chalking up more issues. Contemplating the Note 6 as its replacement.

Just like every time you spout your useless opinion, it's invalid. I think 5 years ago everyone said 8mp is the "sweet spot" and we should stay right there. Technology is always advancing, and more is EVENTUALLY always better. There will come a day when 20mp is the sweet spot and 16mp looks like garbage taken from a baby's diaper.

ROFLMAO Posted from my Nexus 6/Nexus 7 2013/Surface Pro 3

More ram doesn't mean faster only if you use up to that capacity, hope everyone remembers that Android isn't a ram hog. Posted from my Nexus 6/Nexus 7 2013/Surface Pro 3

You really only see the benefits of more RAM on a mobile device when you store a lot of apps in memory. More RAM doesn't really increase device performance. It just means you can run more stuff in the background without having apps reloading so soon. Faster memory might help, though. Ultimately, the biggest factors of overall device performance is processor performance (doesn't matter as much nowadays as the current crop of mobile processors are way more than adequate, especially since a 2014 Nexus 6 is still plenty fast), software optimization (a new focus for OEMs right now) and especially storage I/O performance, arguably the one aspect of device performance that not many people know of. Think UFS storage on the GS7 and NVMe storage on the iPhone 6s.

Well put Posted from my Nexus 6/Nexus 7 2013/Surface Pro 3

Yes I am one to install a bunch of apps and I use all of them. The more RAM help me so I wouldn't have to worry about running low. I'm using a G4 and it's starting to lag a bit because there is so much going on in the background and I'd rather not have to manage the memory. Since Android doesn't put restrictions on memory usage I'd like to have more RAM so I can always have smooth experience and it not change a few months down the road. Really liking my G4 though. #AllYourAppAreBelongToMe

The sensors are too small for that many pixels. The software would have to play a lot of tricks to get rid of graininess in less than ideal lighting conditions. And in doing so, photographers know what happens (images can become soft, muddled, etc.). I'm happy we are back at 12-16MP. It should stay right there. Posted via the Android Central App

5.2" super amoled FHD display. I wish that's what HTC did with the 10. Posted via the Android Central App

AMOLED is overrated :| Blackberry Priv
Nvidia Shield "Portable"
Xperia Z3 Tablet Compact

Is it running cyanogenmod? Posted via the Android Central App

Cyanogen OS in global markets, ZUK's custom UI based on Marshmallow in China.

Will you be doing a review? Posted via the Android Central App

I don't think COS was confirmed for it at all... Posted via the Android Central App

I would not buy this cause it's lenovo Posted from my Moto X 2nd gen and my Nexus 9 both on Android Marshmallow

Only it's not. Yes it's a sub company, but it's still a different division. People don't buy a Cadillac because it's a GMC or a Kia because it's a Hyundai. Posted via the Android Central App

Except kia and Hyundai are 2 separate companies .....not like gmc and cadillac Posted via the Android Central App

"Except kia and Hyundai are 2 separate companies .....not like gmc and cadillac" Not exactly. Hyundai owns 33.8% of Kia Motors, and both are part of the Hyundai Kia Automotive Group.

Thank you. I work in the automotive field and was about to say this. Posted via the Android Central App

And some of their cars share chassis as well. Blackberry Priv
Nvidia Shield "Portable"
Xperia Z3 Tablet Compact

Wow. Just, wow. All THAT for $420. There's only one thing that's making me slightly iffy on it, solely due to my usage pattern. The lack of NFC.

Interesting phone.... What ROM does it run? Posted with ❤Love❤

Cyanogen OS. Runs ZUK's custom UI in China.

Oh Man that's nice. Super Amoled 1080 on a 5.2" screen is great although I like bigger.
I was expecting a bigger battery given the otber spec, but that should be fine with that screen. End of the day it's the user experience rather than the internal muscle, but this has so much going for it.

It looks like all North America carriers paying chinse phone makers a lot money that they don't come out in North America? Lol

That's makes 0 sense. Posted via the Android Central App

Yes it does - and it's a joke.

If you say so. Posted via the Android Central App

It doesn't make any sense at all.

What a fugly phone. I guess $420, though.

It looks pretty much looks like every other phone that's out... Posted via the Android Central App

Whaaaaaaa.... 6GB? My laptop has 2 GB. Posted via the Android Central App

Everything sounds about right with pricing and specs here, starting from size, screen type, resolution, chipset, RAM etc. Now the whole experience might show as successful or fail denpending on software.

It's Cyanogen OS. Only in China you get ZUK's custom ui.

Looks like a Sony Z5 smashed with a S7. Posted via the Android Central App

Wish it had wireless charging; but I can try and live without it seeing how I pre-ordered the HTC 10. Now if I can get AOSP on it/something close without losing functionality, I'll grab it in a heartbeat. They just need to release it before HTC does!

barely average specs. 2005ish specs

Can't detect the sarcasm... Posted via the Android Central App

Looking at this I can see now why the Moto G 4th Gen leaks have the square home button. I was hoping that they would change their design to be more inline with Motorola but it seems to be going the opposite. Posted via the Android Central App

I want to know about the 3d phone that Lenovo has been working on with Google.We're supposed to learn more about it around June.I wish they would provide a little more information as we head toward that timeframe. Posted via the Android Central App

they must have been HIGH to come up with the $420 price tag for those sweet specs. lol

Or maybe the competition is much better for high end products that's not dominated by greed like the US. Posted via the Android Central App

Probably a loss leader. Get their name known and all that. Blackberry Priv
Nvidia Shield "Portable"
Xperia Z3 Tablet Compact

Phones are made by the same Chinese kids that make iphone GS7, etc.., except they're not adding 500% profit margin like Apple and Samsung.

At least they put an AMOLED , rather than the qHD in my Moto X pure,that has produced defects and failed twice already...

Uh, I think you meant LCD. Posted via the Android Central App

Whoa! I would buy this especially if it comes with Cyanogen OS.
I loved it when I had my OPO. Stock looks with loads of features- exactly how I like it. Posted via the Android Central App

Specs fine. If it goes with cyanogen os like zuk z1, then it will be perfect choice. Posted via the Android Central App

Great specs, Cyanogen OS, all looks great. But that lack of NFC when the western world is moving towards contactless everything. Shame. Posted via Bacon on CM12.1 (5.1.1)

So you get(Not all the specs are compared but just most of what the article mentioned)...
-Snapdragon 820
-6GB Ram
-128GB Internal Storage
-3100 mAh battery vs a Galaxy S7...
-Snapdragon 820
-4GB Ram
-32GB Internal Storage
-3000 mAh battery So one phone meets or exceeds the other's specs and is going for $420. The other phone that matches or is less specced cost $700. Now I in no way am saying the S7 is bad. The phone is a damn good phone. I am just wondering as a consumer who cares about getting the best bang for his buck is wondering why I am paying $300 more for something that has less to it?

Because that phone is only available in China, but your point is taken.

HTC, Apple, Samsung, and Blackberry, you've been checked. If they sell this phone in the USA with Cyanogen OS I'm in. They should change that awful name though, zuk?? Zuk 2 Pro? Really? I'm guessing there was an original zuk? Just go with Z2 Pro, keep it simple.

All perfect apart from the battery which is disappointing.. Not lasting a day for sure..

This is definitely my next phone! This thing meets all my wishes. The phone I've been waiting for. 5.2", SD820, amoled, and 6Gb RAM... And probably cOS running on top. What else? Posted via the Android Central App

This ZUK Z2 Pro is definitely a high-end smartphone with the powerful specifications and features. Recently on mobile market, there are so many device in high-end, mid-range and entry-level for customers to choose from. Like the Oukitel K6000 PRO in mid-range, Bluboo Maya in entry -level, which carries 2GB RAM, 16GB ROM, 13MP Sony camera and Android 6.0 OS but only needs $70.
Android Central Newsletter
Get the best of Android Central in in your inbox, every day!
Thank you for signing up to Android Central. You will receive a verification email shortly.
There was a problem. Please refresh the page and try again.