Lenovo's new P90 smartphone is 64-bit, Intel and Android 5.0 Lollipop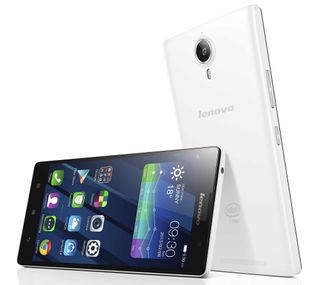 Lenovo is at CES 2015 with a whole host of new devices, one of which is this, the new P90 smartphone. The headline news here is that we're looking at the first smartphone to utilise Intel's new 64-bit CPU and LTE Advanced modem.
It's not the smallest Android phone you're going to see this year, coming in with a 5.5-inch, 1080p display. But with that size comes a pretty enormous battery, 4000mAh to be precise. Other notable specs include 32GB of onboard storage, 2GB of RAM and Android 5.0 Lollipop with Lenovo's own Vibe UI 2.0 running on top.
Round the back we're looking at a 13MP camera with OIS, partnered by a 5MP shooter round the front with a bunch of beautifying selfie features. If you're into that sort of thing.
The P90 will be available in Pearl White, Onyx Black and Lava Red and will be available from February with pricing still to be confirmed. We'll be taking a closer look at the P90 later this week from Las Vegas, so keep your eyes peeled for that. In the mean time check out the full press release for this and Lenovo's other mobile releases below.
Lenovo Introduces New High Performance Smartphones and Mobile Accessories
Ultra-fast P90 smartphone with latest IntelTM 64- bit processor and Intel LTE-Advanced modem, VIBE X2 Pro limited edition with selfie flash accessory and VIBE V10 smartband wearable
LAS VEGAS – January 5, 2015 – Lenovo (HKSE: 992) (ADR: LNVGY) today announced at the 2015 International Consumer Electronics Show a lineup of full featured devices and accessories designed to  enhance the mobile experience of consumers on-the-go. The Lenovo P90 makes its debut appearance as the first smartphone powered by the newest 64-bit Intel® AtomTM processor and Intel XMMTM 7260 LTE-Advanced modem for outstanding mobile performance and speeds, while the award-winning VIBE X2 gets a bigger, bolder look with the X2 Pro limited edition smartphone and VIBE XtensionTM Selfie Flash. The Lenovo VIBE Band VB10 wearable accessory rounds up the lineup with its E Ink display and industry-leading battery life.
First smartphone powered by Intel® AtomTM 64-bit processor and Intel LTE Advanced Modem The Lenovo P90 is the first smartphone to utilize the combination of the newest 64-bit Intel® AtomTM Z3560 processor with Intel's 5-mode XMMTM 7262 modem. These powerful components allow the P90 to provide incredible processing speeds in addition to supporting LTE-Advanced FDD & TDD for high-speed connectivity in global markets.
The Lenovo P90 smartphone is designed to provide the power and performance to let consumers go fast and get things done. Featuring a huge 4000mAh battery, the P90 is equipped to meet the pace and demand of today's lifestyle from morning until night. The P90's vibrant 5.5-inch FHD display, at an impressive 400ppi, lets mobile users enjoy content and relive their best moments with vivid colors and high-quality resolution.
In addition, the P90 sports an advanced 13MP rear camera with state-of-the-art stacking sensor and optical image stabilization for brilliant shots, even in low-light. The 5MP front camera is equipped with beautification features and gesture controls, while 4G LTE data speeds are ideal for streaming video and music, or gaming on the go. The P90 will be offered in Pearl White, Onyx Black and Lava Red.
VIBE smartphones gets bigger and faster with X2 Pro
Sporting the same eye-catching, award-winning layered design of the Lenovo X2, the Lenovo VIBE X2 Pro limited edition smartphone brings craftsmanship, power and style to the next level with its sleek, lightweight full-metal body. The VIBE X2 Pro packs a 5.3-inch FHD display with stunning visuals and a 64-bit Qualcomm® SnapdragonTM Octa-Core processor that delivers jaw-dropping performance and long- lasting battery life.
For greater ease of use, the Lenovo X2 Pro incorporates the intuitively designed VIBE 2.0 user interface, featuring personalized lock screen, Instant On camera, elegant transparent icons and more. The smartphone also utilizes dual 13 megapixel auto-focus cameras (front and rear) with LED flash, gesture controls and beautification features, which combines with the new VIBE XtensionTM Selfie Flash to capture flawless selfies.
Perfect selfie shots every time, all the time
The Lenovo VIBE XtensionTM Selfie Flash is the must-have accessory to capture every moment, no matter the lighting conditions. The pocket-sized flash plugs into the audio jack, giving the user a quick way to create ideal lighting and shutter sync to deliver brilliant, natural-looking pictures outside, inside and everywhere in between.
The Selfie Flash works by using 8 diffused LEDs to supplement available light for natural color tones, even in low light condition. The rechargeable flash provides up to 100 selfies in a single charge to snap and share pictures day and night, while the 100% shutter sync times seamlessly to capture picture- perfect selfies.
All-week, always-on wearable connectivity
The Lenovo VIBE Band VB10 wearable accessory is designed to let users live their lives more connected and with less worry. Equipped with features like E Ink display, up to 7-day battery life with the display and Bluetooth always turned on, fitness functions, phone notifications and waterproofing, the VIBE Band helps users stay fit, connected and in the know anywhere they go. The E Ink display means no glare and a clear display – even in sunlight.
Users can receive instant notifications – calls, SMS, Facebook, Twitter, WeChat and more – with space for up to 150 characters on the crisp display, while fitness functions & tracking monitor fitness levels and activity to help users stay focused on their health goals.
Availability
The Lenovo P90 will be available beginning in February, 2015. The Lenovo VIBE X2 Pro will be available beginning in April, 2015. The Lenovo VIBE XtensionTM Selfie Flash will be available for use with the VIBE X2 Pro. The Lenovo VIBE Band VB10 will be available beginning in April, 2015. Pricing: TBD
surprised they didn't go with 3gb of RAM :P

Would have been even better if they went with 4 gb. The biggest leap in performance for the 64 bit chips is at 4 gb.

you believe that, don't you...?

Sounds like a load of lipschitz to me. Posted via the Android Central App

I can run Windows 8 in 1 gig of ram, there's something very wrong with Android if 3 gigs isn't' enough.

This. Sent from my Nexus 6

But RAM never hurt anyone :P Posted via the Android Central App

Running the OS and running a lot of programs or apps at once is very different, I have 16 gig in my windows PC

That huge battery life tho. If Lenovo was a fast as Moto with their updates, I would gladly choose this phone. Posted via the Android Central App

And if it didn't have a custom UI as well.

What's the difference between Lenovo and Moto now?

Moto may be owned by Lenovo now, it the two brands are still very different on terms of internals, design language and UI. They also still serve different markets at this point. Sent from my Nexus 5, behind six proxies

Give me these specs with the Nexus 5 and I'm sold.

+1 Posted via Android Central App

+2 Posted via Android Central App on The Nexus 5

Let's hope Lenovo doesn't make motorola go with Intel for their next gen phones. Qualcomm processors are still far ahead Intel's mobile tablet/phone processors. Posted via the Android Central App on the 2nd Gen. Moto X

In terms of power, Intel is ahead with a comfortable lead. In terms of efficiency, Qualcomm is. What I can't wait to see is some benchmarks of the Core M series and the new Cherry Trail series against Snapdragon.

Let me guess, it won't be available here in the U.S.

Why would it. The sales number here would probably be in the 1,000s......if not the hundreds. Sent from my Nexus 6

But does it have a top mounted horizontal feeding magazine? Wubba lubba dub dub!

I do not like the capacitive buttons *and* the fact that they are out of order. I hope that Moto phones don't pick up that trait from Lenovo.

Yeah, there's no reason for dedicated function buttons.
Phone manufacturers would do better to just allow the OS to display them (as is done on Nexus devices).
Makes for a cleaner device, and a more 'future proof' interface. All that is needed, is the power button (and arguably the volume rocker for recovery mode access).

And to go with the backwards capacitive buttons, the power button is on the left side. Perfect!

Is this the Cherry Trail Atom CPU or Bay Trail?

Was tempted for a split-second.... but then I saw the physical hardware buttons. :-(

I will always buy a phone with capacitive buttons. I just don't like the on screen buttons. Especially Lollipop ASOP buttons. Posted via HTC One on Sprint

I hate the the fact that OEM's are shitting all over material design..... Sent from my Nexus 6

Why? Not everyone likes or wants material design(myself included). You think that would be good for consumers if every phone available gave you the exact same experience?

I agree. I hate the material design look. Posted via HTC One on Sprint

So is Apple's lawyers ok with everyone using rounded squares as icons now? Both ASUS and Lenovo's icons sure look like iOS icons.

Great! They have lollipop running on a 64bit atom then they should have lollipop ready for the yoga 2 1050f

http://www.pricearea.com/result/harga+lenovo+k3

For P90 ( as i see on http://kliknklik.com ) , it's important to note that the benefit of a 64-bit Atom processor over a 32-bit Atom processor is significantly smaller than the benefit of moving from the 32-bit ARMv7 architecture to the 64-bit ARMv8 architecture. The P90 also comes with an XMM 7262 modem, which is part of Intel's first globally-supported LTE-Advanced platform.

Lenovo is the best, i usually compare the price in http://katalog.or.id/harga/handphone-dan-gadget/lenovo-p90.html So i get cheap price for Lenovo P90 :D
Android Central Newsletter
Get the best of Android Central in in your inbox, every day!
Thank you for signing up to Android Central. You will receive a verification email shortly.
There was a problem. Please refresh the page and try again.