Lenovo K1 IdeaPad Honeycomb tablet at Office Depot already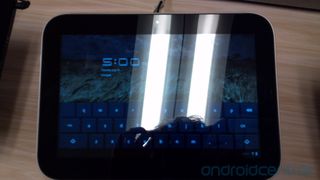 Pop quiz: What is 10.1 inches in diagonal, sports a Tegra 2 processor and Android's Honeycomb tablet OS, and is sitting in an Office Depot in Times Square? If you answered the Lenovo K1 IdeaPad, well, pat yourself on the back. Because sure enough, the Android tablet that doesn't actually have a release date yet is just sitting in a New York City Office Depot, ready to get your greasy fingerprints all over it.
Specs are about what you'd expect for a $499 tablet -- 10.1-inch screen at 1280x800, 32GB of storage, 1GB of RAM, and it weighs 1.65 pounds. OK, those are the specs for just about every other Honeycomb tablet, but there you go. The one you see above was charged and would turn on, but was password protected.
So, we've got price. No word on if you can actually walk out of the store with one.
Couple more pics after the break.
Thanks, Lukasz!
Wait, so is it as OfficeMAX, or OfficeDepot? Those are clearly Depot pamphlets in the picture, and I find it hard to believe OfficeMAX would be so kind as to help them out like the. Lol

I sent this in. It was in office depot, I thought they are the same thing lol.

With the Acer Iconia and Asus Transformer in stock for $399, I am surprised that they are trying to get $500 for this. A 16GB microSD is $16.

These manufacturers just dont get it. People know they can get w $300 netbook that does more...ipad has apple fans that will buy a turd if steve jobs tells them to
We wont even discuss tge lack of apps
Tablets are worth $350 in consumer minds

Is this the one with Netflix working on it?

I'm upset... I went to three Office Depot stores in Portland, OR and not a single K1... guess I gotta wait to demo one.

I think this one in NY never got the memo...

I purchased one at the OfficeDepot in Toco Hills Shopping Center in Decatur GA. Absolutely no accessories to go with it. Seems to work fine. No usb port although you can plug it into your computer. I purchased an Acer Iconia several weeks ago and took it back because it felt cheap. This one feels solid but without any accessories, I will probably take it back before my 14 days is up and wait on the hybrid Lenovo U1.

I picked mine up from an OD in Gainesville, Fl. @Androidinstockbridge Private message me. I want to ask you something off the record about yours.

Wish my droid had 10 hours of battery life!!! This would be great!

I know I won't win but I will enter anyway

Nice tablet, but not quite as good as the Lenovo Thinkpad with the stylus built-in.

Here is my penny in the fountain once more
Android Central Newsletter
Get the best of Android Central in in your inbox, every day!
Thank you for signing up to Android Central. You will receive a verification email shortly.
There was a problem. Please refresh the page and try again.