Latest Google Play Services update enables Android Auto on the Galaxy S6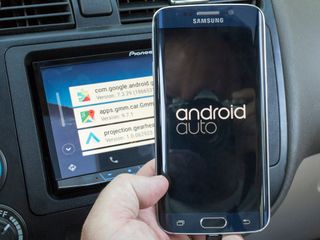 Just a couple of days after we sent word that the Galaxy S6 — and a few other popular phones haven't been working properly with Android Auto, a fix has arrived. It's not a huge shock that the latest version of Google Play Services (which manages a variety of Google apps on your phone) rolling out now enables Android Auto on these popular devices, and we're happy to say that indeed the GS6 is working.
So put the GS6 in the good column, along with the HTC One M8 and M9, the Moto X, Nexus phones and others.
The version numbering of the Play Services app (which really shouldn't be user-facing in the first place) varies by device, so there's not a whole lot you can do here — just wait for the update that's pushing now, and once it arrives you'll be all good for a friendly in-car experience on your shiny new phone. A good number of folks in our forums are tracking down what's working currently.
Android Central Newsletter
Get instant access to breaking news, the hottest reviews, great deals and helpful tips
Andrew was an Executive Editor, U.S. at Android Central between 2012 and 2020.
Also fixes trusted places. --- This message brought to you via the sarcasm keyboard available for download at the Google Play Store.
LG-G2 on Lollipop.

If I had a nickel for every time I heard someone say that a GPS update fixes trusted places, well, I'd have a lot of nickels.

I can't seem to find what was actually wrong with Trusted Places. What was the issue? I just turned it on in my Nexus 5 and so far, it seems to work pretty well. Occasionally it will require my PIN at work or home, but 19/20 it works fine.

YES!!!!!!! Now I just need to get me a S6 and an Android Auto supporting head unit for my car... :(

They have the NEX4100 at Best Buy and on Amazon (with voided warranty I guess), but I can't help but think I'll regret spending that much for a resistive screen when other head units will (hopefully) be available soon. I really want the Parrot one that runs Android Auto, CarPlay and the UI is Android Lollipop itself.

If only Play Music on Android Auto would give me an interface to browse my music. Not just play lists... Posted via the Android Central App

I know, right? Posted via the Android Central App

That seems like a major oversight, how the heck is that not a feature.

Scrolling through all your music while driving seems like it might be a tad....distracting? Maybe this would be a good feature for Voice, if it could be implemented properly.

Thank God! I can finally get some sleep now! Nexus 5 (AT&T)

A *lot* of people were unnaturally freaking out over this..

... and it ruined the bluetooth trusted devices smart lock. Now my phone locks after a few minutes of not being used because "smart lock can't detect security features of this device." As a result, I have to unlock my phone and then my smart bracelet will keep it unlocked.... Posted via the Android Central App

This is the way it used to work on the Moto X 2013, and I actually prefer it that way. I don't mind PIN unlocking it once every time it looses connectivity with the Bluetooth device as the Bluetooth device is not 100% trusted...

Not sure what you mean by "which really shouldn't be user-facing in the first place", but I'm sure those " folks in our forums" would like to know which version numbers go with which problem...

Agreed. You definitely want version numbers to be access-able. It's not one of those things that a user would accidentally run into, so I see no problem with it.

Any change on the LG G3 working?

This is going to be really, really vague, but I saw somewhere (maybe Reddit?) that someone found a way to kill the app that tries to install software from the phone to a computer when you plug it in and that might let Android Auto detect the head unit and start up normally. Also, switching your USB connection to MTP might help, if you can do that.

I've got an S6, now I just need a car. Posted via the Android Central App

This made me lol Posted via the Android Central App

Since this update I cant seem to make my android auto work. Was working fine with my nexus 6, however I am seeing a new version of play services, now I get this device cannot support android auto on the phone. Using a AVIC8100NEX

In semi-related news.. I just did a support chat with Audible, and the tech told me they currently don't have plans to offer Android Auto support. That's irritating. That means I have to use audible through the handset when connected to android auto. I wonder if it's because Amazon is calling the shots? Audible seems like a very obvious candidate for Android Auto treatment.

I have a Samsung S6 and tried to set up my Android Auto with my new Chevy 2500 LTZ and it does not connect. It's not the vehicle, it's the phone. I know this, because other phones will connect. I thought the Galaxy S6 now works. What do I need to do to allow it to connect to my Truck?
Android Central Newsletter
Get instant access to breaking news, the hottest reviews, great deals and helpful tips
Thank you for signing up to Android Central. You will receive a verification email shortly.
There was a problem. Please refresh the page and try again.