Kyocera Echo's Gingerbread update pushing out again, sans bugs this time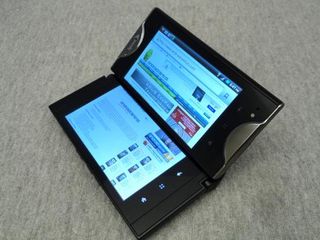 (Image credit: Jerry Hildenbrand / Android Central)
Have a Kyocera Echo? Want a Gingerbread update that won't brick your phone? Android 2.3 is pushing out once again, following the initial rollout a week and a half ago that was kind of bricking phones instead of updating them. Whoops.
Anyhoo, the update's pushing out once more. Here's the official word from Sprint:
And, no, it still doesn't add NFC or make waffles.
Source: Sprint; Thanks to everyone who sent this in!
Has anyone ever actually seen one of these in action out in the wild? I live in KC, where every 3rd person has a Sprint phone, and I've yet to see one. The only one I've ever actually seen, was a display unit at a Sprint store, and it didn't work.

I seen a girl with one last week here in Houston

I see about one every day... exactly one every day... I have ONE. That's the ONE I see everyday. I'm the only person I've ever seen with one. I love it. I thought I'd be seeing many of these when I got mine 3 days before official release. I was so wrong. I've never seen one in the wild outside of my own. Coming from a Palm Pre Plus, I'm used to being the odd man out. I just didn't think I'd still be in that position after switching to an Android device. AGAIN, LOVE THE ECHO! One note about the 2.3 update: My Echo has gone from stable to being rather buggy since updating to 2.3. Is this common? I'll take less features with stability over 2.3 any day.

Would the one person that bought this phone just to be "different" please come forward...you know who you are.

Why Sprint, why would you deny me waffles?

If the specs were better, I actually don't think I would mind having that phone.

That phone should have had 4G.

It's amazing that this phone gets gingerbread before any US Galaxy S devices. Especially the Epic really.

I got one its actually a pretty good phone.. I'm downloading gingerbread as I'm typin..

LOL! I saw this phone at Best Buy yesterday and all I could think was "no waffles; keep moving" and here you guys go again!

Love this phone its worked really well for me and my cell updated successfully :)

lol i didnt know anyone had these

What does Sprint mean with newest August 10 update is now "without the bricking"? Just updated it, now hangs at Kyocera start screen. Phone has been factory data reset before updating, battery at 100%. Not funny Sprint. Anyone know how to fix this, please?

Hi gwyneth I am having the same issue today after buying the phone second hand and updating the Android. What is to be done now ? What did you do ? Kindly let me know. Thanks
Abdul
Android Central Newsletter
Get the best of Android Central in in your inbox, every day!
Thank you for signing up to Android Central. You will receive a verification email shortly.
There was a problem. Please refresh the page and try again.