Kodi or Plex: Which media server is best for Android users?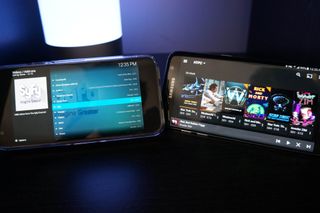 Feature-rich media centers, like Kodi and Plex, are making it easier for more people to make the decision to cut cable out of their lives. The benefits are clear and plentiful: you get full control to watch what you want to watch, on whichever device you choose, with no ads or interruptions.
Android users are in an especially good position, as both Kodi and Plex are well-supported across all Android phones, tablets, and TV boxes.
Kodi
One of the main things differentiating Kodi from Plex is that Kodi remains open source and entirely free. The software has been built and maintained by a passionate community who are consistently offering updates and occasionally adding in new features. Whether you're using Kodi on a PC, tablet, smartphone, or Android TV box, you get the full software experience scaled to your device.
The Kodi client is available for Windows, Mac, Linux, Android, iOS (jailbroken), and even Raspberry Pi. Once installed, the easiest way to manage media with Kodi is to make it accessible locally on the machine. Adding local media sources in Kodi is a breeze, whether you're storing your files on the internal storage of your device, an external hard drive connected to your computer, or an SD card inserted into your smartphone or tablet. Kodi also allows you to stream media from any networked PC, though you'll need to be a bit tech-savvy to set that up for yourself. Kodi recognizes pretty much any file type, so you can throw all your videos, photos, and music in there and Kodi will handle it.
That's another advantage Kodi has over Plex — customization. With Kodi, you're able to download and change skins, including ones specifically designed for mobile devices. The latest update for Kodi set the default skin to a very mobile-friendly option, so now the decision to change the skin can be done for mostly cosmetic purposes.
There's been increased interest in Kodi boxes, which are essentially just cheap Android TV boxes that come with the Kodi app pre-installed. If you're thinking of going down this route, you'll probably want to get one with expandable memory, so you can conveniently load it up with all your favorite media.
Kodi also supports a large number of community-created add-ons, which is where things actually get a bit sticky. On one hand, there are perfectly legal add-ons that help you integrate other services you may use such as Dropbox and media sources such as YouTube and Spotify — even a Plex add-on if you'd like to. However, the most popular Kodi add-ons allow you to stream TV shows and movies from the internet and are unequivocally, 100% illegal. While the Kodi website covers itself by stating, in part, "The watching or listening of illegal or pirated content which would otherwise need to be paid for is not endorsed or approved by Team Kodi", there's no denying that a large portion of Kodi's user base is there strictly for convenient access to pirated content. If you morally object to using an application so closely associated with piracy, Kodi is probably not for you.
Download: Kodi (opens in new tab)
Advertisement
Plex
Plex is anchored by a web-based media server, which you're able to set up for free. To properly use Plex, you'll need to dedicate a computer to host your Plex Media Server. This can be a computer you use regularly or a dedicated machine and can be running Windows, Mac OS X, Linux, or a network-attached storage device. Once you've got your Plex Media Server setup, you're able to add all your digital media to the server and access it via the Plex web-based client on your PC or via the Plex app on any of your devices.
Plex is fully supported by Android, along with a whole host of other devices and platforms. No matter which device you want to connect to your TV, there's a Plex app for it: video game consoles (current and last generations of Playstation and Xbox, as well as the NVIDIA Shield), smart TVs, streaming devices (Apple TV, Chromecast, Roku TV etc.), and, of course, mobile devices (Android, iOS, Windows 10 Mobile). Since all your content is conveniently stored on a web-based server, you're able to access all your content across your devices. Nearly every file type is supported, and you're able to share your Plex server with other users as you would with a Netflix account.
Where Plex really shines is with its smooth user interface. Plex pulls metadata for all your movies and TV shows from reliable sources, so you get a nice preview image and description for each movie or TV show. You can also create playlists for not only your music but also episodes of your favorite shows. On top of all the fantastic organization, everything is easy to navigate no matter which device you're using. This experience is all available in the free version of Plex.
Another recently added feature that might make Plex a compelling choice is voice control integration with Amazon's Alexa. If you've got an Amazon Echo in your home, you can load up your music and video library into Plex and then use Alexa to send commands to Plex. This is a super exciting development for Plex and really helps to further separate it from Kodi.
Plex also gives you the option to upgrade to Plex Premium. You'll want to check out the added features included in a premium subscription (opens in new tab). Notable features include Mobile Sync, which lets you sync media to any device running the Plex app for offline access, the ability to create multiple user accounts, and a bunch of enhancements to the music section, including lyrics, Mood Mixes, and more. You'll also get early access to all the latest features being added to Plex. The most recent feature added, Plex Cloud, allows you to access your media without the need for an always-on PC action as your Plex Media Server. Plex Premium costs $4.99 a month, $39.99 a year, or $149.99 for a lifetime membership.
Download at Plex (opens in new tab)
Which is best?
At face value, Plex offers the smoother UI and better features, including the recently added Alexa Skills and centralized storage for your files that is then available across all your devices. On the other hand, Kodi, is entirely open source and customizable via skins and add-ons. If you've got an NVIDIA Shield TV or another brand of Android TV box or a tablet you'd like to dedicate to watching media, Kodi is a great choice — as long as you're okay with tinkering within the app and spending some time learning how to maximize your Kodi experience
Ultimately, the decision of which is best will come down to your needs. If you're looking to set up all your media just on one computer or device, Kodi is more than capable and fully customizable with the option of discovering some really cool add-ons. Tech-savvy folks might appreciate how Kodi is open source, and with Kodi, you don't necessarily need a dedicated computer to run a server.
On the other hand, the benefits of Plex being commercial software is that there's dedicated support for all your setup needs. Plex is a well-tuned product that's made even better with Plex Cloud — you'll no longer need to dedicate a computer to be your Plex Media Server if you opt to join Plex Pass subscription. But even if you decide to go with the free version of Plex, you'll still have a very good experience streaming your content to all your other devices.
Overall, we give the nod to Plex for its versatility, premium features, and for offering a more polished experience.
What do you think?
Which do you prefer: Kodi or Plex? How do you have your home media center set up? Leave a comment below.
Marc Lagace was an Apps and Games Editor at Android Central between 2016 and 2020. You can reach out to him on Twitter [@spacelagace.
I'd have to agree, especially after finding this toggle app that makes it easy to switch from viewing content on my device or via a chromecast. https://www.androidcentral.com/e?link=https2F2F...

There's a free add-in for Localcast that does the same thing. You can select whatever local video player you want, or choose to play with Localcast on your TV.

Yeah, I've tried it through LocalCast and if that XML file is present on the phone, it always goes through LocalCast. This toggle widget just works better for me I guess.

That widget is great if you switch between watching on Chromecast and on your device frequently. Only issue with this method is that subtitles don't get cast to the TV. Is there a setting for it or is it not supported?

Plex all day and all night. Plex running on an Nvidia Shield. Shield has a build in Plex server. So all my Movies streaming on any of my devices anywhere in the world. Plus all the add-ons you can do. Plus all the Android apps you can install. Plex on Nvidia shield, win win.

This works the best for me. And a 4 TB hard drive.

Neither. Serviio and Movian, all day and night.

I use Plex for local media streaming from my media server. I use KODI for streaming from add-ons when necessary but it is hit or miss with quality and performance. Definitely prefer Plex as it is just easy and user friendly for other people in the household.

I think it depends on what you use kodi for and with. I have a real debird account and with Salts have no issues at all with quality or buffering ect. Where when I use the free version that's when you get issues I've found.

I use Plex for the backend server, and Kodi for the client (with the PlexKodiConnect addon). That gives me maximum flexibility and customizability. The two together are better than either on its own.

Same here! If you are on the beta for Plex Cloud, I find the add-on works much better than the native client as well.

Agreed... Kodi isn't really a "server" at all.

I've tried both, then settled on Plex, with the premium PlexPass. For me and my family the ability to access the content on any device, anywhere, is essential. It's installed on my NAS, so always available. The fact that it also can pull in subtitles is great.

Plex also has DVR functionality currently in beta which probably appeals to a small amount of people but for me it's why I use it. I get to record all the OTA shows I watch or want to see.

What hardware do you use for the OTA TV that Plex recognizes. Interested in doing the same.

HDHomeRun Extend is what I use for OTA TV. You connect an antenna to the extend. And you need to have the extend connected to your router. From there you can use the HDHomeRun app on the computer to watch tv. You can also download the app for mobile and tablets as well. Now Plex comes into play because they support the HDHomeRun tuners. The connect is an older model but might work if you want to go that way. The older extend will also work I believe but those are so hard to come by nowadays the newer extend model goes from 150-180 you just need to see how low you can get it. Anyways the plex dvr software for right now is available via their plex pass which is 4.99 a month. At the moment imo their dvr solution is better than HDHomeRun dvr product but that might change as it improves. The last update to plex dvr brought the option for multiple tuners to be connected each extend has two tuners so in my case I have two extends connected for a total of 4 tuners so I can watch two things and record two shows as an example. Hope this helps lol sorry if its long

Plex all day. Set up once and forget. I don't want to tinker with Kodi to get it how I want when Plex does it perfectly already. Plus, setting up the wife or someone else to access the server is a snap and it's intuitive so there is no need to teach them.

They're not really comparable, though, are they? As you say in the article, Kodi is a client app, and Plex entirely depends on server infrastructure. A much better comparison would be Plex vs Emby, which Emby would win hands down. And Emby integrates nicely with Kodi.

Emby is way to reliant on folder structure for its media scrapping all my stuff is a mess and Plex scrapes it all no problem, was cause I truly like emby over Plex except for the media meta data scraping and sorting.

Depends how you set it up - that's an option, set by default, granted. It uses pretty much the same mechanisms as Kodi.

I just switched to Emby from Plex. Yes... it made me clean up my library a little bit. I feel better now that it's done, and Emby just works a lot better for me.

I use Kodi for HDHomeRun plugin (OTA TV broadcasts) and because, without PlexPass subscription, Plex (client app) is just another DLNA/UPnP renderer. Probably worse that average, because I have not been able to convince it to lie to DLNA content provider about its rendering capabilities, so I do not trigger media conversion at the source. As far as "... there's no denying that a large portion of Kodi's user base is there strictly for convenient access to pirated content.", I am sure that I have read somewhere on the internet that a large portion of the technical writers has very superficial understanding of the subjects they so boldly rush to cover... doesn't necessary make it true.

I use both - both are great. Plex for personal content and Kodi for external content on Nvidia shield.

Agreed. I do the same. Win. Win.

Plex won me over with their incredible Nvidia Shield Android TV integration. It singlehandedly turned my Shield into the only HTPC media center I need.

Plex and Kodi. Plex is a fork of xbmc, now Kodi. Different but the same... Actually, the same but different.
I think the customizability of Kodi is a benefit and a drawback at the same time as are the plug-ins. At the end of the day, I really don't care about whether my media center looks just so or can have its appearance changed. The media center is just a tool to get at the content for me. Plex has enough tools to make it good and it is simple and consistent which is what the other users in the family need.
That aside, as i see it, the only important difference between the two is whether you want to play local content (Kodi) or content on your managed server (Plex).
After many years of using both, for me Plex is the better solution all day every day. But Kodi is free, so I keep it around for my local content.

I have a HTPC connected to my TV in the den that runs a Plex server and Kodi. If we're watching TV in the den, I use Kodi and take advantage of a customized UI and the addons. Anywhere else we use Plex whether it's on a Roku, casting on Chromecasted TVs, computer or Android phones and tablets.

I prefer Plex. I have a Plex server installed on my NAS which can be access while connected to my network or remotely to stream music and movies. I like how easy it is with the Plex server to create custom libraries, I have separate music libraries for me and my wife. I have also setup a RasPlex media client on a Raspberry Pi 3 to stream music on my main entertainment center stereo.

I was never a big fan of Kodi back when I used an HTPC, preferring BeyondTV and Meedio. Now that I am streaming through my phone, chromecasts and fireTV, Plex is the big winner in my household. Starting to get more use than Netflix.

Plex if you want to watch your content with little trouble and it's easily used by the less techy members of my family. This is useful when parents visit and they wanna watch a movie or family photos. Simply hand them a shared tablet, open Plex and chromecast it to my hdtv

Question I've had for a while. If I don't have media on my computer and just use streaming services, what would be the benefit of using either one? My TVs, blu-ray player, roku, and firestick (as well as casting to my chromecast if needed) already have the apps.

If you have no media of your own there is no benefit. They are both first and foremost built for people with media collections.

There could actually be a reason to go with Kodi. For instance, I have an NHL.TV account. If I just watch it on my browser I'm stuck with manually fast forwarding through commercials. With Kodi, you can adjust different keys to fast forward different lengths so I can just hit one key to skip commercials and another to skip intermission. It's a minor help, but it shows there could be other reasons to use Kodi with your already used streaming services.

I use playon...I never got the Plex hype but I also never really looked into it... As far as Kodi, it's cool... I used to use it on my tablet before it got popular from the firestick... Of the 2 I think Kodi is more user friendly

I use Plex. I don't use it because it's better, but it's what I tried and I have it working to meet my needs. I have a server configured next to my wifi router, and multiple devices (tablets, Chromecast, etc) that all stream from it. So perhaps it's better for that need.

I prefer Plex for its simplicity and easy indexing.
It also works better remotely and out and about on tablets wether via live streaming or syncing.

I prefer Plex. But would use Kodi more if it supported streaming to Chromecast.

It does! Just Google chromecasting Kodi. There are instructions on downloading LocalCast and this XML file and putting it in a hidden folder. Instead of worrying about the file and it's hidden location, you could just download the toggle app I mentioned above in the comments. It writes/deletes the hidden file by just the tap of the app icon! https://www.androidcentral.com/e?link=https2F2F...

The 2 serve different purposes. Kodi is a media center app, primarily geared toward consumption of locally stored content, while Plex is a streaming server and client. They sound similar, but comparing the 2 is wrong.

I use Plex and one of the features I like best, but seems to never be mentioned is media sharing. I'm not sure if Kodi has this, but it's a game changer in my book. I have a few friends with Plex and we all share our media with each other. If one friend doesn't have a show or a movie, one of my other friends just might. Plex is also adding cloud storage. I have a ton of content on Onedrive and being able to access it in the cloud is like having your own private Netflix. It's pretty sweet, although it's just in beta at the moment. Currently, I have a very capable PC acting as my Plex server and it's connected to my Synology 2 bay NAS. Although the NAS has dual 5 TB drives, I have it running in RAID 1, effectively giving me only 5 TB of storage. It's worth losing the extra 5 TB of storage for the data redundancy and not losing all your media if a drive goes down. The Synology NAS also sports dual gigabit ethernet allowing me to easily serve multiple media streams like it's nothing. I'm extremely pleased with my Plex server and the hardware it's running on.

I've used both extensively. I was Kodi only for some time simply because remuxing media to play on my phone was a remnant of last decade (1080p streams fine) and the Apple-style "we know what interface you need" mentality was annoying. However since they bundled a free pre-configured Plex server on the Nvidia Shield TV that was enough to get me to try it, and I admit it crept into my life. One feature in particular with the sub was the ability to auto-manage shows on my Shield tablet - latest episodes of shows are downloaded and removed from the tablet with no management on my part. Even the progress is tracked per show so I can pick up later at home. The only downside is the Netflix style streaming - even if you do no resampling of quality it's still run through a conversion and streams, so scrubbing is brutal. I use Kodi for that.

I have both installed but in the end i use Kodi. Here's why : I mostly watch content on my tv (which is not a smart tv). I have a raspberry pi with an extrernal HDD connected to store my media. Thing is : if i use plex as a server in this raspberry, and use my phone to cast to the tv via chromecast as i used to do, many video files have to be transcoded (because chromecast), and the rapsberry is not powerful enough to do so. So, instead i connected a second raspberry to the tv, installed kodi on it, and set up a network sharing to get this second rasp to access to my files on the first one. When I turn the tv on, kodi turns on, i browse to the media and play it. It's just as simple as that, I had no issue yet with any file or subtitles or anything (alhtough i obvisouly avoid downloading h265 media). No transcoding issue or anything like that.
When i want to watch media on my phone or tablet, i have both solutions installed on my device but the plex app may have a better interface. I think Kodi is best for big screen interfaces like tv, but absolutely not on phone/tablet screen.

I love Plex. Can't beat that beautiful interface.

I can't believe no one's mentioned this, but the key benefit of Plex to me is the ability to track viewing progress across devices and resume from any other device. This is what ultimately swayed me away from Kodi years ago and convinced me to reorganize and standardize my huge media library and consolidate to a single Plex box. A typical day for me might involve any or all of the following: Watching episode from my phone on the bus ride to work, resuming that same episode from a PC in the office during lunch, continuing again from the phone on the ride home from a phone, watching again from the Roku in my workout room, and finally sitting down in my family room and watching from my HTPC. There are at least 4 devices involved in this flow if not more. Prior to Plex, I still had a primary server, but it was essentially nothing but dumb file storage, and every Kodi client that connected to it had no knowledge of the others and no ability to pick up where I last left off. With Plex, regardless of when I want to resume viewing, I know exactly where I last left off. That alone is worth the investment.

I have three Fire TV boxes all three with Kodi. Love it!

+1000, nothing beats Emby... Kody is an awesome media player but even using the SQL option to share libraries is not really meant for this... The best? You can use Emby for the server and Kodi for the players, best combo...

I just switched to Emby, and removed Plex. I feel much better about my $100 going to that project.

I use Plex which allows me to stream to my mother in law who is over 45 miles away. I used Kodi for a very long time when it was XBMC even. The issue i am having now is that the Fire TV and Plex have SERIOUS issues with playback.

I didn't realize that Kodi was a media server. Isn't it just a player/streamer?

Man....all these targets.

I use them both. I have the Plex Addon for Kodi; I use Kodi for my live TV and DVR, tied to NextPVR, then Plex for my movie collection. I have also used Emby, but their app support isn't very consistent across platforms. It's getting better, but still a negative for me.

I use both because they can provide different content. I posted a video on how I'm able to access my local Kodi PC remotely playable on an IPhone/IPad/Android/Roku/AppleTV/Chromecast. https://www.youtube.com/edit?o=U&video_id=rowJ_-QgGj0
Android Central Newsletter
Get the best of Android Central in in your inbox, every day!
Thank you for signing up to Android Central. You will receive a verification email shortly.
There was a problem. Please refresh the page and try again.