Kodi or Plex: Which media server is best for Android users?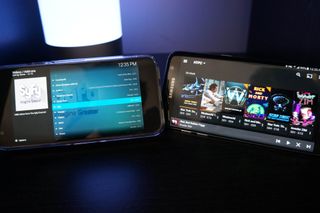 Feature-rich media centers, like Kodi and Plex, are making it easier for more people to make the decision to cut cable out of their lives. The benefits are clear and plentiful: you get full control to watch what you want to watch, on whichever device you choose, with no ads or interruptions.
Android users are in an especially good position, as both Kodi and Plex are well-supported across all Android phones, tablets, and TV boxes.
Kodi
One of the main things differentiating Kodi from Plex is that Kodi remains open source and entirely free. The software has been built and maintained by a passionate community who are consistently offering updates and occasionally adding in new features. Whether you're using Kodi on a PC, tablet, smartphone, or Android TV box, you get the full software experience scaled to your device.
The Kodi client is available for Windows, Mac, Linux, Android, iOS (jailbroken), and even Raspberry Pi. Once installed, the easiest way to manage media with Kodi is to make it accessible locally on the machine. Adding local media sources in Kodi is a breeze, whether you're storing your files on the internal storage of your device, an external hard drive connected to your computer, or an SD card inserted into your smartphone or tablet. Kodi also allows you to stream media from any networked PC, though you'll need to be a bit tech-savvy to set that up for yourself. Kodi recognizes pretty much any file type, so you can throw all your videos, photos, and music in there and Kodi will handle it.
That's another advantage Kodi has over Plex — customization. With Kodi, you're able to download and change skins, including ones specifically designed for mobile devices. The latest update for Kodi set the default skin to a very mobile-friendly option, so now the decision to change the skin can be done for mostly cosmetic purposes.
There's been increased interest in Kodi boxes, which are essentially just cheap Android TV boxes that come with the Kodi app pre-installed. If you're thinking of going down this route, you'll probably want to get one with expandable memory, so you can conveniently load it up with all your favorite media.
Kodi also supports a large number of community-created add-ons, which is where things actually get a bit sticky. On one hand, there are perfectly legal add-ons that help you integrate other services you may use such as Dropbox and media sources such as YouTube and Spotify — even a Plex add-on if you'd like to. However, the most popular Kodi add-ons allow you to stream TV shows and movies from the internet and are unequivocally, 100% illegal. While the Kodi website covers itself by stating, in part, "The watching or listening of illegal or pirated content which would otherwise need to be paid for is not endorsed or approved by Team Kodi", there's no denying that a large portion of Kodi's user base is there strictly for convenient access to pirated content. If you morally object to using an application so closely associated with piracy, Kodi is probably not for you.
Advertisement
Plex
Plex is anchored by a web-based media server, which you're able to set up for free. To properly use Plex, you'll need to dedicate a computer to host your Plex Media Server. This can be a computer you use regularly or a dedicated machine and can be running Windows, Mac OS X, Linux, or a network-attached storage device. Once you've got your Plex Media Server setup, you're able to add all your digital media to the server and access it via the Plex web-based client on your PC or via the Plex app on any of your devices.
Plex is fully supported by Android, along with a whole host of other devices and platforms. No matter which device you want to connect to your TV, there's a Plex app for it: video game consoles (current and last generations of Playstation and Xbox, as well as the NVIDIA Shield), smart TVs, streaming devices (Apple TV, Chromecast, Roku TV etc.), and, of course, mobile devices (Android, iOS, Windows 10 Mobile). Since all your content is conveniently stored on a web-based server, you're able to access all your content across your devices. Nearly every file type is supported, and you're able to share your Plex server with other users as you would with a Netflix account.
Where Plex really shines is with its smooth user interface. Plex pulls metadata for all your movies and TV shows from reliable sources, so you get a nice preview image and description for each movie or TV show. You can also create playlists for not only your music but also episodes of your favorite shows. On top of all the fantastic organization, everything is easy to navigate no matter which device you're using. This experience is all available in the free version of Plex.
Another recently added feature that might make Plex a compelling choice is voice control integration with Amazon's Alexa. If you've got an Amazon Echo in your home, you can load up your music and video library into Plex and then use Alexa to send commands to Plex. This is a super exciting development for Plex and really helps to further separate it from Kodi.
Plex also gives you the option to upgrade to Plex Premium. You'll want to check out the added features included in a premium subscription. Notable features include Mobile Sync, which lets you sync media to any device running the Plex app for offline access, the ability to create multiple user accounts, and a bunch of enhancements to the music section, including lyrics, Mood Mixes, and more. You'll also get early access to all the latest features being added to Plex. The most recent feature added, Plex Cloud, allows you to access your media without the need for an always-on PC action as your Plex Media Server. Plex Premium costs $4.99 a month, $39.99 a year, or $149.99 for a lifetime membership.
Which is best?
At face value, Plex offers the smoother UI and better features, including the recently added Alexa Skills and centralized storage for your files that is then available across all your devices. On the other hand, Kodi, is entirely open source and customizable via skins and add-ons. If you've got an NVIDIA Shield TV or another brand of Android TV box or a tablet you'd like to dedicate to watching media, Kodi is a great choice — as long as you're okay with tinkering within the app and spending some time learning how to maximize your Kodi experience
Ultimately, the decision of which is best will come down to your needs. If you're looking to set up all your media just on one computer or device, Kodi is more than capable and fully customizable with the option of discovering some really cool add-ons. Tech-savvy folks might appreciate how Kodi is open source, and with Kodi, you don't necessarily need a dedicated computer to run a server.
On the other hand, the benefits of Plex being commercial software is that there's dedicated support for all your setup needs. Plex is a well-tuned product that's made even better with Plex Cloud — you'll no longer need to dedicate a computer to be your Plex Media Server if you opt to join Plex Pass subscription. But even if you decide to go with the free version of Plex, you'll still have a very good experience streaming your content to all your other devices.
Overall, we give the nod to Plex for its versatility, premium features, and for offering a more polished experience.
What do you think?
Which do you prefer: Kodi or Plex? How do you have your home media center set up? Leave a comment below.
Be an expert in 5 minutes
Get the latest news from Android Central, your trusted companion in the world of Android
Marc Lagace was an Apps and Games Editor at Android Central between 2016 and 2020. You can reach out to him on Twitter [@spacelagace.