Kodi 18 Leia: What you need to know about the next version of Kodi for Android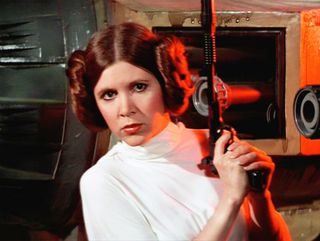 Kodi 17.1 "Krypton" is the current release that's available through the Google Play Store, but work on next version of the popular media server software is already well underway. In a break from the normal routine of choosing names within the community, Kodi 18 will be known as "Leia," in honor of everyone's favorite princess who sadly left us.
It's still early days right now, and there's not a massive amount to talk about regarding Kodi 18. But here's what we do know so far. And as updates become available, we'll keep this guide updated, so be sure to slap it into your bookmarks.
When will Kodi 18 Leia be available?
There isn't an official release date for the final stable release, but early builds are already available!
What's new?
It's still in development, so the final feature list isn't publicly revealed. It's still in the early stages, too, so there's not a lot immediately obvious that has changed. The best place to keep tabs on new features is the Kodi 18 Leia changelog on the official Kodi Wiki.
Anything cool for Android been announced yet?
Absolutely! One of the headline features for Android TV is integration with voice search and recommendations. Just as you see from other media sources, Kodi will be able to suggest content for you along the top of your Android TV home screen.
Voice search is a pretty big deal, as it gives you the same freedom as you already have to search other media apps on your Android TV. If you're using Kodi seriously and you've a lot of media in there, this could make your experience so much better. Additionally, voice to text typing will be available, since using a remote with the on-screen keyboard can be a royal pain!
Can I try it yet?
Absolutely! If you're OK with being on the bleeding edge and dealing with bugs, you can already get the latest nightly builds for version 18. The Android TV specific features mentioned above are already available to try in the Leia nightly builds.
Hit the link below to get started.
Download Kodi 18 Leia nightly builds
Do I need to uninstall Kodi 17 to try the new nightly builds?
No. If you're using Kodi 17 already the nightly installer will place the new version alongside it.
Is it good enough for my main build right now?
No, you should stick with the release version of Kodi 17. Leia is still a long way off, and lots of things don't work properly. It's definitely only suitable for experimenting with as a separate build.
Does it look any different?
It does not. The stock skin was updated from Kodi 16 to Kodi 17, from the old "Confluence" skin to the new, more modern looking "Estuary." There's nothing to suggest that will change for version 18, but you can always install your own skins anyway. Making it your own is easy, so go nuts!
Where can I find out more?
New features are being discussed, and the developers are highlighting them to the community through "dev journals." Those will be posted on the official Kodi blog covering all the various platforms that Kodi is available on.
There's still much development to happen, and much new hotness to be revealed, and that will happen all in good time. If you have questions, drop them into the comments below. Hopefully, we can help with some answers.
Get the Android Central Newsletter
Instant access to breaking news, the hottest reviews, great deals and helpful tips.
What box is the best to run Kodi?

I am currently using 3. Mi Box, Nexus Player and Shield TV. Shield out performs everything out there by far. That is if you can afford it. Bit pricey but we'll worth it. Even the GeForce gaming service.

Can you use HD Homerun with any of the Android boxes?

Will it crack down on open sourced streaming websites? aka Pirates?

Where's the promised Xbox app?