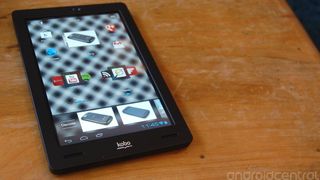 The small tablet space is becoming increasingly populated of late. The Google Nexus 7 undoubtedly sets the bar pretty high, but recent months have seen respectable releases from Amazon, Acer and on the other side of the fence, Apple. Now, along comes Kobo. A Canadian company better known for e-Readers and their eBook store, they have dipped their toe in the Android tablet space before.
The Kobo Vox wasn't the greatest tablet on the market by any stretch of the imagination. Quite chunky, a less than impressive touch response and Gingerbread sadly overshadowed a cheap, and -- unlike Amazon's Kindle Fire -- fully Google Certified tablet. Fast forward though, and things are quite different.
First unveiled to a small group of press in Berlin at the annual IFA conference, the Kobo Arc is the company's latest attempt at an Android based, content focused tablet device. Immediately it was clear that this was something much more interesting than its predecessor. Better software, better hardware, and a competitive price point. But, looks can be deceiving, as we all know. We've had one for a little while now, so click on past the break and we'll take you through it.
Pros
Excellent price point, gorgeous screen, largely un-molested software. Front facing stereo speakers provide good volume. 64GB version available for those who crave on-board storage. Jelly Bean update already in the works
Cons
Very plasticky. A little stuttery from time to time. Lip between bezel and display makes swiping a little uncomfortable. Apparent lack of availability on 64GB version.
The Bottom Line
The message still remains the same. If you want the latest and greatest that Android has to offer from a small tablet, you buy a Nexus 7. If that's not the case, and you're in for something a little different, then the Kobo Arc is a fine choice to make.
Swipe to scroll horizontally
Kobo Arc video walkthrough
Kobo Arc Hardware and build quality
The first thing you notice upon looking at the Arc is that it doesn't strike the same admiring glances as something like, say, a Nexus 7. Whereas Google's Asus made slate is covered edge to edge with glass, the Arc has a distinctive black, plastic bezel surrounding its display. Plastic, is sadly what the construction of the Arc is all about. Plastic front and back. The rear of the tablet has the slightest of soft touch finishes to it, which gives a good feeling in the hand, but still feels like plastic.
But, while the outside may have a touch of the plastic fantastic, the criticisms on the hardware end there. Inside the Arc is a 1.5GHz dual-core OMAP 4470 processor and 1GB of RAM. On board storage comes in three varieties. Theres a 16GB version, which we have here, and also 32GB and even 64GB options. 64GB of on board storage is as yet unheard of in the Android small tablet space, so for someone who holds such numbers in high priority, definitely score one for the Arc. The only downside to this is its apparently sketchy availability. It isn't on sale in the UK for example, and even in Kobo's native Canada there are only a small selection of retailers offering it.
Taking a tour of the externals, up top we find the power button, while down bottom is the standard microUSB charging port. On the right hand side of the tablet we find the volume rocker and the 3.5mm headphone jack. On the side of the device isn't an optimal position for a headphone jack, but since it's unlikely to be used as a music player while stashed away in a pocket, it perhaps won't be as troubling as it might be on a smartphone. Nevertheless, some will find it an inconvenience.
The display itself is a 7-inch IPS display with a resolution of 1280x800. This matches the Nexus 7 and the 7 inch Kindle Fire HD, and significantly out does the Apple iPad Mini which is both larger and lower resolution. The display on the Arc is gorgeous. Side by side with a Nexus 7, the Arc actually edges ahead in the screen department. It feels a little brighter, and the colors on screen just seem to pop a little more. Looking at it is a genuinely pleasurable experience. Viewing angles are first rate too.
Sitting beneath the impressive display is a pair of equally impressive stereo speakers with SRS TruMedia sound. Sound quality is decent at lower volumes, but overall volume is good, if suffering a little in terms of distortion going at full blast. Watching a movie or listening to some music through the speakers isn't a problem, as there is plenty of volume on tap. And, as they're facing forward instead of lying on the rear of the device, sound is directed towards you instead of away from right off the bat. And that's a good thing.
The SRS TruMedia is basically an onboard piece of equalizing software, and through the pre-installed application you get the chance to alter it to tailor your own tastes, and by what it is you're listening to. There are three preset options for Movies, Music and Podcasts, with sliders to adjust bass and treble for each. There's also a big fat "Volume Boost" option at the bottom which was on throughout testing. It does account for a little of the distortion at higher volumes that we experienced in testing, but does make a noticeable different to the loudness. You'll find the test comparison with the Nexus 7 below.
The bottom line on the hardware -- it's surprisingly good. The plasticky nature of the device doesn't necessarily lend to the thought that this is a quality product, but turning the display on more than makes up for that.
In the box
Truth be told, not much at all. Some paperwork you're never going to read, and a pretty good 2A charger. The charging cable is hardwired to the adaptor, so if you want a microUSB cable to transfer content to the tablet, you'll need to provide your own. The complete opposite situation to the Amazon Kindle Fire, where you get a cable but no adaptor.
There is a selection of accessories available for the Kobo Arc, and we'll talk about these a little later.
Kobo Arc Software and OS
The Kobo Arc ships running Android 4.0.4 Ice Cream Sandwich, with Kobo's custom Tapestries UI. An update to Jelly Bean is already in the works, but with no indication on an arrival date at this time. Unlike Samsung's Touchwiz or HTC's Sense, Tapestries feels more like a custom launcher than a fully customized version of the OS. Where Samsung's and HTC's customizations run right through the OS, beneath the homescreen the Arc has a pretty un-molested version of ICS.
The Tapestries UI is an interesting take on content management. Everything about its design is geared towards sorting and managing content of all differing types. During our initial briefing in Berlin, nothing could be clearer. The main homescreen on the Arc is one of these Tapestries too. Essentially, instead of 3, 5, 7 and so on different screens, it resembles one incredibly long, continuous screen. On here, you can pin apps, content, or create different Tapestries based on whatever it is you want to organize by.
Take reading for example -- after all, Kobo is a reading company. I created a Reading tapestry, and put all reading related apps in there, widgets, and Kobo's own in built Reading Life widget. Additionally, images, web links, pretty much anything can be pinned.
As you fill your Tapestries with content, the Discover Bar at the bottom kicks into life. It monitors the books, websites, music and so on that you consume, and offers up suggestions for new things you might like based on what you already have. It's an interesting idea, and it doesn't take long for it to catch on. Pinning Jerry's Nexus 10 review quickly brought into life a whole host of Android related content that the device thought I'd like to read.
As the rest of the OS is pretty much untouched, regular Android users will know pretty much what to expect. If you've been using something on Jelly Bean with its Project Butter, ICS still feels a little slow and sluggish in comparison. But, while the Arc does stutter from time to time, generally software performance is very good.
Being fully Google certified, the usual crop of Google applications come pre-installed. As does a selection of Kobo's own reading apps, Readability, Pinterest, Rdio, 7digital, Zinio and on our review unit, even Google Chrome. But, while everything is generally left as Google intended -- bar some different fonts -- the stock browser however has a neat little addition in the form of a reading mode. Tapping on the little chair icon next to the address bar will bring up reading view, free of ads and graphics, just the pictures and text that you'll want to concentrate on. It's not a new idea, but considering the reading based background of Kobo, and their intentions for this tablet, it's a nice touch.
Reading is a heavy focus, but one drawback to the Arc is the requirement to have a Kobo account to use it. When you go through setup on a Nexus 7, you add in your Google account details. But, on the Arc, the process involves signing into a Kobo account. The Kobo reading services are pretty well baked in, but it's another account to have, especially for someone who just wants to use this as an Android tablet. But, because it's Android you still have the same choice, so Kindle, Aldiko, Google Play Books, it doesn't matter what your preference you can use them all.
Kobo Arc Camera
It may only have a front facing camera, but it's still a camera so it's worth talking about. It takes 720p video, but there's still a limited use case for it. Kobo themselves market the camera specifically as being good for Skype -- other video calling solutions are available -- and coupled with the front facing speakers, they're not far wrong. Video quality is decent, we've certainly seen a lot worse. The picture quality isn't bad, if a little fuzzy in places. Colors show through well though, nice and bright, and overall pleasing without being outstanding.
Surprising is the amount of settings that can be altered within the camera app. Besides exposure and white balance, sharpness, contrast, brightness, ISO, saturation, bracketing range can all be altered in the settings menu. The only problem is that all these settings are lost on a front facing camera. We'll never bemoan having features to play with, it's just a shame that they're pretty much redundant on a tablet without a rear facing camera.
Kobo Arc Battery Life
Kobo claims that the battery in the Arc is good for 10 hours of 'reading' or up to two weeks on standby. 10 hours of on screen time sounds pretty good, but I wasn't able to experience nearly that much. While it only needed charging every couple of days at most depending on use, the problematic "Media Server" that kept the device awake for 15 hours during testing sadly affected the results in our limited time with the tablet. That said though, while being used the battery didn't seem to drop by too much, and some pretty intense sessions on Need for Speed: Most Wanted didn't make too much of a dent on the battery level. The use case of a tablet is of course different to a smartphone, and easily making it through three or four days without charging is perfectly reasonable.
Kobo Arc accessories
Kobo offers a range -- albeit a small one -- of official accessories for the Arc. The back of the tablet is actually removable, and while it doesn't offer up accessibility to anything like storage or the battery, the back covers are replaceable.
There's also the Sleepcover. In simple terms, the Sleepcover is Kobo's answer to Apple's Smart Cover. The bezel of the tablet contains magnets so when the cover is closed, the screen turns off, and likewise when you pull it back, the screen comes back on. It also folds back into a stand perfect for watching movies.
The bottom line
There would be many among the Android faithful who wouldn't give the Kobo Arc a second glance, and that's unfair. Without a doubt, it doesn't displace the Nexus 7 at the top of the tree, but it's a perfectly good tablet in its own right. The average consumers -- of which lets face it, we're not -- who may see this in a store may well be attracted to it. It's well priced, starting at £159 for the 16GB, and has a gorgeous display. Not just gorgeous for a cheap tablet either, it's very, very good. For content junkies, the 64GB version -- which goes for $299 Canadian -- is fantastic value, if you can find one. This apparent lack of availability on the largest capacity version isn't what we would have hoped for.
The message still remains the same. If you want the latest and greatest that Android has to offer from a small tablet, you buy a Nexus 7. If that's not the case, and you're in for something a little different, then the Kobo Arc is a fine choice to make.
Sign up for Black Friday email alerts!
Get the hottest deals available in your inbox plus news, reviews, opinion, analysis and more from the Android Central team.