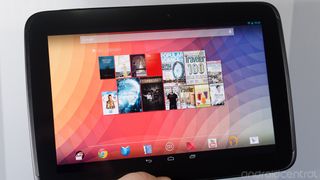 We get giddy around here when new Nexus devices get released. Some of you guys and gals do, too. This go 'round, we get a twofer with both the LG Nexus 4 (check out Phil's great review), and the Samsung Nexus 10 hitting Google Play at the same time.
'Tis a good time to be an Android fan.
The screen is beyond beautiful, and the next-generation hardware under the glass should be able to push Android in ways we would have never thought possible a scant 12 months ago -- and maybe it pushes it a little too far. But make no mistake -- the Nexus 10 is at the pinnacle of tablet technology. We've never seen specifications of this caliber before, and everything about the Nexus 10 just screams bad-ass.
The Nexus 10 is in an odd spot though, as one of its biggest competitors is for sale right beside it at Google Play, and checks in a good bit cheaper. I'm talking about the Nexus 7, of course. The new hardware in the Nexus 10 has to justify the extra $200 price, and that leads to the million dollar question. Is being the best spec'ed and best value 10-inch tablet enough to pick the Nexus 10 over it's 7-inch brother? Let's have a look and find out.
Win a Nexus 10 of your own in the Mobile Nations Passport contest!
Pros
The Nexus 10 currently has the best mobile hardware available. The 2560 x 1600 display not only looks good on paper, it also delivers crisp text and images, and HD video is stunning. Matched with the A15 dual-core Exynos 5 CPU, the thing is a powerhouse. All this beautiful hardware is put together in a package that's light, thin, and easy to hold. Your first impressions of the Nexus 10 will be good.
Cons
High bitrate HD video really taxes the system, and tasks in the background make video playback of these files suffer. The Mali-T604 GPU maxes out at 2560x1600, so this may be an issue where we've already reached the hardware limits. Pushing a lot of pixels also makes benchmarks score lower, if that sort of thing bothers you.
The Bottom Line
The Nexus 10 is the best 10-inch Android tablet, period. All the checkboxes are ticked, and the price is competitive with other models that don't offer the same gorgeous display or blazing fast CPU. Add in the Nexus software experience, and you have the complete package. The drawbacks are there (no TegraZone titles brings a tiny tear to my eye), but they are very few and are quickly outweighed by the positives. Decide if you want the 7-inch experience or the 10-inch experience, and if you decide to go big, buy with confidence.
Swipe to scroll horizontally
Hands-on
The hardware
You'll know you're holding a Samsung tablet when you have the Nexus 10 in your hands. I'm not calling that a good thing or a bad thing, but it looks and feels very much like a revamped Galaxy Tab because it's so thin and light, and it shares that same design with the speakers on either side. The tablet is built of "quality" plastic -- as in matte soft touch finished and not glossy and shiny -- which according to Matias Duarte is by design to make the unit as light as it is (603 grams). It's slightly curved towards the screen around the edge, giving it a unique feel, almost like a very shallow bowl. While it doesn't give you the elegant feel the spun aluminum tablets from ASUS offer, it doesn't feel cheap and handles well, with a slight top-heavy feel when holding it by the bottom bezel in landscape.
In the looks department, I think the Nexus 10 scores a 10. The speakers and controls, a power button and a volume rocker, match the color and texture of the tablet well, and nothing seems out of place or glaringly ugly. Another nice touch is the removable back cover. It's a strip about 1.5 to 2 inches high across the rear of the device surrounding the camera and flash. It's reminds me of the battery cover of the Galaxy Nexus, meaning it's very thin and flimsy feeling plastic once you're removed it and are holding it in your hands.
Because it's removable, it makes a great place to put all the screen-printed information that the FCC requires, the model number, and the requisite "Made in Korea" label. With the cover in place all you see is solid black, with a Nexus (and smaller Samsung) logo. The cover was designed to attach a smart-cover style case right to the Nexus 10 to protect the screen and serve as an on/off mechanism via magnets. The fact that it hides the typical numbers and assorted mumbo-jumbo that's usually printed on the back of a tablet is just a bonus -- but a nice perk for those that place a value on how their devices look.
In addition to the mentioned controls (oddly placed on the top left of the tablet while in landscape), you've also got a standard microUSB connector for data and charging on the right hand side. Just underneath, you have the 3.5mm headset jack. On the opposite side (that'd be the left if you're not following along) you've got a standard micro HDMI port for connecting the Nexus 10 to a television or monitor. I was a little puzzled when Phil informed me that Miracast wasn't enabled on the Nexus 10 (though it's touted as an Android 4.2 feature) but truth be told I'd prefer the micro HDMI port. A $6 cable and I'm off to the races, sending video out to any display with an input.
On the bottom of the tablet, you've got your pogo pins, and two spots for a magnetic adapter of some sort -- one on either side. Hopefully we'll actually see some sort of accessory use them, as Daydream feature combined with nice sounding speakers would make for a great nightstand clock. Make them Samsung, and we will buy them.
All-in-all, it's a well built device that you won't be afraid to use. Other than a daily cleaning to wipe the fingerprints away, there's not much here to go wrong and a little care should get years of use from this one.
The display
The panel on the Nexus 10 is hands-down the best display you've ever seen on an Android tablet. The 2560 x 1600 resolution screen has a whopping 300 pixels per inch, and the true RGB stripe PLS technology makes text crisp and clear, images sharp and lovely, and HD video a feast for your eyes. It's covered with a sheet of Gorilla Glass 2, and it's clearly one of the highlights of the device. It's one of those things that you can't unsee, and every tablet you use afterwards just won't measure up. Imagine the best quality and highest pixel density phone you've used, only in a nice and big 10-inch size. Or think of it this way: the Nexus 10 has the same resolution as a new "Retina" 13-inch MacBook Pro, but has a higher pixel density.
You will like this screen. It is that good.
Of course, nothing is perfect, and this is no exception. The resolution means that there are a whole bunch of pixels to push around, which takes computational power. The GPU is maxed out with this resolution, and all the extra lighted points means more battery is used to keep it turned on. We saw this when another tablet manufacturer increased the resolution to the point where amazing comes to mind, and a thicker unit with a bigger battery was in order.
In the end, you'll find that the innards are more than sufficient to drive the screen in just about every situation -- from video watching, to picture viewing, to gaming -- with ease. This is a good direction for Android tablets to be heading, and for many will be reason enough to purchase.
The speakers
The speakers get a section of their own, because they're also much better than anything we're used to. To start with, they are along the right and left bezel (while holding the Nexus 10 in landscape) and face forwards -- towards the user -- versus being placed on the side or the back. Music sounds good, movies sound good, even silly notification tones sound good.
I'm not seeing any mention of special technology being used here, so I guess it's a testament to speaker placement. Whatever it is, it's a joy not to have to cup my hand at the back of the tablet to direct audio towards the front of the tablet. I'm looking squarely at you Nexus 7.
To round things out, they also look pretty darn good. They're tucked into the edge of the bezel, and the grill spans the height of the tablet itself. My thumbs don't end up blocking the sound, and I can sit next to the wife on the couch and watch a video or two. Little things like this mean a lot for the end user.
The processor
The Nexus 10 has the very best ARM processor available on board. No ifs, no ands, no buts. The Exynos 5 Dual uses two ARM Cortex A15 cores running at 1.7GHz, with a shared 1MB L2 cache. The A15 architecture also uses 3-issue, Out of Order instructions with advanced SIMDv2 support.
What all that means is that this isn't anything that you're used to. This CPU is a generation ahead of powerhouses like the Tegra 3, The Qualcomm S4, and the A6. This chip is for things like Chromebooks, future generation tablets, and ARM based laptops. Add in native support for USB 3.0, SATA 3, and HDMI 1.4 and you have the next generation made available today, erm, Tuesday.
Combined with what's currently the best GPU available in the Mali-T604, the SoC is a beast. It's got a huge front-end, with highly improved data structure, and the fast clock speed means there's a great big pile of power in there for hackers and geeks to tap into and do wonderful things with.
Performance
If the hardware is that good, why isn't it blazing fast? Well, it is sometimes. The hardware had to be that good, because nothing else available will drive that ultra-high screen resolution. When you're not pushing things with a few extra million pixels that change and need rendered, the Nexus 10 will amaze you with how well it performs. Other times, like when watching high bitrate video or playing games not yet optimized with new graphics, it only runs good.
With pre-release software, I can make the Nexus 10 stutter with a dozen or so tabs open in the Chrome browser, or when playing 1080p video from the device storage. As a test, I killed background tasks (something you should never do in day-to-day use) and could make the stuttering during video playback stop. Nothing I could do would fix stuttering in Chrome, though.
A contact at Google has told me these issues have been noted, and will be fixed -- it's not just me seeing them. Hopefully, this happens with the final version of the software before it's shipped and we don't have to wait very long for some sort of performance patch. In the end, though, the Nexus 10 is a great performer in most cases the way it stands. Wifi signals seem strong, probably thanks to the MIMO+HT40 (Multiple Input Multiple Output) 802.11 n enhancement, GPS locks fast and is accurate, and there's enough battery to watch about seven hours of streaming video through Netflix. Outbreak, The Babysitters, and Act of Valor if you were curious.
The short version -- there's enough oompf under the glass to deliver a pleasant experience, even with the GPU-shredding high resolution screen. I'm not complaining.
The software
As mentioned, the review units Google sent out aren't running the final build of the software. This means the two features I was most looking forwards to in Android 4.2 -- multi-user login and lockscreen widgets -- aren't in place yet. When Google updates these units (they don't get this one back until I get to try multi-user accounts and widgets on my lockscreen, dammit) you can bet we'll jump right into it.
Because it's a Nexus, that means it will be running the latest version of stock Android, which means 4.2 Jelly Bean in this case. Android 4.2 turned out to be pretty much as we predicted -- a polishing of the overall interface and some completion to the behind-the-scenes stuff that was started with Android 3.1. Honestly, we're relieved to see Google cleaning up things they had in the works rather than dive into new features and ideas. It gives us a break, and allows the coders and designers to finish their ideas and implement them the way they envisioned. Android 4.2 takes the ubiquitous jumble of ICS and Jelly Bean features and presents them to the user in a more refined, and sane, package.
Having said all that, you won't find a lot of changes if you've been using a tablet with stock Ice Cream Sandwich or earlier versions of Jelly Bean. Everything you're used to is still there, it just works a little better and integrates a little more. Incremental upgrade? You betcha.
There are a few features worth looking at, so let's have at them!
Quick settings
Everyone loves shortcuts to the commonly changed settings on their device. Things like Wifi, Bluetooth, rotation and brightness are settings we all find ourselves changing from time to time. Since we're all far too busy to waste time opening the settings and scrolling to the appropriate category to switch these, we love having quick access to the shortcuts. Or maybe it's 'cause we're lazy. Either way, it's easy to change them now.
If you take your finger and swipe down from the right side of the notification bar, you get the pull down pictured above. You'll see your pretty face in there, that's your Google+ profile. Besides the rest of the settings that are self explanatory, there's a blank spot. Blank spots intrigue me. Is it for one of the missing features from this build, or does it mean that third party developers will be able to add their own settings to the quick-settings shade? Hopefully the latter, as it should make a great spot for weather or something else that interests you. Android is known for customization options like that, and as long as it can be turned off, I think the option for anything should be included.
The hard part will be remembering that it's there. Unlike the phone interface where the notification shade is divided into two different panes, the tablet layout has them split. Even in portrait, the left two-thirds of the notification bar will give you the standard notification panel when dragged down. At that point, I find myself just tapping the settings button and doing things the old way. Maybe it's muscle memory, or just the old dog new trick scenario. Anyhoo, it's there. It's quick, and they're settings. Quick-settings are go!
The new keyboard
The new Android 4.2 keyboard is like a mixture of Swype and SwiftKey. You can use it as you normally would, or get predictions and corrections based on what you're typing, or you can go full tilt and swipe your way across the keyboard, spelling words in your wake. It's hard to tell from the screenshot (this is difficult to capture) but a blue trace shows the path of your finger and your predicted world is spelled out in a bubble above the keys.
It's pretty slick, and pretty accurate, but the stock keyboard still isn't perfect. There's no way to precisely position the cursor, instead you have to tap in the general area and fine tune it with the blue arrow pointer just like the 4.1 (and earlier) version. And what's wrong with a number row? Or at least allowing a long press on the top row give you the corresponding number.
Good thing you can easily change the keyboard out for one that better suits you.
Application support
Some applications take advantage of Android's development model and build apps that utilize the extra space a tablet has to offer, and some don't.
A lot of noise is made about the dearth of "tablet" apps in Google Play. In reality, there is no such thing. Any and every app can be developed to run on both your smartphone and your tablet -- all 675,000 or so of them. Of course, some developers prefer to create a separate "HD" version of their app to use on tablets, and these numbers get tossed around any time it's convenient to talk numbers about the other side. Forget all that noise, and realize that just about every application in Google Play will run on your new Nexus 10.
All of Google's applications, and a good many third-party applications use code and assets to make their applications take advantage of all the extra real estate a tablet has to offer, and some don't. The ones that don't will work the same way, with more empty space. Apps don't get doubled or blown up to scale to the bigger screen, because screen size isn't hard coded into an app if developers followed the guidelines and coded it right.
Developers, especially game development houses, may want to update their apps and insert a set of super high resolution textures to use with the Nexus 10, but it handles every app that I use on my Galaxy Nexus and Nexus 7 with no issues. Yes, apps built to use the space a tablet offers look better, but the ones that don't still function. This may seem like a no-brainer, but I wanted to investigate very closely how this insane resolution screen would affect the user experience in the Play Store with third party apps (enough to give it this separate section) and came away pleased with the result.
What the Nexus 10 does offer is a way for developers to test apps at WQXGA (Wide Quad Extended Graphics Array) without spending a fortune. If an app looks good blown up to that size, it's going to look good just about everywhere. The Nexus 10 was designed to encourage apps that look good on tablets. I hope it works.
The camera
Unlike it's smaller sibling the Nexus 7, the Samsung Nexus 10 has both front and rear cameras. Around front, you have a 1.9MP camera that was clearly designed for video chatting (read -- Google Hangouts). The quality is fair at best, but it focuses and adjusts fast, eliminating many of the issues other phones and tablets have when hanging out with your friends. If you've got a laptop with a built-in camera, expect similar results.
My favorite Hangout chair
The rear camera is a good bit better. Surprisingly, it's as good or better than the rear shooter on the Transformer Prime -- and that's saying a lot considering it's a freaking tablet. In fact, it's good enough to almost justify holding it up to snap pictures of your kids school play or whatever it is people take pictures of with their tablet.
My opinion of it being too big to use as a camera aside, the pictures look pretty good. The usual limitations apply, like the flash washing things out terribly and low light just murdering the images, but feed it enough light and keep things fairly still and the pictures are better than average. There's no fancy image rendering chip, or name-brand lens, just a solid 5MP shooter.
The camera software is the same improved version we see on the Nexus 4. It's the stock Android 4.2 camera, and it offers everything we have seen before as far as settings go. Now, to get to them you tap the screen and have a skeletal ring with the options versus tapping a button to open a new dialog box. It works nicely, and as soon as you get used to where the settings are changing them is a breeze.
Gone is the burst mode we saw with Jelly Bean 4.1, but the camera (at least on this hardware) is still very fast. Tap the blue dot and it takes a picture. Tap it again, and it takes another -- as fast as you can tap it. This, as well as the new settings interface, stays the same whether you have the front or the rear camera in use.
See the full Photo Sphere version on Google+
Panorama is still included, and it works as good or better than ever. Of course, the thing everyone is talking about (and that you likely wish I would get to soon) is Photo Sphere.
We've had a chance to play with Photo Sphere on other Jelly Bean phones thanks to our own AC moderator and hacker Dylan, but using it on the Nexus 10 hardware is nothing like any of the hacked versions. Photo Sphere image sections are grabbed quickly (almost too quickly), and the final stitching is fast and much more accurate.
See the full version on Google+
I don't claim to be the Photo Sphere pro, but with the Nexus 10 I can pretty much nail it every time as long as the subject is far enough away. To take one, you switch to the Photo Sphere setting find a starting point, and wait for the countdown dots up top to disappear. Then turn (without taking a step forwards or backwards) until the blue dot is aligned with the socket in the viewfinder. Keep moving the same direction until you have captured what you need or have done a full 360. Then you can tilt the camera up or down to get the sky or the ground the same way. When you're finished, tap the blue square to stitch them all together.
The trick is to keep the device in the same place and pivot it as well as you can, like it's a ball-and-socket joint.
As of right now, the only way to see Photo Sphere pictures is on a phone or tablet with the Android 4.2 gallery or on the full web version of Google+. The pictures above show you what happens if you try to view them as a regular picture. We'd love to see Google drop a viewer app in Google Play or just add viewing to the Google+ app for Android and iOS, but we're not holding our breath.
You've also got a slew of editing tools available, where you can crop and adjust your image as well as apply filters and frames. These may or may not be to your liking, but they work really well. It's no substitute for Photoshop (speaking of which, Photoshop touch runs amazingly well on the Nexus 10), but for quick adjustments or to make the perfect hipstergram style picture they're great.
If you've taken a Photo Sphere picture, and given it a full enough view (about 270-degrees or more by my reckoning), you can also make "Tiny Planet" style images. Highlight your picture in the gallery, select the Tiny Planet effect, and adjust the amount of surface you want the sphere to use. If you then select a frame for the picture, the planet is filled in with photo information. If you choose not to use a frame, you get a wild eye effect. Both are pretty slick, and with the right image we should see some seriously cool artwork from these. Unlike the normal Photo Spheres, these can be shared as normal pictures.
The Nexus 10 isn't likely to be your go-to camera, and it wasn't designed to be. But for those times when we do use it, it's nice to see it perform as well as it does.
The bottom line
This is the easy part. You've decided you want or need an Android tablet. Cool. Want or need Wacom stylus support? If so skip this and get a Note 10.1. Need the flexibility of a good keyboard docking station? Skip this and look at the ASUS Transformer line. Need something smaller for easy carrying or holding in bed? The Nexus 7 should be your first choice.
If none of the above applies to you, then this is the Android tablet to buy. Other than the specialized cases above, there is no 10-inch Android tablet that matches the specs, especially the screen, of the Nexus 10. It's not even close. Things get a bit stickier when you factor in the 7-inch size.
Tablets smaller than 10-inches were supposed to be dead on arrival, but the Nexus 7 (and 180-degree turn around release of the iPad Mini) says otherwise. The Nexus 10 doesn't offer the easy holding of the Nexus 7, and I miss that. Reading a book in bed is much nicer with my Nexus 7, and so is putting it in my jacket pocket so I can play Riptide GP at the mall while my wife shops. On the other hand, when it's time to watch a movie or check out some pictures (500 pix looks amazing on the Nexus 10) the screen on the Nexus 10 makes it all worth having.
Like me, you'll have to decide how a tablet best fits your needs. If you decide 10-inches is the way to go, buy this one.
Android Central Newsletter
Get instant access to breaking news, the hottest reviews, great deals and helpful tips
Senior Editor — Google Ecosystem
Jerry is an amateur woodworker and struggling shade tree mechanic. There's nothing he can't take apart, but many things he can't reassemble. You'll find him writing and speaking his loud opinion on Android Central and occasionally on Twitter.
Great review Jerry! I think i'll stick with my nexus 7 though.

Yay Jerry, have to agree.... I like my N7 better for everything accept watching movies.

Looks amazing. But I won't get it because my Nexus 7 is enough.

Great review. I agree with the statements of if you need a stylus go for the note, a keyboard the Asus etc... I had the Asus and it was pretty good. The note 10.1 seems pretty nice and that stylus could be really handy. Any ideas how the speakers compare to the Note 10.1? Does it have an IR blaster like the other Samsung tablets do? Currently my Xoom still suits my needs just fine, the screen isn't great but it's decent enough to view the web or watch a movie. I don't like to play certain types of games on it though cause it's to big. I feel Shadowgun is difficult to move around in for example. This has me thinking my next tablet might be the 7" flavor and with that a second gen N7 might be just perfect for me.

I never realized it until the picture of Jerry in this review, but he looks like George R.R. Martin.

WOW... Yes he does!!! good call on that.. Hopefully he only looks like GRRM... because i don't want GRRM wasting time playing with tablets... he needs to finish the next book!

LOL. Then I would have to kill the Nexus 10 halfway through the review :P

The Hildenbrand words: Nexus is coming

Stuttering in the browser is a Chrome issue, not a hardware issue. Chrome for android is so badly developed. It stutters on every device. Even navigating the bookmark tabs is laggy. Plus it doesn't help that Chrome on Android is 5 versions behind the desktop version...

I'd like to use the Dolphin browser on the nexus 10

Actually, until Friday I would have agreed with you about the "It stutters on every device" comment. I love the bookmark/tab sync'ing enough that I dealt with the issues on my Evo3D. Picked up a Note 2 Friday and Chrome works flawlessly. Used to, I'd see a link in an email or something and think "Hmm... do I really want to read more badly enough to deal with how long I'm going to have to wait, or the hassle of trying to get back here after?" Now, after just a couple of days with my Note 2, I'm clicking links with wild abandon (not quite, but you know what I mean) because the switch and page load is as close to instant as could be expected and hitting the back button drops me back into my previous application so smoothly I even get to watch the transition animation. Chrome for Android still needs some work, but it's important to remember that Chrome (desktop) was designed with a much more powerful processor in mind than most mobile devices offer.

Yeah dude chrome is really messed up on my E3D its extremely irritating. The issue has never even been addressed by Google. Yet it's the only browser I use just because of syncing and bookmarks.

Love the Syncing on Chrome and +1 on the Note2 handling Chrome.

You sure that's not a function of the Note 2 being badass? Chrome on my Skyrocket also stutters.. weird b/c it used to be the fastest browser I've used.

I like the portability of my Nexus 7. But when I thought about it, I only ever took it out of my house twice. Nexus 10 ordered first thing tomorrow. Great Review.

I wish the speakers on the Nexus 7 were forward facing. Other than that I am very happy with my Nexus 7. Hopefully Samsung doesn't have the same build quality issues Asus does (screen separation is the main one I am thinking about here) I had a Transformer Prime and sold it. I found I really don't like the size of a 10 inch tablet. I like being able to hold a tablet easily and securely with one hand. Anything bigger and I prefer an ultrabook/laptop. Finally, how will this tablet perform on graphically intensive games that have those high resolution packs? That's a large resolution to push around and I doubt any of the games in the market currently make use of this resolution... Hopefully when the games are updated or new games come out we don't start seeing a lot of stuttering and slow down.

agree 100% with everything you said.
the speaker/s on the N7 aren't bad at all...in fact they are perfectly loud for watching videos, listening to music ect. but having front blasters like the n10 would be a huge bonus. i also had a transformer (tf300) and really liked it, but i NEVER took it with me, resulting in me using my phone to stream netflix during my lunch break. now with the N7, i can slip it in my pocket when i leave in the morning and pull it out of my desk at lunch and watch netflix on the larger screen. its amazing how much i am using this now as opposed to before with the transformer.

Yep. I just sold my TF201 as well. At first it was because I saw the Nexus 10 and decided I'd definitely rather have that, but now that its gone I dont even want to replace it. The 10 seems like it would be a little nicer for videos or browsing, but the portability and size of the 7 wins. I take it with me everywhere, and I never worry about it being bulky, heavy, too expensive or annoying. Its pretty perfect. If the 10 had 7 pricing, I would probably grab one, but its definitely not something I need or would use much at all.

I need more info about the battery. It is a deal breaker to me if the battery is weak

Tablets now a days should imo start with 32GB. And 100 bucks for an extra 16GB is a rip off, mostly when there's no option for expandable storage.

+1 That price difference is like 10 times the cost of a 16GB microSD card...

+2 The extra price is a rip-off and being stuck with 32GB *max* sucks. I will buy it anyway, though.

Tablets now a days should IMO start with 32GB. And 100 bucks for an extra 16GB is still a rip off, mostly when there's no option for expandable storage. Granted, I may be "forced" to upgrade my Transformer Infinity to it...

"The speakers and controls, a power button and a volume rocker, match the color and texture of the tablet well, and nothing seems out of place or glaringly ugly" "In addition to the mentioned controls (oddly placed on the top left of the tablet while in landscape)" Great Job! T&E thumbnail ftw

The power and volume buttons on top left is a Sammy thing I believe, My Note 10.1 has them in the same position. The 3.5 jack though is not. It's on top center where the Nex10 has it ob the side which I find interesting. When you have to plug the Head phones in its good having it on the side so there's no need to pull the wire around back or hold it to the side.

Tomorrow can't come fast enough!

This is sweet. Of course I considered the nexus 7, but I now have the note 2 and it's almost as big as the nexus 7 (saw it in the store last night)!! Don't need a tablet with the note 2. It is cool that the 7 can fit in my pocket though...

Just affirms that I want this bad. I like a big tablet. The N7 is good for reading and some games, but when I want to surf or read comic books, or watch movies, I want something big. I hope and hope I get one on launch day. Credit card is bouncing and ready to go. And BTW, great review. I'm new to the site and loved the podcast you guys did, and this was written up well. I half expected you to pan it from the podcast, but sounds like it's what I thought it was. A good tablet with some problems that hopefully can be fixed with an update.

Good review. If I may make a suggestion though, get to the point when u do the video review. Show case the features and not just sit it on the table and say how great it is.

Ummm did you watch the walkthough video? It was 100% about the features... Go back and watch it if you haven't...

Lots of talking while we all just stared at the homescreen. I would have been satisfied with anything else, just don't talk about the device while it sits on the table.

Then go make your own review if you think you can do it better.

Among many things the N10 has over the N7, the one that I wish the N7 had was a rear facing camera. I sell a lot online (eBay, Listia, etc) ... And I have to grab one of our iPads when I am ready to post stuff... because the N7 doesn't have the rear camera. So that one feature alone makes the N10 a winner for me...

Just in time for the purchase tomorrow! Great unbiased review. Way to keep it real AC!

I am considering a 10" tablet i have a nexus 7 but was going to maybe sell it to my sister and use that money towards either this or a asus transformer infinity. ive read several reviews saying that the nexus 10s battery isnt very good and it takes long to charge as well while the infinity has great battery life. anyone have any advice?

@Jerry Great review as always but I'm not seeing the battery life testing section?. I need to know if it will last a day with that much display?. Kinda need to know before spending my money on it. Thanks a bunch.

He did mention it was able to do 7 hours of video playback, so you should be able to make it through a day so long as the screen is on for less than 7 hours. "Will it last all day?" is always a loaded question because "all day" means *very* different things for different people.

I'm really into android and I'm going to buy the nexus 10 asap and normally I'm no hater, but your review sounds exactly like everything I hate about apple.
The nexus is great, I get it. And its display is high-res too, ok. But come on, don't try to compensate its weaknesses by exaggerating one feature. Its black is not as black as it could be and it's light bleeding. (The tablet has no gsm, its camera is ok. debatable)
All that doesn't make it a less great device, don't get me wrong! But Android is more than repeating over and over one aspect. Damit you sound like Tim Cook!

First off, no GSM is not a lacking feature. Even looking at sales trends for the iPad will show you that most people don't want a cellular radio in their tablet. The 32GB WiFi only iPad accounts for some 65% of all iPad sales last I saw, meaning they sell more of those than all the other models (3G, more storage) combined. Secondly, when you've got a device with a screen as *amazing* as this one, it's worth pointing it out a couple of times. Jerry did cover everything with the tablet: an awesome screen, a CPU that should obliterate all (and he did warn that the Mali GPU was pretty well maxed out at this resolution) and good build quality. I'm kinda curious why you say "Its black is not as black as it could be and it's light bleeding." considering these aren't even out yet so odds are you've never seen one in person. Where are you getting that information? Because, if it were true, Jerry is one of the most unabashedly, honestly critical guys I've ever seen about this sort of thing. It was hardly a "don't say anything bad about it" review.

The placement of the speakers is what already sold me on the 10. I mean come on, how is putting them to the right and left of the screen such a novel concept? My only complaint about the 7 is the speaker placement, it's ok if you just need something for noise but when you actually hold the device it's nice to have true stereo not a little strip on the back that your hand is usually covering anyways.

Did I read correctly before that the N10 will have a notification light? If so, any comment on how effective it is? Is it something you can notice from across the room? -Suntan

Please explain how you use the Sandisk Cruzer on the Nexus 10. Is it possible to transfer photo's from the Cruzer to the Nexus 10?

I'm not sure about your question, but I can tell you that it is possible to spell the word "photos" without an apostrophe.

No need to get snarky. I would assume you need a OTG cable to use a flash drive like another other android device with a mini-usb plug.

How is the "Chrome sucks balls and stutters" issue not common knowledge? I have 3 high end devices and its balls on all three (EVO LTE, N7, S3)

You're right, and it baffles me that Google haven't fixed it yet.

All it needed was a keyboard dock or a keyboard add-on and it'll be the tablet I want. It has the specs I want, but too bad no keyboard for typing notes and etc. Now only if Android tablet manufacturers stop using the Tegra platform and its anemic single channel memory configurations that would be awesome.

In time it will get a Keyboard dock. I have seen an unofficial one the the N7 which i hope to get soon. It should even use the pogo pins and magnets to dock and charge.

When you do have a chance to try out user switching, please let us know the details! (Assuming you get the update prior to all the N7s getting it.) How are things handled like: Are all apps installed in one place, regardless of user? Or are apps installed differently for each user? Do you have to have two completely different Google accounts? Right now my wife's phone is setup on my google account (so I can manage all the devices from one account) with her email and other accounts just added in as additional accounts. Can you have two different user accounts setup for the purpose of switching users, but still have the device itself just set up on one google account for the purpose of installing and managing apps in the Play store? What about background processes? Do I have to have all my wife's processes (Facebook, weather, etc.) running in the background, eating up resources, while I am logged in and using it to play games or watch a movie? What about Bluetooth speakers/headphones? Can you have two different sets of headphones (his and hers say) and have the tablet automatically switch between them when you change the login? Or does the tablet stay hooked to the headphones you were using and the next user has to go in a manually switch to the new set? -Suntan

Hmmm...no comment on the storage options (or lack thereof)? Samsung makes good kit, but the lack of removable storage is a killer for me. Maybe it's just a Google/Nexus thing, in that they continue to ignore that segment of the market that really needs/requires a microSD slot. I realize that not everyone needs the flexibility and extra storage of removable storage on a portable device. However, I travel extensively, and my Galaxy S3 and Transformer Prime go everywhere with me. Having the ability to carry around an extra 32/64Gb of data, that I can easily swap between devices just makes my job so much easier. I'm all in favor of the "native Android experience" you get with the Nexus line (I've rooted both the SG3 & TP, and run CM10), and the Nexus 4 & 10 would have been leading candidates to replace what I'm using today. However until Google Nexus starts incorporating a microSD slot, it's not going to happen. Sigh...

Two comments: 1) Little need to mention the storage on this "early" review. It's been beaten to death and we don't all like it(including myself) but the N10 comes in 16 and 32 GB flavors without mSD. Case closed. 2) If you have a GS3, your phone has built in capabilites to serve media directly to your tablet of choice. Turn on Wifi direct and DLNA service (System settings -> more settings -> Wifi Direct & Nearby Devices) and then you can access the media stored on your phone directly on your tablet. With Wifi Direct turned on, you don't even need to jump onto a wlan to do it. Now you don't even need to pry that battery cover off the GSIII to share the mSD card inside. -Suntan

All true...and I should have also said up front..."good review". In fact, the review is what prompted me to complain (again) about the fact that some manufactures seem to unable to reconcile their price points & form factors with a microSD card, while others (Asus Transformer, SG3, etc) do it quite well...and with style. I am fully aware of the ability to share data between devices, and often use my SG3 as a tether for other devices. Unfortunately when you need access to multi-gigabyte data stores, WiFi and or 4G just won't cut it due to transfer rates.

Suntan, is that something that the Note 2 does as well? I'm picking one of those up in a few weeeks

I would assume so. I don't know why the note ii would be lacking this feature when it was standard on the GSIII. -Suntan

If the Nexus 7 had a forward-facing speaker(s) I would buy one in a heartbeat. The N10 looks 100% more intriguing after hearing how much better the speakers sound on the GT2 10.1 that I had my hands on the other day.

That is a big plus to me too. I love my Xoom Nexus, but it is heavy and the speakers on the back are annoying. I don't care that much about screen resolution, just performance and storage size- only one of which the N10 has. I think it is good enough to replace the Xoom now, but if I didn't have the money to replace it, the Xoom would still serve my needs for quite a while to come. But now I can give the Xoom to my Mom for Christmas! (And she will LOVE it as much as I did)

Thanks for the review Jerry. I was leaning towards purchasing the N10, but your input is appreciated. Just curious - did you suffer frequent arm/hand fatigue while using the N10? Google said its lightweight (a little lighter than the iPad). I was leaning towards purchasing the N10, but your input is appreciated.

Going back and reactivating the status bar and putting the action buttons in the middle? Huge mistake. It's confusing compared to previous versions, not to mention it's far less effective. Why, Google?!
The layout of Jelly Bean on Transformer TF700 is perfect. If you're worried about hitting the action buttons by mistake there is now a locking feature in the center for gaming or what have you.

Jerry, about that video stuttering: Are you watching the movie full screen, or with the 1920x1080 letterboxed within the screen? (Movies wider than 1.78:1 are going to be letterboxed anyway.) And what kind of background activity makes it stutter? I don't have a TV right now, and am not likely to have one for some time, so I was considering the N10 for watching HD video from my Slingbox or Netflix, among other uses. My old PC can't keep up without stuttering. How is the audio quality through the headphone jack when watching a movie? My only Android reference is a Droid RAZR, which has a high frequency tinkle in the audio compared to my ancient iPod.

A full blown 1080p BD rip. Very high bitrate, and yes letterboxed because of content size. It was a copy of the Prometheus BluRay. It stuttered most of all when items were downloading in the background. Installing all my tablet games from the market while watching made the video jump a lot, and get out of sequence with the audio. Bad enough that i had to restert the playback to fix it when I stopped the downloads. Without the app installs in the background, playback was exceptional. It really did impress me as much as it seems. I'm not hearing any whine or noise through the headphones. Haven't tried a good set of wireless headphones yet, they get here Wednesday.

Jerry it's good to see you reply.
If most people are worried about not being able to download apps or do things in the background then why are you watching a movie? If I have a movie playing i am not doing anything else. Also I remember you/Jerry said in the Podcast that it not the Official version yet/the Android on this unit may be tweaked or updated by release time. Or something to that effect. Maybe this stutter issue has been addressed for release.

Neither!! The Galaxy Note 10.1 kills em both.

>"All the checkboxes are ticked," Not really. It only has a max of 32GB of storage (less whatever is used by the OS and formatting). And there is no SD card. So I can't tick the "it will hold everything I want to put on it" checkbox like I can on my 32GB + 32GB Xoom....

You still cant check your 'it will hold everything checkbox' because 64GB isnt enough for you....you need at least 1000000000GB of space to be satisfied :-) lol jk
I think he was referring to HIS own "'all the checkboxes are ticked', and not YOUR 'all the checkboxes are ticked'. To each his own.

i just cant wait to see what it looks like with the 'extended desktop' mod. remove that nav bar and notif bar and the screen will look way bigger than 10

good review...just wondering you said hd video stutters do you think this could.be down to not having the final version and May be fixed in retail version?

Very nice review!!! I really am thinking about getting the Nexus 10 and replacing my original asus transformer. The areas of the N-10 that I really like are it's from Google and I will get most of the OS updates, if not all. Asus and HTC (my EVO LTE phone) are very slow at releasing OS updates. This has been very annoying to me as I like to play around with the latest and greatest without the overhead of root/MODs. Second, I never used the docking keyboard that much and it never worked all that well when I did. So not having one for the N10 will not bother that much either. The lack of external storage is an issue. But having a 32-gig card in the transformer, I discovered that I never used all of the internal 32-gig storage anyway. So I think I can handle only 32-gig in the N10. Anything else I need can be put on the cloud. One last advantage I see with the N10 over my current Transformer is the HDMI output for movies appears to actually work! I could never get the Transformer to output a video/movie from Google Play on the TV. My research found that a lot of other owners of the original Transformer had this issue. And it was never fixed by Asus. So all in all, I think the N10 will be a very good upgrade for me. Will just give my transformer to my Aunt. Looking forward to tomorrow!!

Great device no doubt BUT... Why on earth waste precious vertical screen space with an unfriendly located button bar on the bottom of a screen that strives to save every vertical pixel because of its aspect ratio, doesn't it make sense to keep the buttons on the right or left for that matter in landscape close to your fingers while you are holding it... to start with I don't see any added value for not having fixed buttons and totally get rid of wasted pixels... Now add insult to injury Google shoves up your face wasting even more unnecessary vertical space with their search box that whenever you click it anyway you go to a different app is Google now aside from already having a swipe gesture from home button to do so! This is like having a static wide icon wasting a row n every darn screen... this is the number 1 reason why people buy launchers... in my opinion this is seriously the wrong attitude Google, ironically its so not Google to do that or at least that's what we believed so far... change that prison ASAP at least make an option to change such defaults. Come on!

+1 agreed. This is where you hear most people compare it to a phone UI vs a tablet. Such a waste of space with another black bar on top with most of the bottom one empty and the static search bar on all home screens.

+2 Why can't they just put everything on the bottom bar? I don't understand the logic, really I don't.

The amount of dead space is kinda bugging me, but the specs ere really aweseome. I'm not a fan of the too rounded design though.

What can I say more that you didn't write in the review? Only that I want it stop badly :)

oh how i wish i could get my hands on one...

That's it! I'm getting a Nexus 10 :D

Chrome on Android is horrid. I expect cause the n10 is getting bad reviews from it that they will be fixing. No matter, there's good alternatives.

Thanks for the huge review. I agree that it depends on the use of the tablet; but speaking of 10-inch tablets, I would buy this rather than another.

I think this will be replacing my Xoom very soon. I like having the bigger screen and this is a huge jump from where I am now. Thanks Jerry

? The screen is not bigger than the Xoom.

Looks like a worthy replacement to my Original Xoom Wi-Fi

With the only exception being the lack of SD card, or at least the option for more than 32GB of storage.

Correction Jerry: this processor and the A6 and S4 are comparable. The cores in those two are A15 equivalent.

Finally an intelligent review for the Nexus 10! Thank you so much for taking the time to add the depth and get it right!

How bright is the screen? How does it fair in sunlight? -Suntan

Jerry my man, that is one mighty impressive beard you are schwaggin. Rock on bro!

Was that a picture of Jerry or that lineman for the Steelers?

Thanks for the great review Jerry! I am excited to buy my first tablet in the next few days. It's between the Nexus 7 and 10. I have read that the Nexus 7 is now less expensive - 16G for $199 and 32G for $249. What I have not found/read is if there are upgrades/improvements to it. Will the resolution be better? Will it be faster with a new processor? Or is it the same one, just cheaper? I read several articles on the 7 that mention the resolution could be better, and you are raving about it on the 10. I was leaning toward the more portable 7, but if the screen is not improving I am very tempted by the specs of the 10. Thanks for any info! -Colin

This line scares me a bit..."The Mali-T604 GPU maxes out at 2560x1600, so this may be an issue where we've already reached the hardware limits."
Its the one thing holding me back from buying this thing. Its like buying a car with 500 HP and attaching a 10 tonne trailer to it. Anyways ...I think the newer generation of Mali GPUs ...T658 are not that far out and there's a good chance they will be in the next gen of nexus 10s.

Jerry, I was both surprised and impressed to see that you had "The Grey Album" by Danger Mouse in your Google Music collection. Great mashup album.

Did the update to 4.2 improve the performance lacks you mentioned Jerry?

Honestly, how can the performance be GREAT if things start stuttering when you run HD videos? Frankly, this tablet would have been a best if it had a 1280x800 (or well even a 1920x1200) resolution....but this 2560x1600 just kills everything.

The stuttering is most likely a software problem that Google and Samsung will hopefully fix with future updates.

He noted in one of the earlier replies that the stuttering was when he was watching an HD video and downloading and installing all of his apps. There's a limit to how much read/write swaps can be done with a storage unit.

This is probably the most comprehensive review I've read on this tablet. Kudos to Jerry for actually taking the time to use the device. Your wrap up hit the nail on the head and highlighted one of Android's key strengths: choice. SD-Card? There are plenty of great devices w/ that already, and plenty more to come.. which will probably also have a high res screen. The Wacom pen is the main reason for me to buy a tablet, so the Note 10.1 was a no-brainer. We're not stuck between one premium device a year.. or a hand-me-down from the previous year like another mobile OS.

Thanks for another thorough review. I bought a TF300T in the summer (partly based on your review of that), so not looking for a large tablet at the moment. It will be interesting to see what they use that accessory port for, if anything. What do you think the prospects of a 3G Nexus7 are?

Hey Jerry, Any idea when Google will start selling some type of smart cover for the Nexus 10?

The Nexus 7 is a better tablet. This may have better hardware, but it doesn't perform better than the 7, and it costs twice as much. You're better served with a Nexus 7 with 32 GB and HSPA than a Nexus 10.

I have had my Nexus 10 for about a week now, and it has a good home in my den. I can use it with my 24 inch Samsung monitor, and it looks really good with that set up. I was going to use my Logitech wireless mouse and keyboard, but with the power coming the only USB Port, I have decided to go to a Bluetooth keyboard and mouse and have them ordered and should get them in a day or so. I finally took it to my sofa tonight and gave it a test cruise using the battery. I was really pleased. I was reading some news stories and watching some Videos and the picture quality is excellent if it is HD. I have a Windows 7 Laptop and a big HD TV, so am no challenged for things to watch, but wanted to get a good tablet that should last me for many many years into the future. It is continually updating the Android 4.2 Jelly Bean O/S, and that is what I like about the Nexus. Since it is a Google product, it has the unadulterated O/S on it, and will update easily. Also all the apps have been updating constantly. I am well pleased with this product and look forward to using pretty frequently in the years ahead. I just hope that they get the changer that will connect to the POGO pins so I can use my USB for something other than charging. I was looking to get an ASUS TF700, but glad I held off until this was released. I got it on Friday November 24, 2012. The $499 price is fairly reasonable when I will probably have it for 5 years or more. $2 a week is a small price to pay to have something so powerful and convenient. I am still learning how to use it, so read all the articles that I can find on it, including this one.
Android Central Newsletter
Get instant access to breaking news, the hottest reviews, great deals and helpful tips
Thank you for signing up to Android Central. You will receive a verification email shortly.
There was a problem. Please refresh the page and try again.