Kingdom ROM and Sense 3.0 on EVO 4G, Desire HD users don't feel special anymore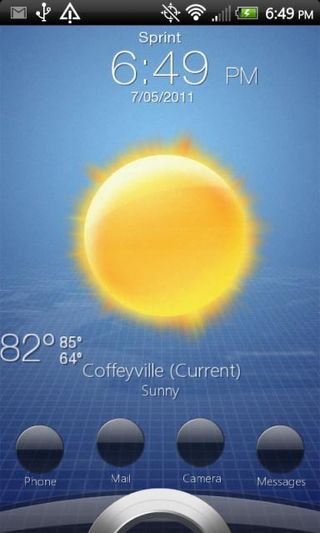 Flashaholics and Sense-lovers take notice: that leaked Kingdom ROM (and Sense 3.0!) floating around has successfully been ported to the EVO 4G. It's in it's first release, so there's definitely some bugs to be worked out, but for the most part, all the important bits are working.
And when I say the important bits, I mean things like 3G/4G data, hardware acceleration, cameras, Bluetooth, GPS, wifi... well, the list goes on. Yes, the devs are aware that the weather app is broken (but the widget is suspiciously not broken) and that the video recorder force closes.
If you can live without those little things, however, fire this ROM up and let us know how it runs. The devs are looking for feedback, and I think there's no people better equipped than the Android Central community to get 'em what they need.
Source: XDA Developers, thanks deltatko!
Android Central Newsletter
Get instant access to breaking news, the hottest reviews, great deals and helpful tips
WHY WHY WHY can't the Incredible have a GingerSense Kernel for this? WHY?

I completely agree... WHY cant at least some of the feature's be ported over in a sweet ROM.. I know that the Whole ROM is Way to large to even fit on our incredibles, but Im sure some of the cool things could be ported over :( I am running skyRaider 4.0 right now, and absolutely love it... It's a wonderful blend of Sense and CM... and the drop down notification bar is wonderful, and YES all of the camera and camcorder features actually work great...

Well, if it fits on an Evo, it should fit on our Inc's... I'm on CM7 right now because it's fastest for me but I'd love to switch to this. COME ON HTC

This is garbage. I know I'm not this stupid. I can't find this thing anywhere! Og file on xda fails in recovery or freezes on splash screen. Mirror fails to download!! Wtf is the problem!!!

Brian read my comment at the bottom there. Maybe it can help. Good luck.

Well I didn't feel SPECIAL for having this installed on my HTC Inspire 4G .. since the Kingdom ROM was more geared for Sprint network and not AT&T/T-Mobile .. connectivity issues for us Desire HD/Inspire 4G users would have to be completely revamped on this ROM to work correctly. YES .. HTC Sense 3.0 is excellent .. for what I have seen from this ROM .. if they were to successfully FULLY port this over correctly (connectivity and resolution corrections) .. I would gladly reinstall in a heartbeat.

I've been using this since Saturday, and it was good enough to get me to switch from CM7 (And I LOVE CM7). But there are some other bugs like icons not showing up on the home screen (and the lockscreen like in the picture) and low memory. There's also that brightness bug that's on all Gingersense roms. But it's still impressive that almost EVERYTHING is working like a stock Evo. But I think more people might prefer his other Gingersense rom since it's a little smoother as of now.

Am getting the EVO 3D soon and why I sould bother to root my phone anyway.

hate to be snarky, but dude, you don't have to...that's the whole point, you can if you want to...CHOICE!!!!

Us Inspire/Desire HD users had a ported sense 3.0 for a good while now.. but this kingdom ROM has full Sense 3.0.. its pretty great.. everything works ok besides little bugs that can easy be fix.. I feel bad for the CDMA users tho (EVO, ETC) who have this rom.. ive read that it has worse bugs then GSM phones (desire hd etc) have

I do have a rooted evo and i will love too learn how to flash rom into it can you guys help me thanks in advance

Click on 'Forums' and find your phone, then click on the Rooting, Roms, and Hacks section... you will find all the help you need :) and if you have any questions, just post a thread and someone will be happy to help you... good luck

Don't forget to make a Nandroid Backup of your current ROM... good luck

Why is everyone saying this is flashable when the first post states that it is not?

Virus (who made the rom) hasn't updated the OP yet.

Ok. Tried flashing it anyway and was stuck at the white EVO screen for 30 mins. Probably keep an eye out, but will pass for now.

OK I went looking and can't find the ROM. Am I missing something obvious?

I flashed this piece of crap and at the end it read virus rom. That kindda freak me out but I thought nice joke, till I couldn't download my rom manager or reboot into recovery. I got the mirror from the xda port tread. BTW this sence is not that much different from the previous sence, crappola! Will keep trying to work this out..pissed off right now. Update:
I finally pulled the sd card and did a factory reset. When it got to the bootscreen I pulled
the battery and placed the sd card back. From there I was able to boot into recovery.
Long live Cyanogen7.0.3.1. and ADW LauncherEX

you have a good reason to be pissed, as it doesnt look like you read over half of the posted instructions

I think you meant I didn't read the comments, as there were no instructions. As you can see
I'm on cm7. This port was just not as good as some commented. In any case I fixed my phone.
Dickweed! lol

I don't see why the the phone makers and service providers just provide a basic phone and let ROM developers take it from there. It would save a lot of time and people would get phones that actually worked better.

This ROM ROCKS on my HTC Glacier. /just saying.

Just flashed this Rom today and I had a couple hours to play with it:) so far I noticed that none of the icons didn't show on the home screen or lock screen. The gallery app didn't work at all (had a blank white screen) but all my pictures were still and I could send them, just not view them. And the last was that when zooming out from the home screen to see my other pages, they were blank. If anyone knows a way I can fix this let me know:)
Android Central Newsletter
Get instant access to breaking news, the hottest reviews, great deals and helpful tips
Thank you for signing up to Android Central. You will receive a verification email shortly.
There was a problem. Please refresh the page and try again.