The BlackBerry KEY2 is awesome, but I desperately want a Priv 2 slider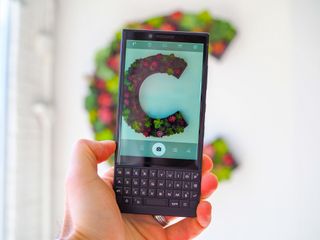 Like a lot of folks, I'm looking forward to having a BlackBerry KEY2 I can call my own and keep until I wear a hole in it. It's not going to set any Android sales records, but it is the right phone for me and that's all that really matters. It's going to be a great sequel to my KEYone and I have a feeling I'll get just as much use from it.
But I have a confession — I still like the BlackBerry Priv. Maybe enough that I'd like a BlackBerry Priv 2 more than a KEY2.
Carrying a torch
I know everyone who ever used a BlackBerry (or was even in the vicinity to a person who was using one) loves the BlackBerry Bold. With good reason, too, because it was an extremely well-built phone designed when BlackBerry was at its prime. I had a Bold 9000 and loved it. But it wasn't my favorite BlackBerry, even if it was the best BlackBerry.
That would have been the BlackBerry Torch. I can hear the groans, but I'm just a sucker for a good slider. A full-size phone with a vertical sliding keyboard does it all. You have a big screen (though nobody would call that 3.2-inch display big nowadays) that slides up and away to reveal a great set of tactile keys that satisfy the part of you that knows tactile keys are simply awesome. When it's closed, a Torch was compact and sturdy and perfect for bumpy rides in a pocket or briefcase. When open, you had the keyboard and trackpad right there where thumbs could get furious and make words. The best words.
You know, just like the Priv. Well, except for maybe the sturdy part. You had a big screen (and actually big this time) that you could poke at or even watch a movie on, and a flick of the thumb exposed the sexy keyboard underneath. Even though the Priv didn't age very well and got a little janky once the storage was filled up, I still enjoyed using it. I know I'm not alone.
BlackBerry has tic-toc'd with a keyboard model and a touch-only model since they moved to Android, and this year could be the same. Except instead of a Motion 2, it could be a Priv 2 with the same specs as the KEY2 and 100% more sliding. I get that the partnership with TCL is new and it might not be a wise business decision to make three models. I'm flexible like that. But I'd love seeing three models, too.
I'll be satisfied using my KEY2 when it gets here, and don't see any serious complaints about it. But I wouldn't say no to getting a slick new slider to live in my pocket instead. I know I'm not the only one. I can't be the only one.
In the comments, tell me I'm not the only one, and let the powers that be know we want a Priv 2!
Android Central Newsletter
Get instant access to breaking news, the hottest reviews, great deals and helpful tips
Senior Editor — Google Ecosystem
Jerry is an amateur woodworker and struggling shade tree mechanic. There's nothing he can't take apart, but many things he can't reassemble. You'll find him writing and speaking his loud opinion on Android Central and occasionally on Twitter.
I miss it too. But not receiving Android 7.0 left me sour.

I had the Sony Ericsson Xperia Pro back in the days and I miss that one too. The only issue I have with a slider is that the screen gets a bit cramped in landscape. If there ever is a slider that can also tilt the screen to landscape, I guess I'm going to have to spend some money on it =D

And it stood Tall.....there was nothing like it. I also wish to see a successor to it. Also in terms of software updates, BlackBerry should be more serious than even Google.

I LOVE my Priv.
STILL use my Priv after 2.5 years of it. Was keeping an eye on the Key2 for many months, just in case I needed a new phone. I'm not so bothered about the Android updates, Marshmallow serves me just fine. Very rarely slows down, but i clean and maintain it often. Definitely my favourite phone ever. Even with all the minor issues, it's got the big beautiful screen and best of all the freakin keyboard dude! :) As much as I love the look of the Key2, that screen........ :(

The lack of a Priv 2 made me buy a backup Priv. The phone isn't perfect but I dig keyboards and full screens. You only get that with a Priv. Until BB offers a better Priv, I have no urge to go back to a qwerty-less phone.

My Priv started to lag and ran very slow. Camera was bad especially the front camera. Keyboard wasn't great. Luckily the phone was slim enough that I hardly even used the physical keyboard. I did like the curve screen and the former factor. Battery life was okay.

I found that using the square button and regularly killing background apps helps a lot with speed on my Priv.

I'm on Verizon and still using my Priv because BlackBerries on Verizon are slim to none. I'd love a Priv 2. If they could only turn the Key2 into a full screen slider that works on Verizon. 🤔🤔🤔

I would love a Priv 2, and making it the Motion 2 would make sense, since it actually has motion

Certainly not alone sir! I was just thinking how close a Priv 2 with Google's new gesture-based navigation would highly resemble the dream of a modern-day Palm Pre+ or Pre2 but with the legendary keyboard of a BlackBerry.... Glad I'm not the only one wanting to see that sequel!

The Priv was great. It wasn't perfect, it had its issues but from a design perspective it was the last truly unique and interesting phone. I got the Priv on release day and if there's ever a follow-up I'd most likely get it as well

Sign me up for a Priv 2! For it to happen I would concede and accept a reduction from the 2 day battery life to 1day life (now on the Key 2)

I liked the Priv so much I bought 2 of them. Original I had a unlocked BB branded priv and Passport. Then I upgraded my Priv to a Note 8. About 7 months later I missed the Priv so much i bought another one and got rid of the passport.

I still use a Priv and love it. I'll probably get the KEY2, but would prefer a Priv 2. I'll give up screen space before I give up a physical keyboard, but why can't I have both? FYI, the most recent OS patch on the Priv fixed a lot of issues. It's a tiny update, only 10MB, but it fixes performance and heat issues.

I was unable to install the latest OS patch, some "verification" error. Looks like the beginning of the end for me Priv :( Atleast the Key2 is around the corner if things get much worse

There is a work around for that issue. It's pretty easy. http://support.blackberry.com/kb/articleDetail?articleNumber=000046990&l...

I am aware of this so called work around. It may be pretty easy for some, but unfortunately for me it was simply not possible! :( The part where it says "De-select Android Device Manager or Find My Device" I am unable to De-select Find My Device (ADM is not an available option) because i get this message: "Unfortunately, Settings has stopped" Blackberry support were useless

Didn't like the curved screen. Too many inadvertent touches when trying to one hand it.

Blackberry torch was my all time favorite phone. I would be thrilled to get another torchblike phone. The priv was too big. Blackberry needs to go back to their roots of making phones that consumers can use with one hand.

I had a 9810 and I still think it was the best real BlackBerry. The shape wasn't much to write home about but it worked extremely well and it was pretty tough. But I wouldn't want to go back to a small screen and sliders get too fragile when the screen is large. What I now want is BlackBerry to start making an equivalent to the Sony Xperia Compacts now Sony have effectively stopped making them (The XZ2 is not compact).

Sony still makes the Xperia compact line with the most recent one being the XZ2 compact.

PRIV build quality was crap. The thing creaked constantly when doing anything with it. It was also prone to intense overheating and ran extremely slow. Torch was my fav phone of all time, but the PRIV didn't live up to it. Maybe priv2 would be better.

PRIV 2 and I would buy it

Priv2 should have been out instead of key2
Bigger screen with keyboard... Will worth every penny

I have had my Priv since launch November 2015 and I absolutely love it. I was one of the fortunate ones that didn't have the common issues reported. As much as I would like to upgrade, I wasn't convinced the KEYone was the way to go. I have the same thoughts about the KEY2. I would love to see TCL/BBM come out with a Priv 2 with upgraded internals. I would jump all over that in a New York second!!! Bob

I love my Priv but am looking for a new phone because it's developed a couple of problems and it's difficult to find someone to fix it. I saw an article back in February that a Priv 2 (with the development name BlackBerry Uni?) would come out this year, but I've heard nothing about it since. I'm trying to hold on in the hopes that a Priv 2 is just around the corner.

I agree. I loved the Priv for its design and functionality but the end of security support meant the end of my usage. The physical keyboard would need an upgrade to at least a KEYone standard but the virtual keyboard was a BlackBerry best! I hope TCL makes a decision to add a Priv 2. Portfolio complete!

I wouldn't mind a Priv 2, but BlackBerry Mobile/TCL can't make any mistakes. The main reason I upgraded to the KEYone is the Priv got frustratingly slow which is unacceptable for a $700 phone. The KEYone isn't going to set any records in the performance department, but it's generally fast enough to not be frustrating. A few more reasons I upgrade: 1. Front camera is trash.
2. BB stopped issuing security updates.
3. The vibration motor broke.

I would seriously consider a Priv 2. I very much miss my Pre, Pre2, and Pre3. Looks like Android P is going to give me back some of what I loved about webOS, and an updated full screen slider with PKB would be the icing on the cake.

I got my PRIV at launch. A PRIV2 would be my dream phone. I currently use both my KEYone and my 2.5 year old PRIV on a T-Mobile Digits plan. The KEY2 sounds like a great upgrade to the KEYone, but a flagship PRIV2 form factor .... perhaps when the 5G network is built out....that would be awesome.

I love my PRIV, having a big screen and then a keyboard with the flick of my thumb... best of both worlds. Haven't upgraded to the keyone because I am hopeful there will be another slider released.

I'm pretty much all or nothing after my torch and priv experiences I think the key 2 is more my speed and the keyone still makes me happy I don't miss the priv at all

The Priv is my favorite bb handset as well, it is so underrated and the screen is still excellent... performance and heating is problem but can be managed..i love it

I would definitely get a PRIV2. I just switched to a Galaxy S 9+ because my PRIV was running too hot and slow and wasn't receiving updates. If a PRIV2 came out today on Verizon, I would be the first in line.

Why won't someone release a stick-on physical keyboard exactly like the blackberry bold 9000's original one?

I loved the PRIV and nothing else compares. In fact, I travel all the time and the business travelers next to me on the airplane always notice my PRIV and when they hold it and try it they get that covetous look in their eyes b/c the really productive business user just misses the keyboard but needs the big screen. Hence: the PRIV.

The Priv was a terrible phone with terrible cameras and even worse build materials.

I totally agree. The Priv was absolutely a unique phone when it was first released, and did a lot of things right. But it was held back by its camera and software updates and just things that could be addressed with the Priv 2. The slide-out keyboard was ingenious — easy to access when you're writing an email and want better accuracy, but tucked away for the times when you're just watching videos or don't need the full keyboard. Using the keyboard as a touchpad for notifications and hot keys too... So much to love. I'm sure BB could refine the design like they have for the KEY2 and make something really special.

It could work, especially if they fix the issues that the Priv had, which were numerous. However, the Priv was a compromise on making one device. If you have a full KB device and a full touchscreen phone then I don't see the place for it, at least not enough demand to make it worthwhile. It was the jump to Android and trying to appease the blackberry fanbase that the Priv was made, and it was a significant and meaningful undertaking. The physical keyboard was miserable though. I have small hands and I could hardly type on it. If it were done properly and had a much better keyboard like the K2 does, then I would happily use a Priv 2 slider phone. I don't see it in the cards though unless BlackBerry Mobile really takes off and there is a giant resurgence in the brand name and demand for BlackBerries.

Seeing all these comments has me thinking that we need Kevin M to start up a Priv2 campaign. If anyone can move a BlackBerry needle, it's Crackberry Kevin!

Never a truer word (article) spoken.

I would like a priv2 or Motion2. Either one, I just want the best camera! Portrait and wide shots.
Either way, I would like it soon. Like this month 😎 😂

I'd love a Priv 2... owned the original for a year and a half, only thing about slider BlackBerrys is it's hard to find good cases for them. Probably best to use without a case but I drop phones all the time.

I would love to have a slider keyboard. 10 years after using the on screen keyboard, I am still terrible, swipe too. I would switch from Nexus 6p to Blackberry Priv 2 if available? If only the Priv had 3 year Android support, I would continue to use the Priv.

Still use the PRIV everyday. Might even buy another one if/when this one dies. The price is right, but a priv 2 would get my money instantly.

A Priv 2 would be perfect! I would absolutely buy one. - Use the Key 2 keyboard
- Scale up the device to size of the Note 8 or the V30
- Use an OLED/AMOLED screen
- Upgrade the processor to a Snapdragon 845 Blackberry needs a flagship device, and I would totally be willing to pay flagship prices.

Either people have never heard of a Blackberry or they assume it's a joke, but I'm with the author: It's the phone for me. I loved my 9800 so much I used to buy extra to keep in stock. Easy backup, computer interface, and the perfect size for me to hold and type with one hand. As it fell rapidly out of date, I bought a Priv which sat in its box for a year until my 9800 couldn't handle Blackberry's own website. I had to let it go and move Priv-wise. I like the screen, the slider and the tactile keyboard because virtual ones were created in hell for people who write two word replies to everything. (My spacebar shpritzed out so it's type-3, backspace-2 for me.) It has also withstood some harsh drops and tosses. In conclusion, the 9800 ain't coming back and I've gotten used to the Priv, so, heck yeah -- PRIV 2 NOW! PRIV 2 NOW! PRIV 2 NOW!

Priv 2 will be dream flagship phone. But this time plz dont use edge screen. Simple screen with no edges and infinity display will be excellent. Plus ofcourse more ram, more rom, more battery, more updates and less lagging. Plz Blackberry we need PRIV 2.

I never got a Priv despite its incredibly sexy looks because of all the negative feedback I heard it had. Give me a Priv 2 without all the problems, and I'll be all over it.

I'd buy one in a heartbeat. Loved that thing. I was so sad to move on from it. After owning the P20 Pro, however, I'll really want a good set of specs from a PRIV 2 for it to be an enjoyable experience for me. The P20's processor is just so fast!

I love my Priv, Priv has the best form factor, Using my Priv for the past 2.5 years, and I really need an upgrade to it, Priv 2 I dont need top end specs on it, just a 660 processor, 6 GB ram with Dual camera, I am all set to buy it. somebody should Listen.

What a great idea that BlackBerry phones designers and manufacturer need to jump on!

Literally everyone wants a Priv 2. Priv 1 was too ambitious.

I agree 100% about a Priv 2 slider. I also had the Torch and still use a Priv. I love the faces when I slide open the keyboard, people with the Samsung and Apple devices are in total shock. SLIDERS Unite!

I love to have the blackberry key2 it has got some awesome feature it has also got torch which is really a good feature of this phone. <a href="https://printerchatsupport.co.uk/hp-printer-support/">Hp printer support</a> provides best description about it.

Best BlackBerry I ever owned. Priv!!!!!

Priv 2 would be very welcome and Blackberry supporting 2-3 major os updates as well.

I would definitely buy a Priv2 if the specs were good and I could get it on TMobile.

There was a lot to like with the PRIV though was unfortunate BlackBerry got caught the one year Qualicom made a bad CPU that lead to some performance issues. I loved having both a physical keyboard and a touch for quick responses, I looked at both the KEYone and the Motion, found the 3:2 screen ratio too small for me, the Motion has the larger screen with a 16:9 ratio which is more useful.
I've been hopeful that BlackBerry (TCL) would build a version like the PRIV using an AMOLED display, the IPS display on current models for me anyway, offer some limitations. I'd be happy with Snapdragon 660 and 6GB of RAM though would like to see stereo speakers, form factor was nice on 1st PRIV so going with something like that you'd have me sold.

doesn't sliding affect repairability and increases fragility! well Jerry Enjoy the keys at least for now. But aww sliders are somewhat as cool as flips 😚.(Razr Nostalgia)

You are not the only one. I desperately need a Priv 2 to replace my old Priv that does not seem to be able to keep up with app updates anymore. Either that or make the Samsung Oxygen concept device have a physical keyboard and make it a reality; I'd buy 2.

Yes to a Priv2! I want to love the key2, but my 50-something eyes can't go back to a smaller screen. Fortunately the Priv is easy to fix, I replaced the battery in 10 minutes. I'll keep it running for a while yet.
Android Central Newsletter
Get instant access to breaking news, the hottest reviews, great deals and helpful tips
Thank you for signing up to Android Central. You will receive a verification email shortly.
There was a problem. Please refresh the page and try again.