Keep your screen on in Pokémon Go (or any app) with Tasker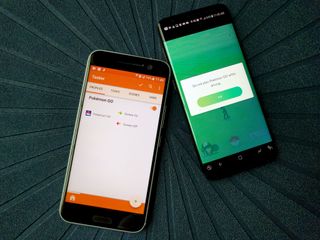 You're getting to the juiciest details of an e-book when the story cuts to black. You're looking at some breath-taking artwork and a wet blanket of darkness kills the mood. You're trying to find an elusive Pokémon before its spawn window ends and your screen times out just as an outline appears. Sure, this horror is momentary, and a simple press of the power button ends your blackout, but its effects can be devastating, and we don't need our screen timeout cranked up all the time; cranking it up for specific apps can let us fight back against the darkness.
This is also a great way to introduce yourself to Tasker.
What is Tasker? Read this first!
This is a simple Tasker profile with two one-action tasks and no plugins needed. We'll take advantage of the automation app's ability to change basic system settings to change our Android phone's screen timeout setting when we're in a particular app and when we exit it.
If you're looking to just reap the rewards without going through five full minutes of setting it up yourself, here's the finished profile for changing the display timeout length while in Pokemon Go for you to download before you open Tasker.
Long-press Profiles to open a menu.
Tap Import.
Navigate to and select the Pokemon Timeout profile you downloaded.
If you're looking to get down and dirty in Tasker, welcome to the club! We'll make some jackets one of these days, but for now let's get down to making your first profile, shall we?
Open Tasker.
In the Profiles tab, tap the + in the bottom right corner to create a new profile.
Tap Application.
Tap the app you want to crank up your screen timeout for.
Tap the back arrow in the top-left corner of the screen.
You'll need to turn on Tasker's Accessibility function so it can see which app is open. Tap OK to be taken to the needed settings screen.
Tap Tasker.
Tap the toggle to turn it on.
Tap OK to allow Tasker to see which app you have open.
Tap the back button twice.
Tap New Task.
Name your task. You can name it whatever you like. Tap the enter key on your keyboard when you're done with your name.
Tap the + in the bottom right corner to add an action to your task.
Tap the text box in the actions list and type in Display Timeout.
Tap the Display Timeout action.
Drag the Mins bar to 10 for a 10 minute timeout value. You can set the value lower or higher if you want, but some devices won't recognize a value about 10 minutes.
Tap the back arrow in the top left corner of the screen to add your action.
Tap the back arrow in the top left corner of the screen to finish your task.
Long-press the green arrow to bring up a menu.
Tap Add Exit Task.
Repeat Steps 11-16 with your exit task.
Drag the Secs and Mins bars to set your normal screen timeout length when not in your desired app.
Tap the back arrow in the top-left corner of the screen to add your action.
Tap the back arrow in the top-left corner of the screen to finish your task.
Tap the checkmark in the top bar to commit your changes.
You can now create profiles to do the same with other apps easily now that the two tasks are already made. While I initially made this profile for Pokémon Go, it's also quite handy while reading and while enjoying red-light artworks.
What apps could you use this for? Your work email? Your calculator app? Your favorite game? Tell us in the comments! And if you have any other Tasker projects you'd like us to tackle, tell us those, too!
Android Central Newsletter
Get instant access to breaking news, the hottest reviews, great deals and helpful tips
Ara Wagoner was a staff writer at Android Central. She themes phones and pokes YouTube Music with a stick. When she's not writing about cases, Chromebooks, or customization, she's wandering around Walt Disney World. If you see her without headphones, RUN. You can follow her on Twitter at @arawagco.
Or just install 'keep screen on!' for free.

True, you could install an app that takes care of this, but this is the beauty of tasker... instead of installing 10 different apps that do small simple things on their own, just install tasker and make the 10 profiles do the same thing, but exactly how you like them to be. Much less resources used by one app than 10!

Am I the only one who turns off my screen when I put the phone down? I always set the screen-off time to 30 minutes, and it never times out because I always turn it off.

I always turn the screen off too. In fact, in trying to be less ocd about it, sometimes I remind myself that a minute or two of screen on will likely be less hardware wear/tear than yet another power button push. I used to use an on-screen app or widget to power off (that seems harder to do now without immediate locking--would want one that just follows the same "rules" as built-in timeout). For this tasker project, I'd consider just having it restore state when the target app closes rather than setting the value. That way I can adjust the timeout in Android settings and not have to edit the same parameter in Tasker.

Which is better, Tasker, Trigger, or something else entirely? I'm new to IFTTT automation and haven't used very many of these apps. Is one better than the other at certain types of things?

It depends on what you want to do and what visual interface you like. Each can do a lot, but there are some things one can do that another can't do (but might be able to do, possibly even more flexibly, via a plugin).

Instead of setting things back to the way they were with the lengthy exit tasks Ara (repeating steps 11-16 and 22), you could just check the Restore Settings check box in the settings of the profile (long click the profile and tap on the setting slider bar icon, then it's the 4th option from the top). This automatically restores the value of any setting (actions marked with a cog symbol) changed by the profile when it deactivates.

Huh. The more you know...

Restore Settings is checked by default. There's been a request made to have a Preference that would make new profiles have Restore Settings unchecked. Pent said he wasn't sure if that was a good idea, would have to think about it. As of 5.0, as you can see from the screenshots in this article, settings are no longer marked with cog icons, they're marked with double arrow icons.

If you're on a Samsung phone, you can also simply enable the option to keep the screen on whenever you're still looking at it...done. Works pretty great! The display on my S8+ (and S7Edge and S4 before it) never times out when i don't want it to.

But that doesn't work as well at night, when I'm curled up in bed with my apps...

Ara! Somehow, when looking at this article in the AC app, the screenshots are displaying full size! Usually, with screenshot-containing articles (e.g. Jen Karner's), there tend to be 3 or 4 side by side, making them really hard to read in the app, but you manage to overcome this in your articles. I hope you'll share whatever different technique you're using with the rest of the editors.

If only the app allowed pinch to zoom on images, this wouldn't be an issue.
Android Central Newsletter
Get instant access to breaking news, the hottest reviews, great deals and helpful tips
Thank you for signing up to Android Central. You will receive a verification email shortly.
There was a problem. Please refresh the page and try again.