JBL Charge 3 and Clip 2 prove there's still innovation in Bluetooth speakers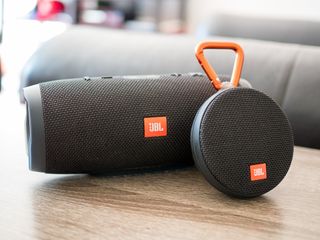 (Image credit: Android Central)
No matter your needs, there's a Bluetooth speaker out there to match — and you don't have to look hard to find one, either. For most people, their only real need is "the cheapest price possible" — but many will pay a bit for better features, quality and sound. And that's where JBL comes in, with the latest iterations of two of its Bluetooth speakers — the Charge 3 and Clip 2.
JBL isn't in the race to the bottom. It's hoping to stay on the higher end with high quality materials and of course sound, with some great features that can help turn a Bluetooth speaker experience from an "every once and a while" thing to an every-day useful accessory. Let's take a look at the JBL Charge 3 and Clip 2 speakers.
JBL Charge 3
The JBL Charge 3 (opens in new tab) is designed to be the center of the party or fill a room with sound, and that's immediately apparent with its size — larger than your average reusable water bottle, and weighing in at about 1.75 pounds. That weight comes from a sturdy, IPX7 waterproof enclosure that protects dual 10W speakers along with huge passive radiators on the ends that drive up the bass level.
With this much output you shouldn't be surprised that the Charge 3 has a 6000 mAh battery inside, which can offer you 20 hours of playback over Bluetooth. You probably aren't going to use it for that long (or heck, even half that long) between charges, so JBL also gives you the option of tapping into that power with a full-sized USB port on the back that can be used to charge your phone at 2A from 5V, which is a typical rate for a non-Fast Charge AC adapter.
It's extremely handy if you've been streaming music from your phone to the speaker, but also nice to have for anyone else who's with you that needs a quick top-up. The speaker gives you a visual indication of its charge state with a set of LEDs in the base, and charges itself over Micro-USB with a cable and 5V/2.3A wall plug in the box if you need one.
Image 1 of 5
Because of its size and weight you aren't likely to be carrying the Charge 3 around much — it's mostly going to stay put on a coffee table or brought out to the pool or picnic table when you need music for a group. I actually mostly kept it at my desk for daily music listening, both from my computer over a 3.5mm cable and my phone over Bluetooth — and it performed far better than my set of Logitech computer speakers, at a fraction of the size and complexity. Indoors there was no reason to ever get it above about 50% volume, and I rarely needed to max it out to get the music loud enough outside, even for a big group of people.
At $150 this isn't exactly an impulse purchase (nor is it JBL's most expensive Bluetooth speaker (opens in new tab)), but if there's one thing that companies like JBL, Jawbone, Bose and countless others have shown us it's that people are willing to pay a pretty penny for a really good, loud wireless speaker with some extra features. That's exactly what you get with the Charge 3. Not only does it produce full sound with lots of bass out of a relatively small package (compared to big wired speakers), it's also tough and completely waterproof so you never have to worry about what happens to it. It also goes above and beyond to let you tap into its battery to charge your phone, which can prove pivotal in keeping the tunes going late into the night.
It won't be worth the money to everyone, but it's hard to argue that JBL isn't giving you plenty for your money here if you're looking for a big wireless speaker. (And if you want to save a bit, maybe consider the last-gen Charge 2+ for about $99 (opens in new tab).)
See at Amazon (opens in new tab)
JBL Clip 2
For as cool as the Charge 3 speaker is, I'm a bigger fan of the small JBL Clip 2 (opens in new tab) and I think it'll be one that more people will actually consider buying and using on a regular basis.
This little $60 speaker is roughly the size of a hockey puck but still offers some great sound from its single 3W speaker — even up to high volumes without distorting. It connects over Bluetooth, of course, and offers easy-to-press buttons around the edges for play/pause and volume control — you can also use a built-in microphone for calls via your connected phone. Better yet, there's also a built-in foot-long 3.5mm cable to plug in — that neatly wraps around and stores in the speaker — which is super useful when you're passing the speaker around at a get-together and or don't want to deal with Bluetooth pairing.
Image 1 of 5
The speaker is built to take a beating, and feels like you could drive a nail with it if you needed to (but seriously, don't do that). It's also fully IPX7 waterproof, with a robust rubber door over the Micro-USB charging port, allowing it to handle dirt and even full submersion in water. Its rugged abilities are exemplified by the carabiner that's attached to the side of the Clip 2 (the name makes more sense now, huh?) that lets you hook it on things wherever you go.
I clipped it on the outside of my messenger bag or backpack to carry it places, not being worried about it getting bumped and knocked around. I clipped it to my pants pocket so I could listen to music around the house as I took care of some chores, and found it particularly useful to hook on the shower curtain in the morning for podcast listening in the shower.
JBL claims eight hours of music playback, and I found that to be perfect for a week's worth of casual listening off and on around the house. It also powered through several hours of Bluetooth music streaming for my Fourth of July party with battery to spare — and again, I never had to worry about it getting bumped or dropped.
I found the rugged Clip 2 to be infinitely more useful than other standard Bluetooth speakers that are more fragile and don't have a clip, and because of its design elements I carried it around and used it more than any other speaker I've had. It's more expensive than the dime-a-dozen Bluetooth speakers online, but you get something for it — and with how much more you're likely to use it, it's worth it.
See at Amazon (opens in new tab)
Android Central Newsletter
Get instant access to breaking news, the hottest reviews, great deals and helpful tips
Andrew was an Executive Editor, U.S. at Android Central between 2012 and 2020.
I've been curious about this for a while: why do most Bluetooth speakers not have PREV/SKIP physical buttons on them? My wireless Bluetooth headset had them, but most Bluetooth speakers only have volume and PLAY/PAUSE. It's so much easier to skip a track from the my wireless headset versus grabbing the phone, yet with BT speakers that's the only recourse when you just don't want to hear the new song playing. Posted via the Android Central App

Yeah I'm not sure about that either. Some BT headsets offer forward/back skipping by long-pressing volume up/down buttons for a couple seconds. These JBL speakers don't.

On mine the vol buttons long press for skip Posted via the Android Central App

I've got a TDK A34 and it has next/prev buttons, but you're right both speakers I had before this one (HMDX JAM and Sony SRS-X55) both didn't have them. Which is why I was excited when I bought the TDK, because it had them! Posted from my Galaxy Note 4 on SlimLP from the official Android Central app for Android.

Well, I have a JBL Charge 2, and I can change tracks by pressing the call button twice for next and 3 times for previous. I think on Charge 3 and newer products like this have them mapped on the play/pause button. (Sorry for bad English I'm from the Netherlands ;) )

What player are you using ? With my JBL Charge 2+ with Spotify under Windows, only the next track works (double click on call button). The triple click doesn't do anything.

My Bose Soundlink Color can skip to the next or previous track by double or triple pressing the play/pause button. Best feature of the Bose is that it can connect to both my wife's phone and mine at the same time and it will play sound from whoever starts playing sound first. That way we can alternate songs or videos or whatever from each of our phones without having to pair / unpair or touch any buttons on the speaker. I just press pause on my phone, she presses play on hers, or vice versa, and that's it..

I've had the original JBL charge for a few years now and it's pretty beat up on the outside, but still plays like a champ. It is hard to swallow dropping that much on a smallish speaker, but it's been great. My kid loves it (I never get to use it anymore haha). I'm glad they added the water resistance to the newer models, that's the main thing I miss. Posted via the Android Central App

Hello! How is the JBL battery life after some years of usage? do you always use it on the battery or do you mainly keep it plugged in with occasional depletions ? Thank you!

Please do a version of the Clip2 with Chromecast Audio built in. That would save me wiring up some ceiling speakers to a hidden amp. Posted via the Android Central App

Do these support pairing more than one speaker to the same phone for stereo playback? I know there's a term for that feature but I can't recall it. Posted via the Android Central App

Yes it's called JBL Connect

No love for the Flip 3? Posted via the Android Central App

Good for JBL to think of new form factors and outdoor durability. They have a good rep too. I'll keep an eye out for a Charge 3 sale. I like the G-Boom too but it's a tank to lug around Posted via the Android Central App

Good for JBL, these bt speakers look like quality units. My MPOW Buckler, at about 3.5" dia. x 1" is about the same size as the Clip 2 (and has a clip on it!) and only cost $15. I use it in the shower or wherever I am and love it! I'm sure the JBL is better made, but I am happy with my $15 cheapie! Posted via the Android Central App

I just bought MI Bluetooth speaker, friends have charge 2, moto deck, and one from Bose, don't remember the name. They all liked my MI speaker yesterday, it was loud, crisp. . Even i liked before that i had Logitech X100. . Posted via the Android Central App

"It sounds as good as you'd expect at $150" This doesnt help me, what does this mean. Is it objectively good or just ok what am i looking to get out of this device with that vague line???

try here for some (IMO very fair) comparisons:
https://www.youtube.com/user/clavinetjunkie/videos

Just got the clip2. Great little device. No pairing problems with my note 4 and sounds great. Definitely my new shower/beach/boat speaker. Posted via the Android Central App
Android Central Newsletter
Get instant access to breaking news, the hottest reviews, great deals and helpful tips
Thank you for signing up to Android Central. You will receive a verification email shortly.
There was a problem. Please refresh the page and try again.