Is it worth buying the Galaxy S8 in June 2018?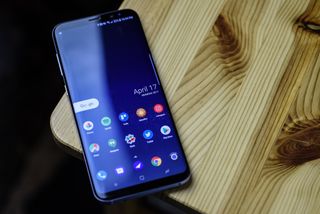 (Image credit: Android Central)
The Galaxy S9 is currently Samsung's latest and greatest flagship around, but unless you're willing to spend at least $720 for the privilege of owning one, you're going to want to look elsewhere for your next smartphone purchase.
For some folks in the market for an upgrade, last year's Galaxy S8 can be an enticing option. It offers about 80-90% of the features found in the Galaxy S9 and costs a great deal less.
One of our forum users asked if they should consider buying the S8 if they can get it for £480 in the UK, and this is what our community had to say.
What do you think? Is the Galaxy S8 still worth buying?
Android Central Newsletter
Get instant access to breaking news, the hottest reviews, great deals and helpful tips
Joe Maring was a Senior Editor for Android Central between 2017 and 2021. You can reach him on Twitter at @JoeMaring1.
Absolutely not. Why would anyone want to purchase 2017 technology in 2018? There are so many better cheaper options available that came out this year.

The S8 may have 2017 technology but it's still relevant in 2018 a good phone and the Pixel 2 XL (which I'm getting on Friday) has 2017 technology but runs better than the bloatware infested S8

Hey I hope that XL works out for you and that it's all you've hoped for. I know you've been looking forward to it for a while now. Good luck.

Thanks I'm stoked about getting my Pixel 2 XL, it's THE phone that I wanted and one of the biggest reasons I came back to Android.

Cost would be the biggest factor. The changes made in 1 year are minimal at best, and we all can agree the S9 is the equivalent of an iPhone #S. I'm not saying that's a bad thing, but when cost is a factor going for a year older tech isn't a bad thing. The processor is a bit slower and there isn't an active aperture on the S8. Otherwise they're the same, great product.

Price dictates all. It's still a great phone so it depends on what you can get it for.

For me it's not cheap enough in UK.
The extra for the 9 would be worth it.

Not worth it anymore since the OnePlus 6 came out.

If you can get at a reduced price I say it's still relevant in 2018. There's really not that much difference between the 8 & the 9. The 4gb's with the 835 are still very good performer's!

Not worth unless you can pick up for $300 or less. If you pay around $500 then nope, better off with looking for deals with latest spec phones or OnePlus 6. G7 and even S9 has deals often.

Get the one plus or wait for s9 to drop. It will soon

Well I gotta be in trouble cause if the Galaxy S9 or S9+, isnt splash proof.... Its done a good Damn Job not breaking, Since I pull it out the case and wash it and the Galaxy S9+ under the Sink 1-2 times a week so no dust build up scratches my phone... I'd say the S8 is still a $450-$500 phone and the difference between the S8 and the Galaxy S9 is minor.... It's only the S9+ that specs really show the upgrade 6gb ram, The upgraded camera, but it's a solid build from one of the best manufacturers of electronics in the world. "Samsung" is my "Apple" and with regards to the Pixel XL and OnePlus there's no one phone that does everything better than all the others, And any of those 4 are great with trade offs to the others...

And if you don't actually own the Newest Pixel, S9, IphoneX or OnePlus. With no real world use dont speak to the quality of which is better..... its misinformation that helps No potential buyers keep the hypothetical's to your Christmas wish list. 😂
Android Central Newsletter
Get instant access to breaking news, the hottest reviews, great deals and helpful tips
Thank you for signing up to Android Central. You will receive a verification email shortly.
There was a problem. Please refresh the page and try again.