Galaxy S6 versus iPhone 6: first-glance similarities aren't a bad thing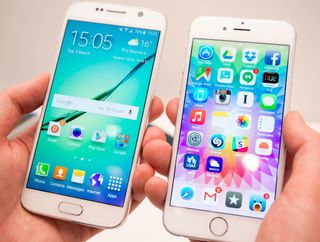 The Samsung Galaxy S6 and Apple iPhone 6 both have glass fronts, a physical home button below the screen and metal around the sides. They have LTE radios and are technically smartphones. And if you happen to look at them from below, they look a little similar from that one angle.
Yes, from below, the Galaxy S6 and iPhone 6 share some serious visual similarities. In that, they're machined out of aluminum and have machined holes for the 3.5mm headphone jack, a center-mounted USB or lightning port, and holes for speaker grilles drilled into the right side. There are even the Apple-style plastic-filled stripes that break it up into visual segments and a color-matched chrome-ringed home button. From the bottom you might think that the Galaxy S6 is another version of the iPhone.
But it's only from that angle. Every other look at the Galaxy S6 reveals a phone that is markedly different from the iPhone 6. And some of the similarities are thanks to those being the most optimal ways to manage this sort of construction. You want a phone that's made out of metal? Well, your speaker grille is going to be a series of circular holes. Want to use that metal frame as an antenna? Alright, you'll need to divide it up with some plastic strips so you can properly manage Wi-Fi, Bluetooth, GPS, and LTE.
Sure, Apple did some of these things before Samsung, and there are some visual comparisons that can be drawn. But there's nothing wrong with admitting that the Galaxy S6 draws some design inspiration from the iPhone 6; the iPhone 6 is an attractively-designed phone and Apple's going to sell well over 100 million of them once all is said and done. That Samsung's new flagship smartphone also looks smartly-designed isn't the worst thing in the world. Because that means it also looks like a nice phone.
That was a lot of words about the bottom half-inch of these two phones. From every other angle, they're different. The back of the Galaxy S6 is glass — and before you say "iPhone 4!", know that it's flush with the metal frame (which on the 4 was stainless steel, for what it's worth). The center-aligned camera is traditional for Samsung, and sure, like the iPhone 6 it juts out thanks to the phone's thin profile, though in this case it juts out more, and the Galaxy S4 was doing that first anyway.
Internals-wise we're looking at very different phones. Whereas the iPhone 6 has a dual-core 64-bit Apple A8 processor, the Galaxy S6 is powered by Samsung's octacore Exynos processor (also 64-bit, though with four cores running at 2.1GHz and another four at a milder 1.5GHz). The iPhone 6's 4.7-inch 750x1334 LCD display is utterly shamed by the 5.1-inch 2560x1440 Super AMOLED panel on the Galaxy S6. Yes, the Galaxy S6 is pushing more than 3.6 times the pixels as the iPhone 6, and yet in our time with it we never saw it stutter or otherwise balk at whatever we threw at it. There's an argument to be made that the 326ppi resolution of the iPhone 6 is enough, but there's just something about the 577ppi that the Galaxy S6 sports that is simply stunning.
On the camera front, the iPhone 6 sports an upgraded 8-megapixel shooter with an ƒ/2.2 lens, while the Galaxy S6's sensor counts up to 16MP behind a wider ƒ/1.9 lens, meaning that it lets in significantly more light. There are still some details about the Galaxy S6 camera that we don't know, but the broad strokes are there: this is a very serious contender to the iPhone's mobile camera dominance. Considering that we weren't able to take the Galaxy S6 out of controlled space and lighting area of the Samsung booth inside Fira Barcelona.
Battery-wise, Samsung's jumped onto the sealed battery bandwagon. Going with the glass back kind of necessitated that — you don't want for that to be removable. Samsung did do away with the previous Galaxy's phone's waterproofing, but built in two standards for wireless charging (thus the glass back — a full metal back would block inductive charging transmission). The Galaxy S6's battery has also seen a reduction in size, and we've yet to get a good feel for what kind of battery life we can expect from it in real life.
Then there's the matter of software: the Galaxy S6 runs the very latest Android 5.0.2 Lollipop, while the iPhone runs iOS 8. Naturally, this means that there are serious differences in the way that the software works and the development philosophies behind them.
Apple's software is highly integrated from the start with the hardware and the App Store is tightly controlled, while Samsung's had to make their own integrations from Android to their hardware, and the Google Play Store is comparatively the wild west. There are, of course, apps that slip through the App Store's famously rigorous review process, and Google Play has some restrictions on what can be published and Google works hard to block malicious apps from getting in the store in the first place, and reacts swiftly and prudently when something bad does get through.
We've gone over the software differences here time and time again, and Samsung's latest implementation of their TouchWiz design language on top of Android is leaner and cleaner than ever before. No longer does it weigh on the processor and cause noticeable lag throughout the device, and Samsung's customizations on top of Google's highly-regarded Material Design language for Android have led to a Samsung interface that's finally actually visually-pleasing. In terms of user interface design language, Apple, Samsung, and Google have never been closer, and yet they're still notably different.
There is one software feature that Samsung could be accused of lifting from Apple, and that would be Samsung Pay. In short, we're talking about a contactless payments system that uses stored-on-device credit card numbers, tokenization for secure one-time-use numbers, NFC transmission, and fingerprint authentication (the Galaxy S6's fingerprint scanner is larger this time around for an Apple-style "lay your thumb on it" approach instead of the previous frustrating swiping authentication).
But Samsung does Apple one better by integrating Magnetic Secure Transmission technology (acquired wholly with the acquisition of LoopPay) that makes the phone compatible with hundreds of millions of magnetic swipe card readers around the world. At least in theory — there are always complications, including store clerks that will think you're working some sort of voodoo by paying with your phone. Even if we want to accuse Samsung of copying the simplicity of Apple's mobile payments system (Apple was far from the first to implement contactless mobile payments, but their implementation was as elegant and straightforward as we would expect from them). In the end, in this sort of emerging technology system, the more adoption and push behind it, the merrier — any NFC-capable payment terminal should be fully compatible with both Apple Pay, Samsung Pay, Google Wallet, and whatever else gets out there.
There are comparisons to be drawn between the Apple iPhone 6 and the Samsung Galaxy S6. There are good reasons to make those comparisons, and there are good reasons why the similarities that have prompted these comparisons make sense. Of course, we won't be able to draw any definitive judgements until we've been able to have the Galaxy S6 for an extended period and really been able to get our hands and heads around it.
After a mildly disappointing generation in the Galaxy S5, Samsung has taken practically every criticism of their marketing, their software, their hardware, and even their presentation to heart. They've turned around and made a phone that's technically impressive (which the Galaxy line has always been) as well as a real crowd-pleaser on the design front. They've produced a phone here that stands toe-to-toe with the iPhone, and that's not a bad thing at all.
Get the Android Central Newsletter
Instant access to breaking news, the hottest reviews, great deals and helpful tips.
Derek Kessler is Special Projects Manager for Mobile Nations. He's been writing about tech since 2009, has far more phones than is considered humane, still carries a torch for Palm (the old one), and got a Tesla because it was the biggest gadget he could find. You can follow him on Twitter at @derekakessler.