Manually install Android 4.3 on your HTC EVO 4G LTE with HTC's blessing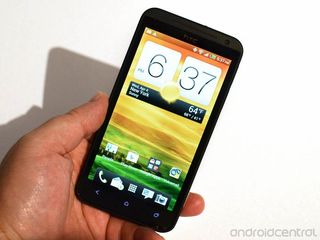 ROM Update Utility public download link now available
While HTC originally said they were going to do a user-trial of the 4.3 update for the HTC EVO 4G LTE, VP Martin Fichter has since let loose the official download link on Twitter so everyone can give it a try.
The link will download a 866MB executable that will get your EVO 4G LTE up to version 4.3, with Sense 5. A few things you will need to know about the process:
The program needs run on a Windows computer while your phone is connected via the USB cable
All your internal storage will be wiped
There is currently no path back to what you're running now
This will be the only method to update your EVO 4G LTE to Android 4.3 and Sense 5
Fichter said on Twitter than "hundreds of people" have already done the deed, and apparently they feel it's bug-free enough to send it out into the wild Internet.
If you have any questions about the process or the requirements, the forums are your best place to find answers. Good luck, and enjoy the fresh new Jelly Beans!
Senior Editor — Google Ecosystem
Jerry is an amateur woodworker and struggling shade tree mechanic. There's nothing he can't take apart, but many things he can't reassemble. You'll find him writing and speaking his loud opinion on Android Central and occasionally on Twitter.
Outstanding! Just like the old days with the Mogul. Plug it in, back up your shit twice and run the RUU. Kinda miss those days. Kudos again to HTC. Posted via Android Central App

Glad I chose the GS3 over the Evo. I liked my Evo 3D, just not enough to deal with these types of problems. Posted from my "KNOX-FREE" 4.3 Sprint GS3 Maxx...!!!
(ZeroLemon 7000mA battery and ZeroShock Case)

Same with me and the One X...even though that only made it to 4.2.2....the S III is getting KitKat Posted via Android Central App

Not bad...not the easiest way to update, but at least HTC is making it possible. Nexus 5...enough said

If you do this, make sure you do NOT have HTC Sync installed on the Windows machine. At all. Skipping that step will cause the fastboot instance packaged with the RUU to crash post-partitioning, resulting in a forever-booting device. If you fall into that scenario, reset and hold volume down to enter the bootloader and manually enter fastboot mode in order for the package to properly connect to your device again. This RUU rewrites partition data, so you will also lose custom recovery, if you've installed one.

I'm glad I didn't have to go through that. I had HTC Sync already installed and didn't have any issues whatsoever. Guess I was one of the lucky ones. Posted from the EVO Lte via Android Central App :)

I actually don't want the custom recovery I have, and want to sell the phone after this update. Sounds perfect.

Loving the customer focus coming from HTC lately! Makes me wish I held out for an M8 instead of this Note 3 :p Posted from my TARDIS!

Sideload -- literally. It comes in through the USB port on the side. LOL

Well, better late than never, depending how much I like Sense 5, it may sway me to upgrade to the new HTC One-Two *punch, or if I should go the Samsung route. either way, I'm getting my new phone next month.

Dang, I don't know anyone with a Windows computer.

So true....haha Posted via Android Central App

I'm really impressed with what HTC is doing to restore market faith in its brand lately. Granted, a lot of these steps seem geared towards power users (what layman is going to go to the trouble of side loading an update?) but it's still good publicity and it creates a positive buzz around their brand. After all, I am the one who my parents and close friends come to when they want to know what phone they should buy.

Any chance this will come to the One X? Posted via Android Central App

nope, they said no. Blamed it on Nvidia...

They said the HTC One xl or us and Canadian version will possibly KitKat but the tegra version would remain on 4.2.2 Posted via Android Central App

They area currently exploring options for the One X. The One X+ will not get it at all. Last I heard. Posted via Android Central App

No love for the Thunderbolt?

lol...that would be such a mutt on 4.3

The Thunderbolt?? O_o
Dude get a new phone. Lol

Make sure that you have everything you can backed up to Google. Contacts, pictures, etc. RUU is a pretty straightforward process and it is good to see HTC keeping a phone alive.

hey nonexus weren't you just bashing htc (again) over on the other thread because of their lack of support to the evo? :-)

nope, I heard nothing about the Evo, so I wouldnt. I was talking about the One X. And I don't bash HTC. There are some things I do not like about their phones, the metal body for one, but the One is a good overall phone.

FYI: There are a few reports that data roaming and live wallpapers are broken in this update.

live wallpapers worked fine for me....Ive seen the reports of DATA roaming issues but theyve seemed settings based and easily fixable

Indeed, voice roaming works, but data roaming does not. And even after the 2nd RUU was released, three of the live wallpapers do not load. Wallpapers are not that big a deal. Data roaming is. Maybe that part can be fixed with an OTA update, now that the partition is not split in two. Overall, a tremendous improvement. But I will switch to the ONE Plus (2) if the data roaming is not fixed. Must say that Mo Versi and Jason Mackenzie at HTC have been outstanding with getting this out to us beginning 11 days ago, even answering tweets.

Not to be that guy but there's an error on the second to last sentence. Shouldn't "than" after "Fichter said on Twitter" be "that"?

do you need a windows 7 computer or will this work on a windows 8

It's something! Posted via Android Central App

this update bricked my phone, stuck on the HTC screen after following what it told me to do, so this is my last HTC crap

Did you uninstall HTC sync manager which others mentioned? There is a comment above that describes how to fix this problem.

I'm also getting an error 170,171 message while stuck at "waiting for bootloader.." I've uninstalled HTC sync as directed, but nothing seems to work.

The download, set up, and install all went like butter for me with no glitches or data loss. I'm very happy how it went. Posted via Android Central App

How did you not get data loss? it wipes the phone... unless your data is on a sd card.

I recommend running the RUU on Windows 7 pc's. Windows 8/8.1 doesn't always play nice when booted into fastboot with older devices.

cant it be run in compatibility mode? Really just asking. If so I would run it in XP

Nice Rom got it last night works like it would on the HTC One lovin sense 5! Posted via Android Central App

After several hours of running into issues on my windows 8.1 laptop and windows 7 I finally got it to work on my gfs phone. It's so much better than 4.1.1! Had to really work to get it to install bc of several issues but once I did it's like a new phone. Glad they took the time to do this and didn't just blow it off since the ota wouldn't work.

Ok I'm a NOOB on doing this kind of thing, and I'm faint of heart to brick my phone. Can anyone chime in with a guide on how to do this? How do the Android Central kings feel about this whole thing? Can we, should we??? What happens if I do botch it up and brick?

This is what worked for me. I have a Windows 7 64bit PC. I downloaded the file, connected my phone to the pc through USB, enabled "USB debugging" in "developer options (at first it kept saying that it couldn't connect to the phone). Follow the prompts, there are two checkboxes that warn you that data will be wiped. It took about 15 minutes, most of which it looks like nothing is happening. Once it's done, the phone stays off. I had to press the power button to turn it on, then set the phone up like it's a new device (enter all my passwords for linked accounts). It remember what applications I had, so that took a while to download all the apps. It even kept my wallpaper.... though, I lost all my custom rigntones.

I tried it and bricked my phone. I am a noob to these kinds of things. Running Windows 8.1, no HTC Sync Manager. Well, I did uninstall Sync Manager after my phone got bricked. So what can I do to fix this??

Im running it on my EVO and it runs a lot better than previous versions. Seems not to run out of available ram and reset close apps as much as it did before. Gonna try maybe a 5.5 sense rom to see if I like that as well. Only issue Ive encountered is the signal is less than it was before, and I get this odd no data thing every once in a while. Hope its radio related or something easy to fix via ota.

I keep getting USB connection error. My USB is plugged in and my ultrabook can recognize it. Why isn't it working???

Has anyone successfully re-rooted their phone after the update? If so, which method did you use?

i tried to update but no luck keep getting 701/700 error dose it have to be an htc usb cable?

DELETE THIS ARTICLE - OR UPDATE THE LINK TO THE SOFTWARE UPDATE.
AN ARTICLE ABOUT A DEFUNCT AND UNOBTAINABLE UPDATE IS OF NO USE TO ANYONE!

There is a link that works on the twitter conversation. Look for a reply by Mo Versi in the twitter post that had to original link in it with the date Oct. 8
Android Central Newsletter
Thank you for signing up to Android Central. You will receive a verification email shortly.
There was a problem. Please refresh the page and try again.