Instagram Direct disappearing messages work exactly like Snapchat's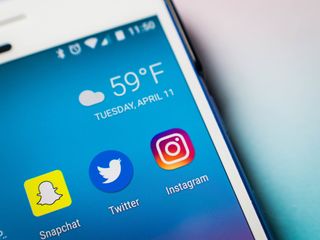 It appears Facebook's Instagram will stop at nothing until it's fully bumped out Snapchat in the social media wars. At least, that's sure what it seems like with all the Snapchat-like copycat features.
Instagram is rolling out new Direct messaging features to both Android and iOS devices. These new features employ the same disappearing photo and video mechanism that Snapchat became famous for. You can tap to view the disappearing content in the same message thread where you've already been chatting with your friends, and like Snapchat, you can only replay the messages one other time. The sender on the other end will know if you've viewed, replayed, or taken a screenshot of the message.
Snapchat ostensibly works the same. You can send direct Snaps to your pals or to a favorite group of pals, in the same chat window where you've been chatting it up already. You can see when each pal opens a message or screenshots it. You can also choose whether to post a recorded Snap to your story or as a direct message — the same way you can with Instagram Direct.
Instagram cites the reasoning for these Snapchat-like features are due to the vast increase in the number of people using its direct messages. "Since our last update in November 2016, the number of people using Direct has grown from 300 million to 375 million," wrote Instagram. "We want to make Direct the best place to have fun, visual conversations with your friends."
Instagram Direct (left) versus Snapchat's direct messages (right).
Indeed, Instagram is fast becoming the "best place to have fun." Months ago, analytics providers confirmed to TechCrunch about the rapid increase in Instagram Stories users after its debut last summer. And earlier, CNBC reported that Snap's shares had dipped after news of Instagram's Direct disappearing messages hit the airwaves.
Will Instagram ever offer augmented reality face filtering effects for Stories? That's the one feature Snapchat can still leverage in the social media wars, especially since it actually owns the patent on that particular facial recognition technology. But with smartphone makers like Samsung already bundling these sorts of features into the native camera app, and now Facebook entering the story-making game, Snapchat seriously needs to consider looking for other ways to stay relevant in this ever-evolving social media landscape.
Sign up for Black Friday email alerts!
Get the hottest deals available in your inbox plus news, reviews, opinion, analysis and more from the Android Central team.
Florence Ion was formerly an editor and columnist at Android Central. She writes about Android-powered devices of all types and explores their usefulness in her everyday life. You can follow her on Twitter or watch her Tuesday nights on All About Android.