India's $3.60 smartphone is now official: 4-inch qHD display, 1GB RAM, and Android 5.1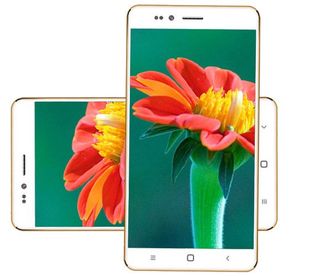 India's Ringing Bells has unveiled its latest smartphone, the Freedom 251. As the name suggests, the phone is set to retail in the country for ₹251, which comes out to the equivalent of $3.60. For that price, you're getting a phone with a 4-inch qHD (960 x 540) display, 1.3GHz quad-core CPU, 1GB of RAM, 8GB internal memory, microSD slot, 3.2MP camera, 0.3MP front shooter, 3G connectivity, WiFi 802.11 b/g/n, Bluetooth, GPS, and a 1450mAh battery. On the software front, you'll get Android 5.1 Lollipop.
It is remarkable how low the phone is priced, considering that it offers fairly decent specs. The cost of manufacturing is likely subsidized, as the phone is being offered with support from the Indian government. The Freedom 251 also comes with a one-year warranty, and the vendor has over 650 service centers across the country should you run into any issues. If you're interested, Ringing Bells is kicking off registrations starting tomorrow, Feb. 18, on its official website.
Harish Jonnalagadda is a Senior Editor overseeing Asia at Android Central. He leads the site's coverage of Chinese phone brands, contributing to reviews, features, and buying guides. He also writes about storage servers, audio products, and the semiconductor industry. Contact him on Twitter at @chunkynerd.
How can it be so cheap? How much does it cost to make the phone? Posted via the Android Central App

The cost is obviously being subsidized.
Also, these flash sales occur in some countries with a very limited stock as a type of promotion to generate hype. India is one such country. Looks like many of the components were going to be trashed, and were donated or written off as a loss by the chip/screen/camera manufacturers. Also, the vast majority of the one billion living Indians are far from wealthy. Whoever put this program together (probably Google), major Kudos. Many impoverished multi-person households can finally afford their first computing devices. Next up: Birth Control.

Big +1 Posted via the Android Central App

Google didn't put this program together Posted via the Android Central App

Components to be trashed? From where did u get that idea? Posted via the Android Central App

4" displays, 3G cellular radios, 3.2 MP cameras. Richard Dean Anderson might be able to build a rudimentary telegraph with those parts. Or maybe a Stargate?

The phone costs 3.60$. There is nothing to complain about. Posted via the Android Central App

Notwithstanding the Stupidity, if u look back, u may also have used phones with such configuration in the past... This phone caters to a different market and not the ones who pays double the price for coffee Posted via the Android Central App

Most of India especially Hindus have a below replacement birth rate. Muslims are growing, or are you just mad that the white race was 40% of the globe only a century ago. Understandable for a closeted racist like you, also India's physiological population density is quite low, considering it has lots of fertile land.

was in response to the idiot, who said we need birth control. We've had family planning since the 60s, meaning before the usa...

But Indians are like, terrorists right!? #Trump/Kanye 2016 /s

U guys are worldwide terrorists not the Indians??..

Hahaha good joke....we (INDIANS) don't do gun fights in schools...unlike your country.

You are confusing Indians with Pakistan or Saudi Arabia.....go get a geography lesson...or maybe read a little bit of history. That will do you a world of good.

@Surmisation; Grow up. There are more cell phone users in India than in USA. Moreover, there are more IT professional in India than USA. One Indian company is making computer chips which is going in almost 80 to 90% of cell phones worldwide. I can not even afford a 2-bedroom apartment in Delhi to buy. The rent is so high and I am sure you will not be able to afford either.. Some 115,000 Indians come to USA to study every year and pay tuition fee is which is 3 times higher than my children pay to study in college. Cost of iPhone 6 is about $750, but actual cost of manufacturing is perhaps between 10 and 20 dollars. If India is manufacturing and then selling for $3.60 (of course it is somewhat subsidized), that shows that US companies make huge profits. Chinese are selling their cell phone with 2 chips (one for USA and one for Asia) for under 60 dollars. So why India can not sell their phone at $3.60. They don't use recycled components. They are getting a lot of parts from Europe, but will make parts in India soon. That will cut down cost.

I know Apple has crazy margins but manufacturing of an iPhone 6 is definitely not "between 10 and 20 dollars".

It's estimated that the iPhone costs $236 to make. $10-$20 is ridiculous. You can't make an entire phone for that low of a price, with or without subsidies.

Aleast first it was a knockoff of another phone

Most top end phones cost around 100 bucks or less to build. Yet people spend 700 or more to buy them. Not sure the company building this one will lose out. Posted via the Android Central App

Name one? IPhone costs around $220 in parts I believe, Samsung phones gotta be around that or more so I'm calling b.s. on that $100 figure. Posted via the Android Central App

I always believe everything I read on The Interwebs comments sections. Always.
All comments are always screened for accuracy and are never posted until fact checked by The Center for True Facts. Obviously.

Yup cause I forgot that only apple and Samsung makes high end phones. Crazy me. Posted via the Android Central App

so other flagships made by companies, without near the buying power, are able to build their near identical phones for half the price?

That's not what I was insinuating, just two examples. They probably came to mind because they are the two biggest and I've actually seen figures for them. Geez... Posted via the Android Central App

Even without advertising costs that figure is way out, factor in costs for parts, transportation, R&D. Etc.. You probably looking closer to 300 dollars. Posted via the Android Central App

In an interview with IBNLive, Ringing Bells president Ashok Chadha demystifies how his company seeks to achieve this seemingly unachievable feat of selling a phone at a mere Rs 251.
"We put in a lot of research and a lot of thought," says Chadha." Agreeing to our calculations on the component pricing, Chadha says that the general assumption would be to sell such a phone at Rs 2,300 or Rs 2,500. The idea of selling the phone at Rs 251 came to Chadha and his colleague Mohit Goel, a director at Ringing Bells, on a midnight stop at dhaba on the highway to Jhansi.
With the goal of achieving the Rs 251 goal, Chadha and Goel went back to the drawing board and calculated that they could bring the price down to Rs 800.
Chadha says the company will pass on the 13.8 per cent duty protection (around Rs 450-Rs 470) for Make in India to the customer. And they will be saving an additional Rs 530 from the economies of scale (given that the company plans to mass produce the phone) which theoretically will bring down the costs. Another Rs 460 is said to be saved from marketing and selling costs (given that the company is largely opting for online sales).
This still leaves a wide gap between the Rs 251 price tag and the costs, that according to his calculations, is Rs 800. "I am selling at Rs 251. So I have to cover Rs 550," says Chadha.
Ashok ChadhaRinging Bells president Ashok Chadha speaking to IBNLive (Photo: Archit Sinha/IBNLive)
This balance, according to Chadha, will be recovered by the earnings from a marketplace that the company will be setting up. "So here is my marketplace, you want to sell something, come to me, pay me a revenue for it, and I will pass the revenue on to my customer," he says. That's how, according to the company, the Freedom 251 can sell for Rs 251.
He says, the company isn't in the business for huge profits, but will manage profitability with the "reasonable margins and that structure allows us."

For that price I would love to buy 10 of these now. Any chance to get them in Europe?? Posted via the Android Central App

Probably not. But hey, you can buy a moto e! Posted via the Android Central App

3.2 MP camera and 0.3 MP front shooter... So everything is going to look like a potato Posted via the Android Central App

Well it's cheaper than a bag of potatoes, so.... Posted via the Android Central App

I'll have have potatoes to eat Posted via the Android Central App on my Frost Nexus 6P

You are complaining about camera specs on a $4 phone...

No kidding. People pay more than that for a cup of coffee every day.

1st world problems, eh? Posted via the Android Central App

I rather buy a bag of frozen tater tots. Google Nexus 6P

How good a photo does your Starbucks coffee take?

3.2 MP is enough for a 5×7 print. Posted via the Android Central App

What and piece of rubbish. Has just took mobile back 7years Posted via the Android Central App

What an ignorant you are, this phone will bring India 5 years ahead since most phones in India can only be bought off contract and they are not cheap. 251 rupee for a phone is an average daily wage in India (baring in mind that average means most could earn much less and few could earn significantly more rising the average as a result).
But you feel free to be an ignorant

Considering I'm pretty sure you're not Indian not sure how you can possibly understand that.

Tell me a phone that's better in every way that costs less than $4. *insert massive facepalm here*

Cool. For 4 dollars might as well buy it if you live in India if you could afford it. It's just buying it outright correct? No contract and no hassle? Posted via the Android Central App on my Frost Nexus 6P

Yep. No carrier subsidies here.

This can be a brilliant downloading device.

Seems like a pretty good and stylish burner phone.

Wish they had priced it at around $6 and made the screen a little bigger, anyway at this price, its a great phone... Posted via the Android Central App

That's very awesome , one day India will made a awesome cell phone...And we all waiting.. ~Android Central App

I'd recommend you checking out a phone called Yu Yutopia. A phone with specs slightly better than the Oneplus 2 and priced around the same.

Hi, most of other websites informed GPS is not there. Please recheck it

Huh. I distinctly saw that mentioned. Will get one as soon as it goes on sale to see what it's like.

Definitely gonna buy this!

Think I'll wait a couple of months until the price comes down a bit. Posted via the Android Central App

Like a dime or so....??? Posted via the Android Central App

LOL! Posted via the Android Central App

That IS really cheap! And it's actually a fairly decent phone considering the price. Obviously, we won't see it Stateside because the phone is designed for the Indian market, but damn. $3.60 does get you a lot, though manufacturing is subsidized.

That's awesome. Gives the opportunity for those in the lower socioeconomic groups a chance to have a mobile phone and internet access. Who knows, this could be a person's only tech device, so having something that can communicate with family members, do work on and browse the web could open great opportunities for communities.

Plus it gives them to experience A GOOGLE OS and have even more advantages such as customisability than the richer people who buy the overpriced iPhones.

but the trouble is, internet costs more than the phone itself.

Holy Carp on a Stick.
Over to you Apple and Samsung.
I'm moving to India!

U're most welcome.... Hehehehehe Posted via the Android Central App

That's crazy, lunch costs more than that! dreaming of electric sheep

Harish, is Ringing Bells a network provider with an exclusive on this?
I'd have to go back to your (?) excellent report on the Indian market to remember the charges over there. *added :
Oops. I see your earlier reply - no carrier subsidies.

It has a capacitive touch screen or resistive!

How many can I import to Texas Lam I Am

Is there an online store? I REALLY WANT THIS AND IM IN AUSTRALIA

THIS IS OVERPRICED LIKE HELL. JUST READING THIS DRAINS MY WALLET. ("A small loan of a million dollars"- Mr. Donald Trump.)

I want just a billion dollars - Kanye West talking to Marc Zuckerberg. Posted via the Android Central App

that's a crazy price even for India, $3.6 ridiculous, you can probably manage a dinner for one in a run down place in this amount

Good for India, but you can occasionally get super cheap phone deals in US - for example on Black Friday Best Buy had Verizon prepaid Moto Es for $10, and those can be easily unlocked to work on GSM networks. So don't get too jealous. Posted via the Android Central App

I assume the people this is targeting don't have WiFi at home and can't afford a monthly smart phone payment. First of all, is that assumption correct? And is free WiFi available in India in places a person can go without having to purchase a $4 coffee?

I think a time will come when phone manufacturers will pay us to grab their phones.. Lol Posted via the Android Central App

Hands on Pix:: https://twitter.com/RajivMakhni
video coming soon. follow this twitter account to know about it.
And please its a sub $4 phone so don't complain about anything.

The most hillarious thing is that they are doing it by conducting a flash sale..registration and all...and the main purpose of the phones is to connect the poor village people to internet. And believe me those people are going to be logged in to the internet for registration and paying online.. wow Posted via the Android Central App

Wonder how private companies feel about this .How can they compete if this is 99% subsidized by the Indian government . Thought India was the biggest democracy .

Are you American? Because I think you might be doing that thing where you get democracy and capitalism mixed up... Posted via the Android Central App

You need to get some education, Democracy and crony capitalism are not related and from where did you pull out that 99% number, I am only reading some small support from the Government.

Gah, at that price we should at least get an HD display and a 13 megapixel camera ran by Android 6.0. Gosh.

Pretty crazy, even with the subsidy. I wonder if battery life will be a problem? And no, I'm not "complaining about the specs of a $4 phone" but as far as I'm aware, the people this is aimed at need decent battery life, and may stick with a standard mobile due to being able to go up to a week without a charge. Posted via the Android Central App

I have bought a no service contract phone in the USA for $8 . granted not the best specs but better than this... Larger HD screen, 16gb internal, 2gb ram, 10 mp camera, nfc, wifi 5ghz... Yeah it costs just more than double
, but imo, you are also getting a lot more. Posted via the Android Central App

I was going to ask what phone, but reading the contract part, eh.
Hell, I'm curious anyway. What phone is it?

It was the Motorola Droid mini. There was no service contract involved Posted via the Android Central App

has anyone seen Kingsman: The Secret Service? samuel l jackson might be behind this!

First beer, now smartphones, what can't Samuel L do?!? Posted via the Android Central App

It's WVGA dinguses. Qhd seriously? Posted via the Android Central App

Not QHD, it's qHD. Apparently there's a difference. It's not quad hd, it's quarter hd.

The specs are close to my Moto G (2014). My phone14 also has 1 GB RAM, 8 GB internal memory, WiFi, Bluetooth, and microSD. The screen size of my phone is larger and it has better cameras but other than that... wow.

Nobody would actually use such a craptastic phone! Even it was free.

Maybe a person who has never had a phone?

A single dinner in a restaurant costs at least around double of the price of this phone... Might as well buy just out of curiosity as to how the quality is.
Even if it's bad, can't complain, as even feature phones are 4 times costlier than this Posted via the Android Central App

Man having used a moto e half of last year I'd give that phone a go. Posted via the Android Central App

To people talking about poor villagers with no net. Um, even bit about monthly payments made me lol. I put 50rs balance in my smartphone & its valid until 2037 no extra charges. Data plans are like 100rs for 1gb 60days 3g.
2g is less, Facebook & Whatsapp don't use data. I know bbc does poverty porn but our per capita income is like 7000usd ppp now. When our troops land on your shores, maybe then you'll remember that we've been the largest economy for most of human history. 1.5x to double China for most of it.

Facebook lite & Whatsapp or Twitter use practically no data. I make calls overseas on Whatsapp & have below 100mb across all three. 300mb is like 30 40rs a month on more expensive carriers. Kids especially will get this As for cost an octa core phone, with 720p screen, 1gb Ram & 13/5mp camera is 4k on flipkart. That's 60us. This phone would probably be 1 2k on open market maybe 800 if they didn't need profit. Government not subsidizing that much. A village with no net can just go to a nearby town & order through someone they know. Hindus are not anti social with no connections lol.

It is a very good initiative. But by looking at the pictures of the device, it's website is misleading. I just wish that the Make my India campaign should have had a much more original approach to the smartphone.
They have just copied and tried to replicate the iPhone which is a bit sad and shows no creativity, an original approach would have proved something better. A new design would also show the creativity and dedication rather than just a mere copy.
I hope apple sues them. Posted via the Android Central App

you ignore the fact that an iphone lookalike is exactly what an average villager wants.

The company has violated Intellectual Property Right (IPR). "Make In India" what a shame! Posted via the Android Central App

Ok, & the British starved 2-450million people over 120 years in India. So what? & Whether a violation has occurred is for a court to decide, although you are entitled to your opinion.

Still better than the iPhone Posted via Galaxy Note 4

This price I unbelievable. Wow. Posted via the Android Central App

This is not the first time, India has produced cheap gadgets. A few years ago, they produced gadget similar to iPad for only 60 dollars. Cost of producing smart phones is usually less than 10 dollars. iPhone costs $750. now you can imagine how much profit they make. Of course, they have more features and they keep very good control of what you do on phone and also if the phone is broken and recycled, they sent to a very closely guarded recycling facility so that the components are not recycled. But for most persons, that is least concern. Chinese are marketing smart phones with dual chips (one for USA and the other for use in Asia) for less than 60 dollars. This is a reality.

Wow, a phone I can buy from the dollar store!

still better than the aijphoney ...

Take this phone in loot and give them to the orphan kids, And ruin their life! Posted via the Android Central App

Has anyone bought this yet? Posted via the Android Central App

I got it in my cart but I don't have a pin code Posted via the Android Central App

This is backed by Indian government who wants cheap attention. The actual cost of materials of this phone is 42$, minus all manufacturing cost etc.

Probably not $42 as the G'Hong V12 with 5" screen with same specs except better cameras is only 3100 on flipkart that's 45 usd. I doubt margins are that slim on it but who knows. It's not cheap attention if it's beneficial to public, I guess you don't want dirty Indians especially savage heathens ascending to global power again. ;) :/ It's ok, not your fault you were raised this way! Jai Hind.

So the site has been hit by 600,000 clicks per second and now down!! Whaaaaaaa...?? Just 600,000 in a population of 1.5 bill! Posted via the Android Central App

Can anybody purchase this phone Posted via the Android Central App

I attempted to get one and it said delivery takes 4 months. Seriously?!

The actual phone looks NOTHING like the image above......

Price is one cup coffee. How it made possible? Still the fact as Advt. Huge mass production with nill or low margin n with PM's make in India world's cooperation be possible. Hope for the success. By 1 Rs profit 130 crores population, 130 crore profit is received. Let's see India with Android phone.
Thanks
Rajesh Panchal
Android Central Newsletter
Thank you for signing up to Android Central. You will receive a verification email shortly.
There was a problem. Please refresh the page and try again.