Imo messenger adds 'People Near Me' feature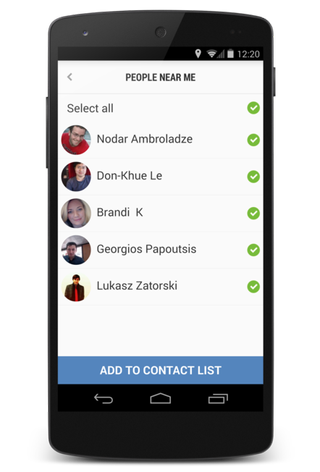 Popular messaging service Imo added a new feature today that helps friends meet up. The feature is called "People Near Me," and while the idea may not be new to the group messaging space its an important addition to a popular app. When you open the People Near Me page, you'll see other users with the app open to that page in a specific (although unknown) radius based on your GPS location.
The feature will show profiles of nearby friends, but also of nearby users that are not in your contacts list. Imo is positioning this more towards befriending people who you've met in person and just want to swap contact info, say at a concert or social event, but you could theoretically add friends and start chatting with complete strangers, if you both wish to do so. It's an interesting way to swap contact data considering the other options like using NFC, Bluetooth or something like Bump, but the end result should be about the same.
You can grab an update to Imo at the Play Store link above.
Andrew was an Executive Editor, U.S. at Android Central between 2012 and 2020.
sounds scary. like there's people near me, never met em, but hey let's chat.

Another stalker app. LOL I guess I'm old fashioned but I prefer to have my stalkers have NSA clearance.

The ability to add people that are not in your contact list sounds ok, since it enables you to make potential new friends. But, I can't see any option to look for people that are not in my contact list?
Can someone tell me how to do this? Posted via Android Central App, using my LG Nexus 4.

You can search everyone on imo by selecting the search people option on the messaging tab. The People Near Me feature is located in the navigation menu and will find people within a certain radius of you who are also using the feature at the same time. If you need anything else, feel free to email feedback@imo.im. Thanks! =)

Hi Posted via the Android Central App

Bah.. Nobody near me. Typical :p Posted via Android Central App

dropped imo when they added all the "social" junk to their app back when hangouts was still talk.

I loved IMO before all the social stuff. Posted via Android Central App using an LG G2.

There is this app called Wechat that possess this feature long time ago Posted via Android Central App

Sounds like Badoo. Which is used for one reason Posted via Android Central App

This feature is fascinating from a technical standpoint, but it's one that should have remained on the drawing board. In the hands of an unscrupulous user the potential for abuse and the possible consequences of that abuse far outweigh any potential benefit.

Hi friend Posted via the Android Central App

Am an Honest and add working man
Android Central Newsletter
Thank you for signing up to Android Central. You will receive a verification email shortly.
There was a problem. Please refresh the page and try again.