If the OnePlus 9T actually exists, here's what I want to see from it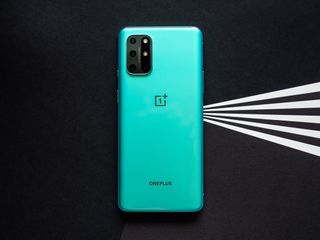 (Image credit: Apoorva Bhardwaj / Android Central)
The OnePlus "T" series has been around since 2016, starting as a way to refresh the hardware in the OnePlus 3T and remain competitive in a cut-throat high-end market. As OnePlus has evolved over the years, so too has its approach to T-series phones. The OnePlus 5T arrived just in time to showcase the new 18:9 displays of the time. The 6T was effectively a bigger, speccier OnePlus 6. And most recently, the 7T and 8T presented lean and mean alternatives to the expensive "Pro" handsets of 2019 and 2020.
This year, though, it's unclear whether there will be a OnePlus 9T. Recent rumors point to the 9T possibly being discontinued, but that isn't necessarily the same as OnePlus not releasing another high-end phone in the usual mid-October slot. The past year has seen major changes at OnePlus as it expands its product portfolio and openly flaunts its previously hushed relationship with its parent brand, Oppo.
The breadth of OnePlus's phone line-up — led by the OnePlus 9, 9 Pro, and most recently the Nord 2 — makes fitting in a natural successor to the 8T difficult. The regular OnePlus 9 is a very well-balanced handset around the $600 mark. And some markets like India also have the OnePlus 9R, which further complicates things for a potential new entrant in the T series.
So what if the OnePlus 9T, or whatever OnePlus might call a possible late-2021 model, isn't a follow-up to the 8T? What if OnePlus revisits the approach of earlier models like the OnePlus 5T and 6T, building on the foundations of the flagship model launched earlier in the year?
What we're talking about here wouldn't necessarily just be a refreshed OnePlus 9 Pro. That kind of device wouldn't make much sense considering how competitive the 9 Pro still is in its price segment, especially in Europe and Asia. To understand what a high-end, late-2021 phone from OnePlus might look like, it's worth considering the OnePlus and Oppo product lines as a whole. OnePlus is now officially an Oppo sub-brand, after all.
The thing missing from the combined OnePlus-Oppo lineup is a product to sit above the OnePlus 9 Pro — a competitor to the Xiaomi Mi 11 Ultra or Samsung Galaxy S21 Ultra. This kind of halo device might not launch in every territory with a OnePlus presence, but it would be a powerful statement of intent.
Whether branded as a OnePlus 9T or a OnePlus 9 Ultra, the new device could serve a similar purpose to the "Ultra" phones from OnePlus and Oppo's major rivals. There are a few obvious areas in which a super-sized OnePlus phone could improve upon the 9 Pro. Telephoto camera and selfie quality, for instance, fall short of what's offered by Samsung. And the same ho-hum battery life that ultimately put OnePlus in hot water over app throttling could be addressed in a larger "Ultra"-sized 9T with a larger cell. With the right hardware choices, such a device could be one of the best Android phones.
Of all the brands under the BBK Electronics umbrella, OnePlus is the one that makes the most sense to field an "Ultra" competitor. Its phones have always used the latest high-end Snapdragons, and the brand has been on a trajectory towards the tip-top of the high-end market for the past several years. The OnePlus 9 Pro already surpasses its Oppo counterpart in many key technical areas. The ongoing partnership with Hasselblad positions OnePlus, not Oppo, as the brand most likely to showcase the latest in smartphone imaging.
It's tough to say for sure how OnePlus will close out its 2021 smartphone line-up, or whether the most likely possibility is no OnePlus 9T or our speculative "OnePlus 9 Ultra" model. The company certainly has released stranger devices over the years, and the current OnePlus is better positioned than ever to tackle this super-high-end segment.
Get the Android Central Newsletter
Instant access to breaking news, the hottest reviews, great deals and helpful tips.
Alex was with Android Central for over a decade, producing written and video content for the site, and served as global Executive Editor from 2016 to 2022.
OnePlus lost all my respect when app throttle gate surfaced. Literally couldn't believe they would think it was a good idea and speaks volumes about what they are willing to do behind your back.

Yeah I totally agree. I can't wait to trade this op9p for the Google pixel 6 pro

This is a horrible idea! That would mean they would have to make it an even higher price than the Pro model they have out. I love my 9, and even though there some things I'd like them to fix, I'd rather them release NO model and focus on the 10. Make it a much better product and at a more competitive price. Stop asking for things, only to either criticize the hell out of it or complain it costs too much.

OnePlus really do need to focus on the user experience again and regaining trust. They have been steadily increasing in mind share and sales so they are doing something right. But this year I don't see anything they can tout to differentiate themselves for hardware (against Samsung) or software (against Google) or price. We need them as competition and innovators in the US market.