Hyundai releases Android Auto update files for more vehicles so you can install it yourself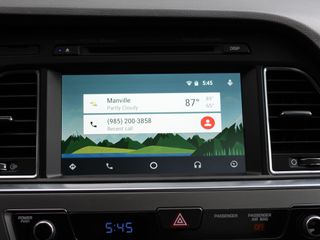 Hyundai is making it even easier to get Android Auto on your compatible vehicle by posting the necessary files online for you to download. That's right, if you own one of the vehicles on the list, you can now download the update from Hyundai, put it on your car's SD card and install it yourself. Previously, you had to take your vehicle to the dealer, which could have resulted in some extra fees as well.
From the company's announcement the following models are eligible for the at home upgrade:
2015 Sonata with Navigation
2016 Sonata with the seven-inch touchscreen display and eight-inch Navigation
2015 Genesis with the eight-inch touchscreen Navigation system with rearview camera
2016 Genesis with the eight-inch touchscreen Navigation system with rearview camera
2016 Elantra GT with Navigation
2016 Tucson with Navigation
2017 Santa Fe with the seven-inch touchscreen display and eight-inch Navigation
2017 Santa Fe Sport with the seven-inch touchscreen display and eight-inch Navigation
The update is pretty easy to do but it can take some time. From start to finish, on a strong internet connection, you are looking at anywhere from 45 minutes to nearly 4 hours for the complete process.
Wondering what other vehicles have Android Auto? Don't worry, we've got a comprehensive list that can help you see all of the ways to get Android Auto right now.
Jared started off writing about mobile phones back when BlackBerry ruled the market, and Windows Mobile was kinda cool. Now, with a family, mortgage and other responsibilities he has no choice but to look for the best deals, and he's here to share them with you.
Good time to buy my Genesis Posted via the Android Central App

Really loving the new 2016 model. Wish it was in my price range. Will see how well it holds up and consider it in 5 years.

Nice one!!! I just hope this doesn't backfire and they end up getting a lot of service calls because 'halp! I brokened my cars!'
Wish Mazda would update their system :(

So true, people can be idiots. Posted via the Android Central App

Hyundai Owners have been able to install Android Auto on their own for months. I'm not sure why this is being reported as "new" news. I installed AA on my 2015 Sonata back in January via a USB stick. Hyundai published an update tool to the Hyundai USA website that owners could download and use to install their software to a USB stick.

This comes with an updated version of navigation and more. It is done through the SD slot in the navigation, not through a thumb drive. Also, it is available for more vehicles.

That's true, and the update coincides with the release of Apple CarPlay. However, the first paragraph of the story asserts that previously owners had to take their vehicles in to the dealer to install Android Auto. That is not correct.

At the very beginning, yes you did have to. Then they released files for some cars but not all the supported models. I have spoke with Hyundai about it.

When I bought my 15 Sonata a year ago the service department manager couldn't even tell me when Android Auto would be released. Checked the site, put it on a USB stick, and an hour later of sitting in my running car found out it was already pre-installed. This was July 2015.

Hi, Can you please send me the software or link. I am struggling to get the software. Due to some blue link error / my vin number error I am not able to get the software.

Awesome news. I would love to see Honda follow suit but they are being very adamant about not releasing any updates to existing models. So I have a 2015 CR-V with an 8" touchscreen that has zero compatibility with Android. Not even their HondaLink apps which they released for iOS only. Only thing I can do is stream media over Bluetooth. It's quite a shame since one of the reasons I purchased it was that Honda was previously "unofficially" stating they had intentions of releasing Android Auto / CarPlay updates for compatible models post-release but have since gone in the other direction.

I'm in the same boat with my 2016 CR-V. They said they can't update the systems due to the hardware required. I find that harder and harder to believe the more other manufacturers update their older models. Eventually I might just get a aftermarket system for it. I'll hold off hope for another year at least though.

I wonder if this is specific to Hyundai or if any car with Android Auto could do it.

Good to see Hyundai is really getting behind Android auto, now if they'd just make a car I was interested in lol Maybe the Veloster rally edition

Does not apply to the 2016 Sonata Hybrid with the seven-inch touchscreen display and eight-inch Navigation. Buy the more expensive, better for the environment version and you are at the end of the line.

The 2016 Hyundai Sonta Hybrid is listed. Wish I could get Android Auto for my 13' Veloster with the Navigation package. I wonder what would happen if I tried installing it?? Posted via the Android Central App

It's listed in the article but it is not available for download yet, that will be available at a later time.

I hope subaru does this. They've announced that future starlink head units will have it but if they could release an update for older ones it would be awesome.

I hate that android auto is linked to cars that already have navigation. Why would someone want to pay for indash nav AND android auto - by definition you have google maps ready to go.

I could be way off base, but I think it's ostensibly because AA prefers to use the car's on-board GPS antenna rather than the phone's for maximum accuracy, and no navigation system means no on-board GPS antenna. I'm sure the actual reason is that if they gave you the option to just use Android Auto or CarPlay on any vehicle with a screen, no one would be willing to pay the extra enormous markup that manufacturers charge for the navigation package.

This guy gets it. Also, if you have navigation, it's likely you have the larger screen that'll work better with AA anyway.

The GPS antenna makes sense. I guess my non navigation subaru starlink won't be getting the update. That's too bad.

Well, that's not necessarily true. AA doesn't REQUIRE that the car have an on-board GPS to work. It's just that providing AA/CP to cars that aren't navigation-enabled cuts into the manufacturer's ability to sell customers on a very high-margin feature upgrade for new vehicles. Maybe Subaru will be generous and make an upgrade available, but I wouldn't count on it.

Hoooooooooold up, so this will work on my 2015 Genesis with Ultimate package?!?!?!

Nope its not for the the 2015 Genesis with Ultimate package. :'(

Want this for my 2015 Veloster Turbo :( no love...

I know we need the hackers to get to modding this for cars that normally don't have it. I mean the Veloster system is based on Windows CE so you would think it could be done. Posted via the Android Central App

Before I spend time updating this in my 2015 Sonata again, is there a change list available anywhere? Because last time, I didn't notice any new features or enhancements -- a big waste of my time.

What, no 2015 Kia Optima love?

I'm glad the 2016 Genesis is on the list. I should be getting that car soon and was bummed it wasn't one of the features it has.

I want this for my 2015 charger and 2015 dart. Come on dodge.....get it together!

Is this available in Canada? I'm about to pull the trigger on a 2016 Hyundai Tucson 1.6t Limited, and would really like Android Auto. It's currently not offered on this year/trim, but if this works for it, it will definitely push me over the edge.

For anyone else checking this, it doesn't appear that Hyundai Canada has any intention on back-porting Android Auto to the 2016 Tucson model. A user on the hyundai forums attempted to apply the US update to their Canadian 2016 Tucson, but it would not apply due to incompatibilities. The official word from Hyundai is that Android Auto will never be available to this model :(

This would be so grand on my dad's Nissan Altima....whose factory navigation still drives me up a clock......

Just updated my r spec genesis! Nice! Posted via the Android Central App

Still waiting on Mazda to fulfill its promise to bring AA to their standardized infotainment systems :/ Posted via the Android Central App

Now if only someone were willing to share the downloaded files with us poor people who cannot download themselves from the myHyundai website :(
No one seems willing to host the files on dropbox or uploaded or anywhere :(

Does anyone know if they are coming out with Android Auto for the 2016 Tucson without Navigation?

I believe that your car must have a touchscreen navigation to receive android auto.

Here is the reply I received today from Hyundai Canada.
"Hi Marc, Currently Android Auto is only available on 2017 models. There will be no retrofitting available for prior Canadian Model years." Guess it's time to trade in.
Android Central Newsletter
Get the best of Android Central in in your inbox, every day!
Thank you for signing up to Android Central. You will receive a verification email shortly.
There was a problem. Please refresh the page and try again.