Hublot is launching a Wear OS smartwatch that costs $5,200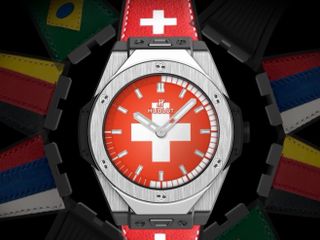 Although the Android Wear name might be dead, Google's Wear OS smartwatch platform is still chugging along mostly as a result of fashion and luxury brands like Kate Spade, Tag Heuer, and others. Hublot is the latest such company to jump into the Wear OS game, and it's doing so with a smartwatch that costs a whopping $5,200.
Hublot is a Swiss watchmaker that's been in business since 1980, and its parent company is LVMH — the same company that owns Tag Heuer. Hublot will only be making 2,018 units of its smartwatch, and should you be one of the lucky few to obtain one, you'll get a watch with a titanium body, six H-shaped screws along the bezel, and a real Kevlar insert. All of this is packed into a 49mm body, and as the name of the watch suggests, it's launching as part of a promotion with this year's World Cup.
All referees during the 2018 World Cup will be given Big Bang Referee 2018 World Cup Russia watches to wear, with Hublot noting that —
Along with this, the watch will also notify wearers of any matches 15 minutes before kickoff, whenever goals are made, player changes, and red/yellow cards. During a match, a special watch face will show the current score, the number of cards/goals, player substitutions, and the match time.
You'll be able to purchase the Big Bang Referee 2018 FIFA World Cup Russia starting May 1, 2018 from Hublot shops, but considering its $5,200 price tag, I imagine this is something that only die-hard FIFA fans and watch-collectors will be genuinely interested in.
While we're on the subject, what's the most you'd ever spend for a smartwatch?
Android Wear needs way more than just a Wear OS rebrand
Android Central Newsletter
Get instant access to breaking news, the hottest reviews, great deals and helpful tips
Joe Maring was a Senior Editor for Android Central between 2017 and 2021. You can reach him on Twitter at @JoeMaring1.
I want 2017 of those watches at that small cost....roflmao

I'm sure Daniel Bader will get one for the team to review.

and it's not even pretty :-)

Goals are scored, not made.

That's the problem with having an article like this written by someone who's used to calling it "soccer" lol.

The fact that it's FIFA not FISA should be a bit of a clue as to what the game is called.

If they knocked five grand off the price, I still wouldn't care. Didn't realise there was a world cup this year, and it's in Russia eh? That could be... awkward.

It's going to be fight city central.

Sounds like it could be fun, you ever been in a street fight, bro?

I'm a lover, not a fighter. But any England fans going should be worried. They will be targeted whether they are there for a scrap or not. And the Russian hooligans are not like the good old pissed up English hooligans. They are trained, tooled up and have a plan.

Even normal England fans will be targeted and any hooligans going looking for a scrap would have to be mad. Many of those Russian hooligans are military and MMA trained fighters. Like you say they're not your ordinary hooligans.

Yes, but the England fans are highly train in plastic bar chair throwing and world beaters in windmilling.

Lol... Thats just stupid. I'll just wait for to clone it and just download it to my moto360.

I get all the football scores and game incidents as they happen on my £90 Asus ZenWatch 2 using the Goal Live app on my phone. £5k saved there thank you
Android Central Newsletter
Get instant access to breaking news, the hottest reviews, great deals and helpful tips
Thank you for signing up to Android Central. You will receive a verification email shortly.
There was a problem. Please refresh the page and try again.