Huawei TalkBand B1 review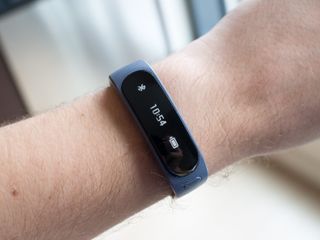 Combining a wearable item that so many people use with a technology fewer people are using every day
Wearables, fitness trackers and smartwatches are all the rage, and Huawei wasn't to be left in the dust when it announced the TalkBand B1. Yes it's a fitness band, with a companion app that tracks your steps, calories and sleep — but one little extra thing the TalkBand does (tipped by its name) is swiftly convert into a Bluetooth headset for talking on your phone.
It's a combination of two different categories — one on the rise in popularity and the other on the decline — that many wouldn't really think of combining into a single device. But when you think about it it does make sense, particularly if you're someone who has the need for regular fitness tracking and longer hands-free calls.
The Huawei TalkBand B1 is a strange mash-up, to be sure, but does it actually work well enough to justify a $129 price? Read along for our full review and find out.
Hardware and comfort
The TalkBand B1 is a relatively unassuming piece of tech, and when it's strapped on your wrist it wouldn't stand out from any other number of fitness bands you see out in the wild today. That is of course if you choose to get one of the sane color options like black or grey (as I have here) — you could choose to go with the super bright sky blue if that's more your thing.
No matter the color you choose the band is a semi-flexible textured rubber affair — a hypoallergenic silicone, in fact — with a more rigid hard plastic portion at the top where the electronics are. The band clips together on the underside of your wrist via a pair of metal pins that stick into holes on the band to make up one of five tightness levels.
There's both a large (160-200mm wrist) and small (135-170mm) size of the band available and the small size really pushed the limits of feeling too tight on my wrist (I'm 6'4" and have pretty average-sized wrists, I'd say) at the largest setting, understanding that for maximum effectiveness the band needs to be tight. But it did fit my wrist, and it's so light and comfortable I had no problem wearing it every day, and even at night (more on this below).
But enough about the band itself — the real smarts of the TalkBand are all contained in a small black plastic module that clips into the top of the band. That module is removed from the band with the push of a button, switching it between use as a fitness tracker and a Bluetooth headset. A single hardware button on the module is your only way it can accept physical user input, be it as a headset or a fitness tracker.
The outside of the module is a 1.4-inch long curved OLED screen with a decidedly basic pixelated display that can show the simplest of information. It isn't a touchscreen, which is probably okay considering its capabilities, but it is very bright and easy to see even at a glance. The backside of the module rounds out nicely with a rubberized portion that rests in your ear for calls, and strategically slides into the band when not in use — there are also extra rubber holder sizes to choose from in the box.
The clasp for holding the headset inside the band is solid, and makes its connection to the band for charging via pogo pins. Because of the clever construction the TalkBand is IP 57 water and dust resistant (in case you need to track your dance moves in the shower), which you would expect in a fitness-focused device. As a piece of hardware the TalkBand feels worthy of the $129 price, though the fact that it has to have the removable headset portion means it's a bit thicker and more rigid than it would be if it were just a fitness tracker — and it'd be that much more comfortable if that was the case.
Software, interface and features
As far as fitness bands go, Huawei has filled the TalkBand with some pretty basic features. Naturally it works as a pedometer to track your steps, as well as distance traveled, calories burned and some basic sleep characteristics. The standard step counting works well and displays your progress relative to your daily goal on the band, though it doesn't give any distinction between walking, jogging and running — nor does it offer location tracking for walks/jogs/runs. Calories burned are estimated based on your activity and information on your height and weight you give it.
So long as you wear it at night, the TalkBand's sleep tracking functions use the available sensors to determine how long through the night you're in "light" or "deep" sleep. The band can also act as a morning alarm, intelligently waking you up via vibration when it senses you're lightly sleeping within a given time frame that you set. The TalkBand is definitely light and comfortable enough to wear during sleep, but I was still sensitive enough to it that I didn't continue sleeping with it after a couple days.
When I did wear it the alarm worked brilliantly and woke me up gently but effectively. The alarm is particularly useful if you don't want to wake anyone else up with a loud alarm, but the sleep data it provided me wasn't very insightful. Simply leaving the TalkBand on my bedside table over night still recorded a couple hours of "deep sleep" all on its own, if that gives you an indication of its accuracy.
Despite all of the available sensors on the TalkBand, the one frustration I have with the interface is that it the screen doesn't turn on to show you the time when you lift your wrist like smartwatches do. I know it's a fitness band and not a watch, but when the main screen of the interface is a clock, I kind of expect it to turn on and show the time so I don't have to reach over and turn it on manually.
Using the TalkBand is a complete no-brainer, as it only has a single button and no touchscreen. Press the button to turn on the display, which shows Bluetooth state, time and battery state (but not %), then press the button additional times to cycle through the rest of the interface. You get steps, then calories burned, then your sleep information. And that's it — there's no further navigating, and all analysis of your fitness data is handled in the companion app.
The Huawei TalkBand app
Data gathered by the TalkBand is synced up to your connected phone over Bluetooth with help from the Huawei TalkBand app (opens in new tab), which is available for both Android and iOS. The app doesn't seem to have any way to auto-sync with the band (likely for battery concerns, I'd guess) but it does sync both when the app is opened and whenever you forcibly refresh it.
The main screen of the app shows last night's sleep data (if any) and your current fitness information in a nice interface. You can then swipe to the right and go back in history day-by-day to see that data, or tap any metric — steps, distance, calories, sleep — to get a breakdown of that metric. You can see nice simple graphs of your steps and sleep patterns through the day, week or month, as well as a daily breakdown.
Beyond that, the app's settings are minimal — you get to enter your personal information, set your daily step goal, turn on/off an activity reminder and set the sleep alarm parameters if you choose to use it. There are no notifications or anything of the sort to bother with.
You're definitely not getting an in-depth analysis and tons of information from the TalkBand app, but then again the band itself isn't giving you the most granular or powerful information to work with. The app is smooth, loads properly, never once crashed on me and lets you get at your data from your phone at any time.
Bluetooth headset quality
While the fitness aspects of the TalkBand may be most of the story here, it's still a Bluetooth headset when you need it to be. The TalkBand automatically turns into a headset and links up with your phone as soon as it's removed from the band, also changing the function of the single hardware button on the module into a talk/end key. There are no dedicated volume keys on the headset, which is a tad annoying but not insurmountable.
Call quality on the headset was spot-on with any other mid-range mono Bluetooth headset, and I was able to take multiple calls without issues of comfort or positioning in my ear. And just as quickly as it transforms into a headset, placing it back in the band perfectly turns it back into a fitness tracker and call audio is no lounger routed to it.
Battery life and charging
Huawei quotes the battery life of the TalkBand at six days of mixed usage, with a max battery of seven hours of straight talk time. That's a good amount for a fitness band, though those who use it regularly for calls and keep it on every night for sleep tracking might find it comes up a little short. I didn't have to charge my TalkBand in the first seven days, for what it's worth.
But when it comes to charging Huawei couldn't have made it any easier. The end of the band has an integrated USB plug on it, so you just pull back the protective rubber casing and slot the end of the band right in your computer or a wall plug. It only takes two hours to charge from dead to full, too, so it's tough to complain about battery life.
The bottom line
If you choose to drop a cool $129 on a TalkBand as a way to track your activity and sleep on a daily basis, you might feel like you're not quite getting your money's worth. At that price it doesn't come out ahead of the other options from Fitbit, Jawbone and Nike, which all offer better tracking, good hardware and powerful apps. Meanwhile, drastically cheaper options like the Xiaomi MiBand are offering up similar tracking as the TalkBand at a fraction of the cost.
But if you're someone who has a regular need for a Bluetooth headset to make calls and just a casual fitness band, this isn't too bad of a prospect at the price. The TalkBand B1 gives you basic fitness data and shows it off in a good app, while also being comfortable and easy to manage — and of course it's a solid wireless headset when you need it as well. Just don't expect the TalkBand to be the best in either category, and you'll get real value out of this convergence device.
Get the Android Central Newsletter
Instant access to breaking news, the hottest reviews, great deals and helpful tips.
Andrew was an Executive Editor, U.S. at Android Central between 2012 and 2020.
Definitely thinking about getting one of these. Not entirely sure yet though. Posted via the Android Central App

So it's a splenda galaxy gear fit Posted via the Android Central App

Does this receive SMS and other notifications from the phone? Posted via the Android Central App

Well my partner was given one and he really likes it....I would like one too but..
No one seems to sell them in 'small', well advising the size at all is a gift on most websites. You need to check the spec to be sure.
I would like the yellow But I can only find Blue, Graphite & Black although the Black looks nice and my partner has a Blue one and it is pleasant.
Huawei Customer Care? Does it exist? I emailed them twice and nothing....and others say response from them is poor ref warranty etc.
The button to pop out the hands free 'module' is in a knock able place so be wary as an expensive mistake

I received a B1 talkband from Huawei and I'm not a techie person I'm still figuring out how this works. Sorry if my questions are a bit elementary but I need help. Should the talkband be always connected via bluetooth with my phone for it to function? Or it will take data even if the blue tooth is off and then just sync it at the end of the day? thanks so much.