Huawei P20 series will likely be available in Canada on May 17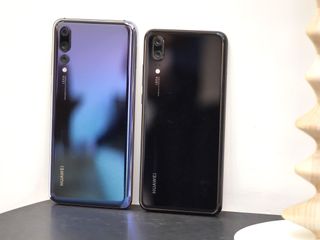 The P20 lineup is one of the most impressive we've seen from Huawei in some time, and we've heard that it's bringing all three of the phones to Canada.
Beginning May 17, the Huawei P20, P20 Lite, and P20 Pro will be available on Rogers, Bell, Telus, Fido, Virgin Mobile, Koodo, and Videotron. Neither Huawei nor its carrier partners will confirm these details right now, but we believe these dates to be accurate.
There's currently no word as to how much the phones will cost in the country, but for comparison's sake, the P20 sells for around €680 while the P20 Pro goes for a steep €900.
We'll update this post with more information as it becomes available, but in the meantime, do you plan on picking up any of these phones when they're released?
Joe Maring was a Senior Editor for Android Central between 2017 and 2021. You can reach him on Twitter at @JoeMaring1.
Yes we are here. But I think we are all stunned with the Price

Yes. That is more money that I will be spending on my next phone!

The p20 pro price is as much as the s9

Yep. and that's too much for me right now. I am seriously considering the Nokia 7 Plus once it is released on Clove in a couple weeks. Looks really good and will only be around $500 CAD

Just got mine (N7P) on Thursday. And I'm liking it a lot!

Man I just upgraded my corporate device, I would have waited had I know the P20 was this close to being launched

Too expensive, would rather have honor view10 launch on amazon.ca instead of this.

I am a little bit surprise to see people commenting on the price when we dont even know what it is. What we knows is that the P10 Plus was selling for around 800 Euros last year and that it was going for $749 Canadians at Rogers. The P10 was going for around 650 euros and you could have it for $650 ca. at different carriers.

Don't need to know the price. It's Canada and on Canadian carriers. It's gonna be a lot. Even a baseline price is enough to know that.

From what I've read, the P20 Pro is solid competition for the S9+, but is priced closer to the smaller S9 in other markets. The Galaxy S9 and S9+ are around €900-1000 in Europe and $960-1100 in Canada. So it's reasonable to think that the P20 Pro will be in the CA$960 range, while the P20 may be around CA$700. But the prices could be lower if Huawei wants to be aggressive. Of course, none if this matters if a person won't spend more than $500-600 on a phone, which is perfectly reasonable. I personally don't want to spend more than $700, so the P20 would be at the edge of my range.

Your price guessing is in the same ballpark as mine.

All this talk about the price is nonsense as we do not know yet, furthermore they are likely to be available for $0 on contract a few months down the line when they go on sale. I suspect few in Canada buy there phones outright like in the US, they get them from the carriers on contract. The other questions is what will the support be like given that Huawei is losing interest In USA...as an owner of an Honor 8 that would be one of my fist questions before opting for any of these phones!!

Who cares, we are not living in the US and they are not being sold in the US. Moot point.

You are a special kind of stupid... Paying the entire phone cost of a phone upon taking possession OR paying a smaller initial cost, and balance over the 2 year contract length result in the same amount of money paid for the phone.

As a price comparison, Carphone Warehouse in the UK has the P20 Pro at £799 and the P20 at £599 compared to the S9+ at £869 and S9 at £739.

And.... Who cares . I'm Canadian and the p20s all suck.
Android Central Newsletter
Thank you for signing up to Android Central. You will receive a verification email shortly.
There was a problem. Please refresh the page and try again.