Huawei Mate 10 Pro to launch on AT&T in February 2018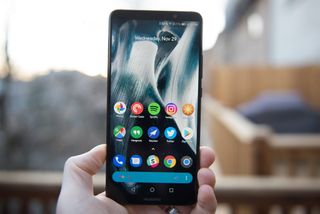 CES 2018 is right around the corner, and at the event, we're expecting to get more details on the U.S. launch for the Huawei Mate 10 Pro. Huawei already said that the phone would be making an appearance in the States back in October, but CES is where we'll get all the nitty-gritty details on this.
Huawei's CEO Richard Yu confirmed earlier in December that the Mate 10 Pro would be launching on a U.S.carrier in 2018, but now according to a report from The Information (opens in new tab), we should expect the handset to be available as soon as February.
AT&T is said to carry the Mate 10 Pro when it launches, but at this time, we're not sure if others will follow. Yu previously hinted that the phone would be available on multiple "carriers", but AT&T is the only name that's come up so far.
In addition to this, it's also reported that Yu sent out an internal memo saying that certain elements of EMUI were "stupid." EMUI is Huawei's Android skin that's been present on its devices for years now, and while the company did start to really clean things up with the Mate 9, you wouldn't find us complaining if the custom skin was tightened up even more.
There's plenty of speculation we could dive into about how much of EMUI Huawei will keep intact for the Mate 10 Pro's U.S. launch, but with CES just a few short days away, we thankfully won't have to wait too much longer for all the official details.
Joe Maring was a Senior Editor for Android Central between 2017 and 2021. You can reach him on Twitter at @JoeMaring1.
Lol.. Sorry, it's just that this is waaay too late and Samsung and others are going to have better specs about a month later

Maybe in the US but it's been out in the rest of the world where their market matters most for a while now

I agree.. But that doesn't do me any good

Well it does me just fine. there was NO WAY i was dropping 1,000 on a sub par note(fps) or a sub par v30(camera) so here we are...

I thought Huawei was supposed to start shipping their US devices with stock Android? What happened to that? I remember seeing a bunch of articles about it a couple of years ago. I personally love EMUI, but stock Android would certainly help with Huawei being accepted here in the states.

No need for stock Android we have enough choices for that. EMUI just needs a few UI tweaks and it'd be great.

That won't fix the notification quirks

Really!? Goodness gracious.

I got my mate 10 pro for 3 weeks already and had no notifcations quirks

The timing of this seems odd. This far into the Mate 10 Pro's life, it seems as though Huawei would postpone their American carrier debut and make the P series in regular and plus sizes their initial offerings. Oh well, good luck to them, and bring on the choices.

I just want the regular Mate 10 to come to T-Mobile

Ha wow. Huawei and AT&T really dropped the ball here. The sales are not going to be good. A $1,000 phone with cheaper equal spec phones 1 month after its release, with no SD card slot, with no headphone jack, and a lock screen with notifications that automatically disappear after unlocking it. It's Dead On Arrival.

I got my pro for 3 weeks already and didnt encountered this issue so far. Plus, there was an update that might have fixed that for some who encountered it.

You do realize 99% of flagship phones don't come with an SD card slot or a 3.5mm jack, right?

Hoping itll come next month. Oh well, I can handle another month

I'll stick to my unlocked Note 8. No bloatware. AT&T can mess up the best of devices.

Why get this device when the S9s will be out a month later?

I guess because there will always be something out a month later.

Whats the point of not buying the pro? Lol. Everyone buys what they like. Thats why we live in a free world. Same goes with htc u11+ or others

Because it's not a Samsung

Because of the lag. I had an SO and it lagged out of the box. I remember on start up I would have to give it a few seconds to catch up when putting in my pin. My Pixel has never had lag like that.

What people fail to realize is that Huawei doesn't need to be number 1 in market share in the US to be number one in share worldwide. They are already number 2 overall despite very little market penetration in the US. If they can get to 10% of the US Market, they'll likely be the top manufacturer worldwide.

Some of us don't want Samsung. Sorry fanboys. Find your self worth in something other than a phone.

Great news, finally carrier support for Huawei in the US, the market needs more competition and Huawei can definitely bring it.
Android Central Newsletter
Get the best of Android Central in in your inbox, every day!
Thank you for signing up to Android Central. You will receive a verification email shortly.
There was a problem. Please refresh the page and try again.