Huawei gets banned from using microSD cards in future smartphones [Updated]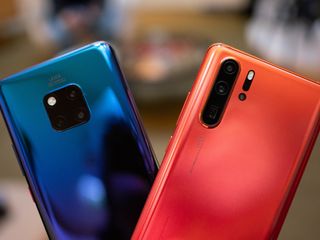 What you need to know
Huawei has been banned from being a member of the SD Association.
This means future Huawei phones likely won't be able to use microSD cards.
The Wi-Fi Alliance also "temporarily restricted" Huawei.
Updated May 29, 2019: Speaking to Android Authority, a Huawei representative confirmed that the company is once again a member of the SD Association — meaning Huawei can continue to use official SD and microSD standards in its devices as per usual.
The representative also noted that Huawei was never actually "banned" from the Association. Instead, its membership with the organization was "temporarily modified" to comply with the U.S. Department of Commerce.
In any case, it's good to see that things are back to normal. At least on this front.
This past week's been a tough one for Huawei. The Trump Administration banned the company from working with U.S. suppliers, meaning that Huawei's relationship with Google will effectively end after August 19. We also saw Huawei lose its relationship with ARM, the company that helped build Huawei's in-house Kirin processors.
Now, it's been confirmed that Huawei has been removed as a member from the SD Association.
The SD Association is the non-profit organization in charge of overseeing SD card standards, including microSD cards used in smartphones. While current Huawei phones with microSD card slots will continue to work just fine, this likely means future devices from the company won't have this functionality.
While that's certainly not good news, it's not the worst blow Huawei's received during this mess. Last October, Huawei unveiled its own proprietary system for expandable storage using its "NM Cards." While not as convenient as being able to go out and buy any microSD card to add more storage, at least Huawei has a backup system in place to account for this loss.
On a similar note, the Wi-Fi Alliance also "temporarily restricted" Huawei from its group. Similar to the SD Association, the Wi-Fi Alliance is in charge of creating/managing Wi-Fi standards for various technologies. Furthermore, Huawei voluntarily removed itself from semiconductor organization JEDEC.
Commenting on this news, Huawei told Nikkei:
Just when it doesn't look like things can get any worse for Huawei, stories like this pop up and make the entire situation look even grimmer than it did before. It's hard seeing a future in which Huawei bounces back from everything happening right now, but I guess we'll just have to wait and see how all of this plays out over the coming weeks and months.
Trump says 'very dangerous' Huawei could be part of U.S.-China trade deal
Get the Android Central Newsletter
Instant access to breaking news, the hottest reviews, great deals and helpful tips.
Joe Maring was a Senior Editor for Android Central between 2017 and 2021. You can reach him on Twitter at @JoeMaring1.