Huawei Ascend D Quad delayed?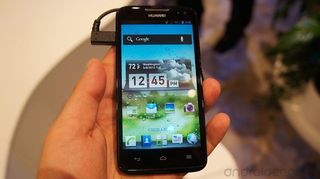 The Verge are reporting that the Huawei Ascend D Quad, that we first got hands on with at MWC back in February, is suffering a delayed release due to its powerful chipset.
This news certainly will not do Huawei any favors with the likes of the HTC One X and Samsung Galaxy S III already being on sale. The Ascend D Quad is on par with the forementioned handsets specs wise and will be Huawei's flagship device this year.
The 4.5 inch 720P high definition touchscreen 'beast' is powered by Huawei's K3V2 quad-core 1.2GHz/1.5GHz processor so is set to give the other big players a run for their money.
Fingers crossed Huawei can iron out any problems sooner rather than later.
Source: The Verge
This phone would've toppled the S3 with ease, but Huawei have since blown their chance to be #1.
This phone has it all, and more, it's just that the Camera is no longer acceptable for a late 2012 release, so they'll have to up that to a 10 or 12 BSI, I already got stuck into them about it a few weeks ago, and I say if they can change a chip, they can change a camera. (currently 8mpx BSI, and according to a review, slightly inferior to the iP4's) If everyone could nag @HuaweiDevice to upgrade the camera on the D Quad to a 12mpx BSI, that'd be fab, a group effort can make sure this phone is not laughable upon release.

"This phone would've toppled the S3 with ease" lmfao!! . . . come on man This is Huawei wer're takling about they have NO traction and ZERO Brand Recognition... its' not just about specs. Especially in the Android realm where us techies tend to look deeper the first thing we'll see is that they have no track record of updating their phones because they are only now diving in to the high end.... there's no trust there and this thing had no chance to topple anything.

Did anybody tell Huawai that in english the name of their phone sounds exactly like "dickwad?" Man. SMH

I kind of like the clock/weather widget.
Android Central Newsletter
Get the best of Android Central in in your inbox, every day!
Thank you for signing up to Android Central. You will receive a verification email shortly.
There was a problem. Please refresh the page and try again.