HTC Vive Business Edition lets companies buy in bulk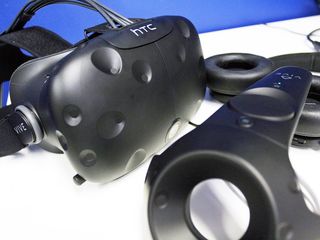 HTC has found tremendous success with the Vive headset already. Consumers are struggling to get their hands on one, even after HTC dramatically reduced shipping times and partnered with Microsoft to sell through their stores as well. It's a great problem to have, but there's a curious hiccup for companies that want more than one headset. Until today, HTC has limited direct purchase of the Vive headset to one per person. To address the growing need for enterprise customers to acquire more than one headset, the HTC Vive Business Edition, or HTC Vive BE, has been announced.
This special Business Edition Vive will run a much steeper $1,200, but the inclusion of commercial licensing and special support line allows companies to do things like rent time on a Vive or even fill an auditorium with Vive headsets for large-scale gaming. It's an impressive step forward for HTC, and makes it a lot easier for companies to not only purchase headsets, but design large-scale strategies around using them.
HTC is pointing anyone who wants to know more about the Vive BE program to the Vive website (opens in new tab) to file an inquiry.
Russell is a Contributing Editor at Android Central. He's a former server admin who has been using Android since the HTC G1, and quite literally wrote the book on Android tablets. You can usually find him chasing the next tech trend, much to the pain of his wallet. Find him on Facebook and Twitter
Seems odd to think of VR and corporate licensing together, but I suppose someone somewhere must be thinktanking or developing VR versions of the old educaitonal MOOs for collaborative learning and problem solving and/or VR approaches to training, whether those trainees are small kids, big college-sized kids, or interns and new hires. Lord knows it would go over big in any engineering or tech school. I guess I've just convinced myself that HTC's making a smart move with this Vive BE stuff.

Did an after school program with an architecture firm in high school that bought an oculus dev kit to test the idea of "walking around" in their models to get a better perspective on things. This kind of thing is what I imagine for corporate use. Posted from my One M8 running a version of Android other than what HTC intended

Cool. For bigbucks companies like Google, it could make for a handy way for new people (especially wheelchair-bound people) to learn the layout of their own campus(es).

Love it Posted via the Android Central App
Android Central Newsletter
Get the best of Android Central in in your inbox, every day!
Thank you for signing up to Android Central. You will receive a verification email shortly.
There was a problem. Please refresh the page and try again.