HTC Sense 3.0 camera with panorama setting extracted, ready to port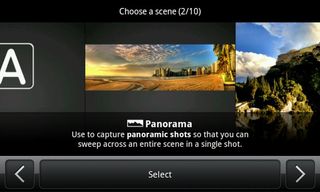 One feature from the upcoming HTC Sense 3.0 that we're drooling over is that sweet "panorama" camera setting, with the ability to take sweeping landscape photos in a single shot. Well, if you have an HTC device and are feeling a little adventerous this afternoon, head on over to XDA, where forum member francois.d.dillinger has extracted the camera app from Sense 3.0 and put it into a nice little flashable file. Some caveats: you must be rooted (duh), and you must be running a ROM with Sense framework (such as HTC Sense or MySense). In addition to the panorama setting, you'll have the option to shoot video in 1080p, though you'll need the hardware to support it.
The developer says that it's confirmed to work on the EVO and myTouch 4G, but makes no promises for other HTC devices and warns that as of right now, the .apk is still pretty unstable. If you're unclear about any of this, we suggest you stay away. Hit the source link for the download and let us know when you've given it a whirl.
Source: XDA Developers
Android Central Newsletter
Get instant access to breaking news, the hottest reviews, great deals and helpful tips
Ohh Ohh Ohh! Someone try it on their Thunderbolt cuz I don't wanna find out the hard way! Lol

This is a nice feature. It is available on the Captivate (and probably other Sammy Galaxy S phones), and its really nice to have occasionally.

I,ll wait until I get my new Evo 3D.

Are you saying that HTC/Sense hasn't had a panorama setting up until 3.0? Does it work differently than the "panorama assist" mode that is already on other phones, like the Droid X? I took some really cool sunset & beach pics with that setting on vacation last summer.

It works on the Thunderbolt as described above on the EVO. However, It runs a bit slow. I reverted back to stock.

Sergetek, how did you get it to work on your Thunderbolt? I tried using the steps provided in the XDA forum and it's not working. Attempted to installed through Recovery using Update-Camera-signed.zip, as well as HTCCamera.apk (3.0)...nothing. No icons. Double checked to make sure my permissions are set correctly, and restarted the phone a couple of times. Failed. Any help would be appreciated.

Saw this as I was flashing Capychimp's new Rcmix 3.0 sense Rom and noticed he included it in his Rom. Can't wait to try it out.

lol...you know who brought this feature up about 2 months ago?? Bluescreen

I am running Das BAMF 2.0 beta 3 on my Bolt and this camera is included and works perfect so far along with a bunch of other sense 3.0 goodies. Ssense 3.0 is shaping up to be very nice.

AWESOME! I have been waiting for this!
Android Central Newsletter
Get instant access to breaking news, the hottest reviews, great deals and helpful tips
Thank you for signing up to Android Central. You will receive a verification email shortly.
There was a problem. Please refresh the page and try again.